Strategic leader to direct development team
Allison McBee Dawson brings more than 15 years of philanthropic experience
Allison McBee Dawson, an experienced and passionate leader in higher education fundraising, joins Moody College of Communication as executive director of development and chief development officer after a national search.
Dawson has more than 15 years of experience in executive management, major gift planning and annual fund direction, in addition to alumni programming, donor stewardship and fundraising communications.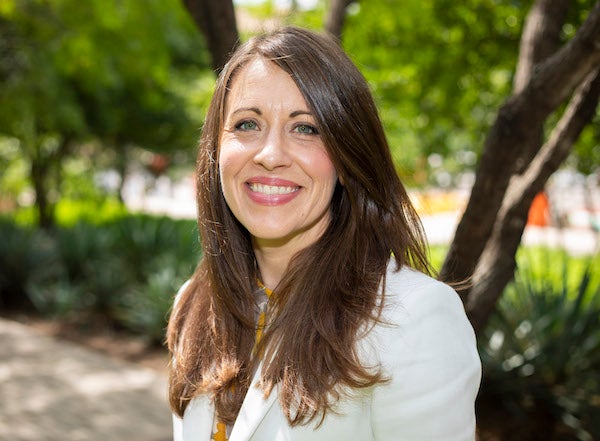 She most recently served Austin College as its Vice President for Institutional Advancement. In this role, she was the lead architect of a $125 million comprehensive college campaign overseeing a staff of more than 25 professionals.
"Allison has the ideal combination of experience and expertise for Moody College," Dean Jay Bernhardt said. "Her strategic goal-setting, bold vision and people-centered perspective will help her to raise our philanthropic impact and outreach to even greater heights."
Before joining Austin College, Dawson managed fundraising for the Episcopal School of Dallas and Southern Methodist University. She earned a bachelor's degree in business administration from Austin College and a master's degree in American studies from SMU.
---
Allison Dawson Q&A
Where do you find joy and purpose in your professional field? We get to help donors self-actualize through philanthropy. I find professional purpose helping people access their fullest potential through helping other people. Even if your gift is $50, that has an impact on a student, or program, or faculty member. The real joy is seeing donors witness the power of their gifts and their giving. That's the beauty of higher education, where philanthropy is very relationship-driven. The impact we have on changing lives is why I've stayed in education.
What will you miss most about living in Sherman, Texas? Austin College is my alma mater. The 20 years I've lived away from home, just about half of it has been in Sherman, if you count my time there as an undergrad. If I'm perfectly honest about what I'll miss most: there's no traffic here in Sherman at all. My commute is five minutes.
How did you find your way into philanthropy and fundraising? Through Austin College connections, I got a job in the non-profit space at the Dallas Regional Chamber (of Commerce). That was a really good utility job. I had to use a lot of my business education, planning events and fundraising. That's what I most enjoyed about that job, and what stuck for me as my career advanced. I made my way into higher education via SMU. I continue to enjoy this profession because I have to be both analytical and strategic, and also rely on my qualitative, social, instinctual characteristics.
What is appealing about Moody College? The mission of Moody College, to advance and enhance society through communication, is one that speaks to me and my desire to change lives and make a difference. When you think about it, in every field, everything is based on compelling communication. It's the lynchpin. It's the keystone. How do you move people to action? How do you bring people together? It's with compelling communication in all media.
I admit that I did enter this change with some trepidation because UT Austin is a big, public flagship, Tier One research university. I'm coming from Austin College – small, private, rural. I wondered if I could clearly articulate the needs of Moody College as I did for Austin College, but, in reality, the language around the needs is very similar.
I met many amazing Moody College faculty, staff and alumni through the interview process whose passions are around access, inclusivity and diversity. I picked up on the shared sense of the purpose around this work. It is human-centered and about relationships. Funding for research, scholarships and capital improvements is necessary in the general sense of perpetuating the institution, but it also affects people in real time. That is what I've spent the last few years fundraising for at Austin College. The scale is different, but I respect and value what Moody College is trying to accomplish, and I'm excited to do my part to help increase the impact of our work.