Looking at the world with a new lens
Prague Maymester offers lessons in history, photo composition
I was in Prague for the Documentary Photography Maymester with Dennis Darling and teaching assistant Kyser Lough. We focused on photographing the culture of Prague and other parts of the Czech Republic, such as the architecture, tourism, night and morning life, and local life.
Prague is an other-worldly experience. It is almost surreal being in the city, because it's much older than I could imagine. Its architecture and stories have been around for centuries. My experience in this city has been nothing but wonderful and enriching.
Through walking tours about the historical history, not only have I learned a lot about Prague – its time during the Austria-Hungarian empire, WWII era, communism era, etc. – I've also learned a lot about how to be a better photographer.
I learned how to approach people and take their photo without the need of a zoom lens and how to compose a photo in a few seconds. It was definitely more of a hands-on experience than a classroom one, and I think that is what made all of us improve.
I was also surprised by the lack of air conditioning, which is not fun during the hottest European heat wave in more than a decade! But overall, I now see the world with new eyes and appreciate documentary photography in a whole different way. 
---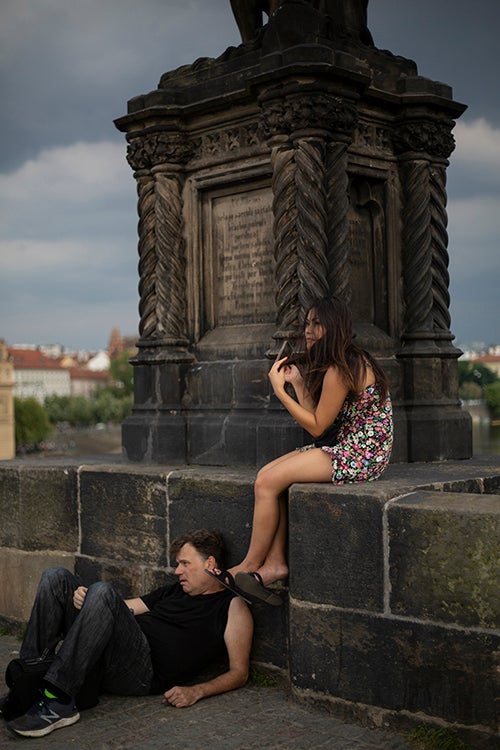 This is my favorite photo. I was on the Charles Bridge, just walking through, and there were a lot of interesting people out that day, leaning against the statues. I kept my eye on the viewfinder the whole walk through, taking photos of what caught my eye. This was one of those "one-two click and move on photos," but when I looked at it again later, I absolutely fell in love with its composition.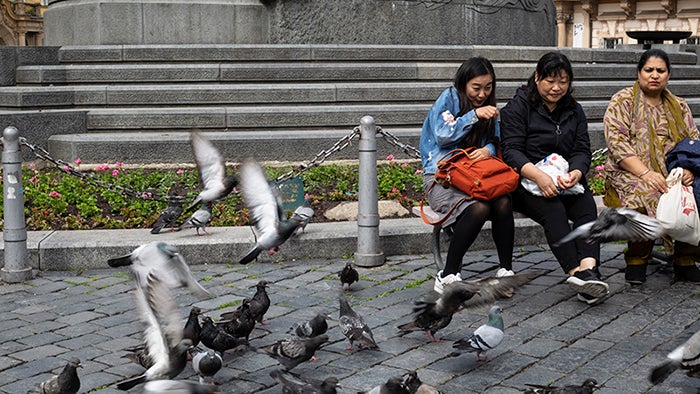 I took this photo on my first day in Prague, and it's probably one of the funniest. I was only really interested in the birds, wanting to practice movement photography, but I only had a 50 mm lens and could not get close enough to the birds. It worked to my advantage, though, because I got a great reaction from the women sitting there as soon as the birds decided to take off.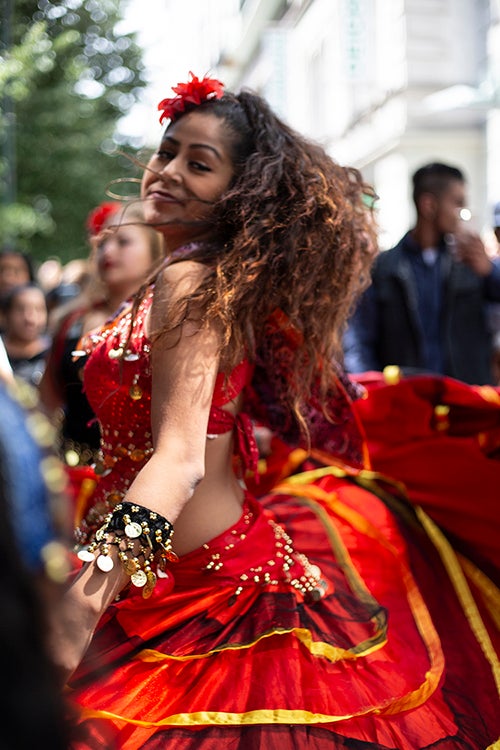 This was taken at the Roma Parade, which was absolutely beautiful and colorful in itself. I didn't know what to really look for, since it was only the second day. I really like this photo because I felt like it captured the spirit of the Romani people and the way they liked to move and dance around.