Texas high school students visit UT for inaugural sports journalism camp
Ashton Lux, a senior at Tomball High School in Tomball, Texas, had expected a full ride to Sam Houston State University to play basketball. Four ankle surgeries and four concussions later, he decided the game just wasn't for him. Instead, he has decided to pursue sports journalism, to stay close to the passion that first put him on the court.
"I figured if I wanted to stay in sports I would invest all myself into it," Lux said. "I might not be able to get a college scholarship anymore, but I've been able to help football players, basketball players, baseball players speak to Division 1 coaches, so it's really just about giving back something that was taken away from me."
Lux was one of 25 Texas high school students who attended the inaugural University of Texas at Austin Sports Journalism Camp held June 17-19. For three days, students were introduced to some of the top athletes and sports journalists in the state while learning things like podcasting, opinion writing and how to anchor a news broadcast and write a game story.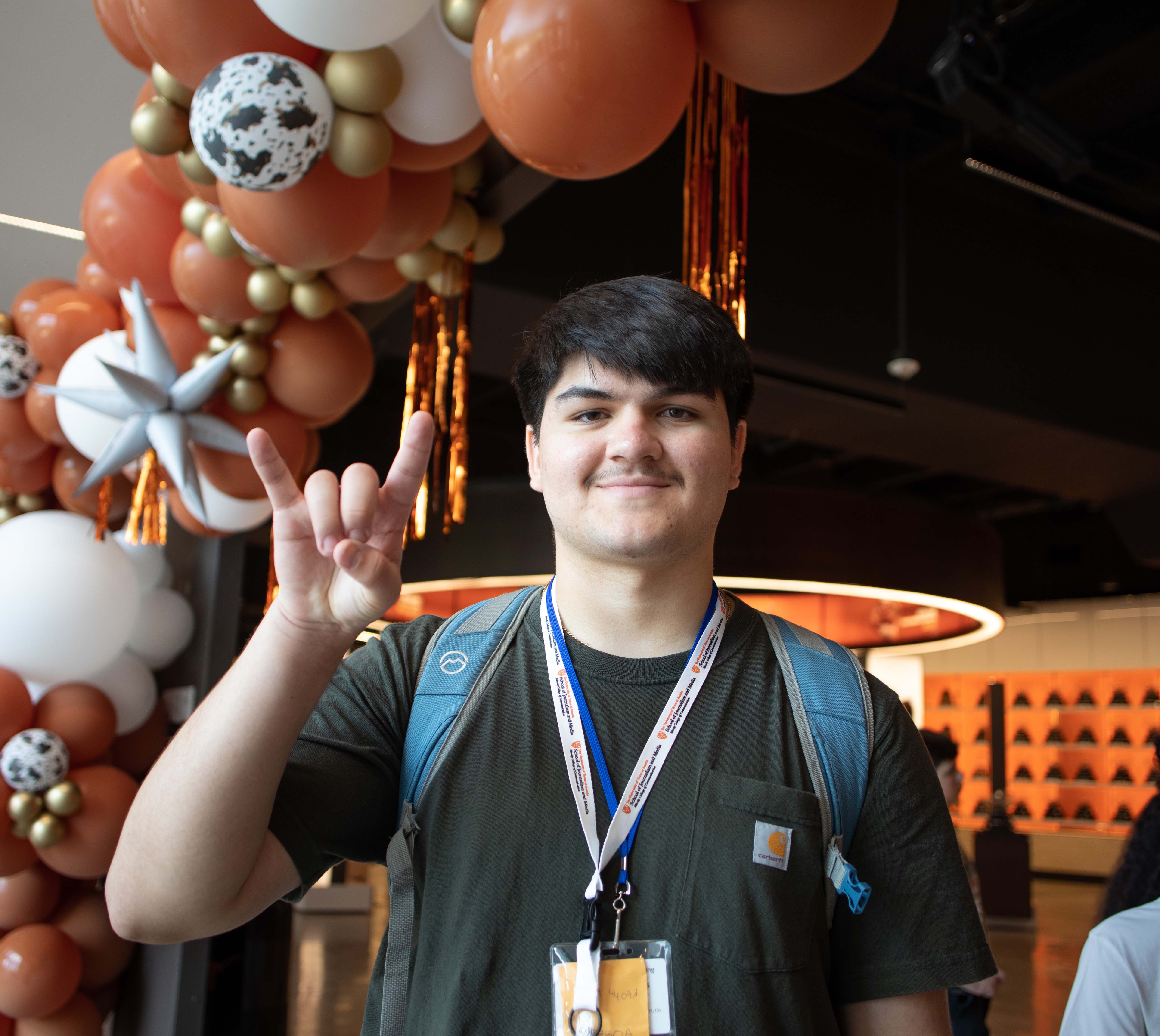 Kevin Robbins, camp director and School of Journalism and Media Associate Professor of Practice, first got the idea for the camp in 2017. For several years it remained a vision, which was further put on hold because of the pandemic.
For Robbins, the goal was to introduce journalism to students in Texas who might not otherwise be exposed to the profession. 
"High school students really don't have specific practical opportunities like this one. They might have worked for student media or yearbook. But for those who think they might be interested in a career in sports journalism, there is really nothing for them," Robbins said. "UT is a place with a lot of resources, and we are perfectly situated to do something like this."
The Headliners Foundation of Texas, a nonprofit that promotes excellence in journalism, believed in Robbins' vision, and through its Verne Lundquist Institute, named for the famed American sportscaster, put funding toward the camp, which provided scholarships so the high school students could attend free of charge.
"So many people in the media industry, including Verne and myself, developed a strong interest in journalism in our high school years," said Mark Morrison, chair of the Foundation's Lundquist Sports Media Institute. "We wanted to help make sure that today's students get a chance to see the opportunities and excitement of an education and career in journalism."
Students submitted applications to attend the camp. While many who were chosen came from the state's major cities, others were from smaller, underrepresented schools from as far as East Texas to the Rio Grande Valley.
"This might be the first time they've ever been on a big college campus," Robbins said. "We are very cognizant of putting forward our best and showing what coming to a four-year institution like UT can do for your life."
The camp kicked off Friday with a mock press conference at Bellmont Hall in the Darrel K Royal Memorial Stadium, where students were asked to interview some of UT's top coaches and athletes.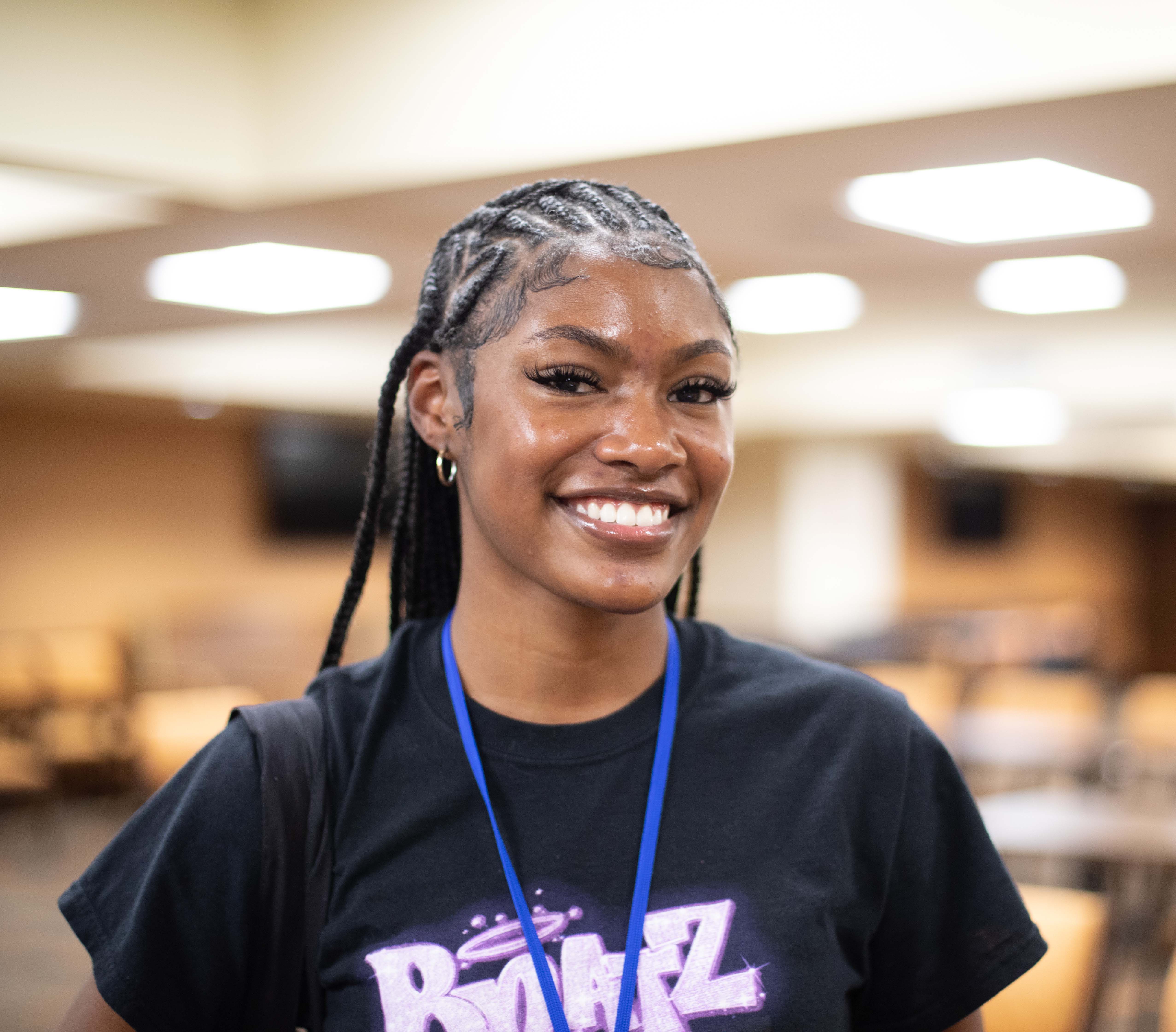 Amari Lee, 17 and senior class president at Shadow Creek High School in Houston, sat in the front row. She said she was nervous to ask a question. She's had to interview football players at her local high school as part of yearbook, she said, but these athletes are "top notch."
Lee, who comes from a sports family, remembers watching the Superbowl game between the Chiefs and the 49ers and being entranced by the stats. Ever since, she's had a dream to become a broadcast journalist or a commentator for games.
"Being able to have an opportunity to visit UT and have this experience with all these athletes is amazing," she said.
On Friday night, campers and counselors, including Moody College of Communication journalism students, gathered to play sports trivia, then watch Notre Dame play Texas in the College World Series opener. Saturday was a full day of programming, including presentations by nine professional sports journalists, including from CBS Austin, the Austin American-Statesman, the Houston Chronicle and Texas State University. The keynote speaker was Mirin Fader, a New York Times best-selling author and senior staff writer for The Ringer, an online only sports and culture site. Campers finished Saturday at the Union Underground bowling.
After the camp, Lux reflected on his experience.
"Overall, my weekend was nothing short of extraordinary, the people I was able to meet, the people I was able to learn from, the facilities I was able to tour, the relationships I was able to build are forever imprinted upon me," he said. "This has further motivated me because it shows that if I give 110% of myself that I can be as successful as everyone that I met this weekend."