Remembering Wayne Danielson
Former Moody College dean served as visionary leader and scholar
Wayne Danielson, second dean of the Moody College of Communication, passed away on Oct. 31. A premier scholar in the fields of communication and journalism, Danielson served as dean from 1969 to 1979.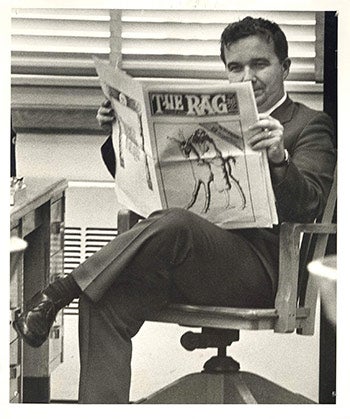 "Wayne Danielson was a visionary scholar and leader, and he will be sorely missed by all who knew him," said Jay Bernhardt, Moody College Dean. "In addition to being highly respected in the academic and professional fields, Danielson always found time to serve the university in countless, meaningful ways."
Danielson earned his Ph.D. in mass communications research from Stanford University. Before coming to Texas, he taught at Stanford, the University of Wisconsin-Madison and the University of North Carolina.
He helped introduce technology to journalism education and media audience studies. He was the founding editor of Journalism Abstracts—now Journalism & Mass Communications Abstracts. 
His research in computers and content analysis led to the development of more than 30 tools such as readability indices, automatic news indexes and stylistic advice to authors. 
Wayne also served as dean of the School of Journalism at the University of North Carolina, chairman of UT's Department of Journalism, and as Journalism's graduate advisor.
He served as president of the University Faculty Senate, chairman of The University's committee to make recommendations on multicultural programs, and chair of The University's computer committee.
Wayne also directed PROJECT QUEST: UT's long-term effort to increase the innovative use of technology in teaching and research. 
From 1996-1998 he served as director of accreditation studies for the University of Texas by the Southern Association of Colleges and Schools.
In 2000, Wayne was named the third recipient of the venerated Civitas Award at UT Austin in recognition of "dedicated and meritorious service to the University above and beyond the regular expectations of teaching, research, and service."