Communication and Entrepreneurship
Facebook CMO shares four qualities job seekers, entrepreneurs need to succeed
On Nov. 16, Facebook Chief Marketing Officer Gary Briggs spoke to students and the public as part of the new Moody Entrepreneurship Speaker Series in the Belo Center for New Media.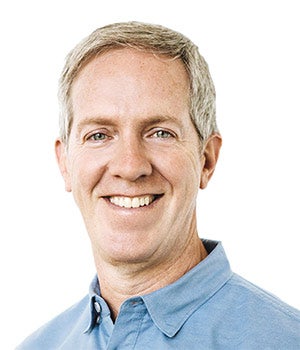 Gary Briggs
Facebook Chief Marketing Officer
During the visit — which was organized and moderated by lecturer Mark Bunting — Briggs discussed how Facebook could be used as a platform for entrepreneurship, Facebook's transition from desktop to mobile, and how marketing has evolved in the digital era
He also discussed what companies like Facebook and Google — where he formerly worked —  look for in job candidates and what qualities entrepreneurs need to succeed in the rapidly evolving technology and communications sector.
Specifically, Briggs identified the following qualities:
Intellectual horsepower. "When I applied to Google, I was 45, and they asked me for my SATs and GPA," he said. "I had already been working for 20 years. They don't ask for that anymore…but [they're looking for] a demonstrated ability to do well in a classroom environment."
 
Team-building experience. "Have you done something that has led people in some way?" he said. "You go very quickly in these environments from an individual contributor role…to a manager role to a leadership role. And a big part of leadership is 'followership' — you have to have people who want to follow and work with you. So the degree to which you're driving teamwork is particularly important."
 
Resiliency. "These are not easy jobs — I don't mean in terms of work-life balance — but do you have perseverance?" he said. "When you're faced with challenges, do you have the will power to work through them?"
 
"Googliness." "This is a term that's specific to Google, but applies to Facebook as well," he said. "It's when you can create order out of chaos. A lot of problems you'll be working with are largely unstructured…so demonstrate through the interview process that you can do that."
Watch the full discussion below:
Gary Briggs joined Facebook in 2013 and is responsible for the company's consumer, product and platform marketing. Prior to joining Facebook he served in various roles at Google, Inc., including CMO of Motorola upon its acquisition by Google, and as vice-president of consumer marketing.
During his tenure at Google, he led marketing efforts for search, commerce, Chrome, Google+, Google.org, and the Google brand overall. Prior to joining Google in 2010, Gary was CEO at Plastic Jungle, a gift card startup, where he joined from their board of directors. Prior to that, Gary worked at eBay for six years in roles as vice president of consumer marketing, general manager of eBay Canada, global marketing head of PayPal, and CMO of eBay North America.
Earlier in his career, Gary worked for six years at Pepsi, where he launched Aquafina, Pepsi's joint venture with Starbucks and was director of Brand Pepsi. He also spent two years at IBM running worldwide brand strategy and was an engagement manager at McKinsey.
He earned a bachelor's in 1984 from Brown University and a master's in management in 1989 from the J.L. Kellogg Graduate School of Management, Northwestern University.