Senior Radio-Television-Film student creates popular music video for Silversun Pickups
On Dec. 27, 2016, Department of Radio-Television-Film senior John Byron Hanby's production company Fractal Visuals published an unofficial music video for Silversun Pickups using their song, "Ragamuffin." Hanby published the original video on his 21st birthday, marking another milestone for his career as both a student and producer of film.  Since then, the YouTube video has exceeded more than 675,000 views and attracted the interest of the band, who shared the film with their fans on Facebook in January.
"I love making music videos because there is so much room for creativity and expression of emotion. My goal is to continue to learn and grow as a filmmaker and make even more emotionally moving and inspiring films," said Hanby, a native of Austin. "I'm hoping this will catch the attention of other bands."
Completing his first documentary as an 8-year-old, Hanby launched his own film production company during his junior year of high school by creating a promotional film for a local startup in Austin. Since then, his company Fractal Visuals has created hundreds of films for more than 35 clients ranging from national corporate clients to local real estate, food service and software engineering firms. As he progressed in his studies at UT Austin, Hanby became more interested in the creative visual field of music videos and began to reach out to his favorite bands.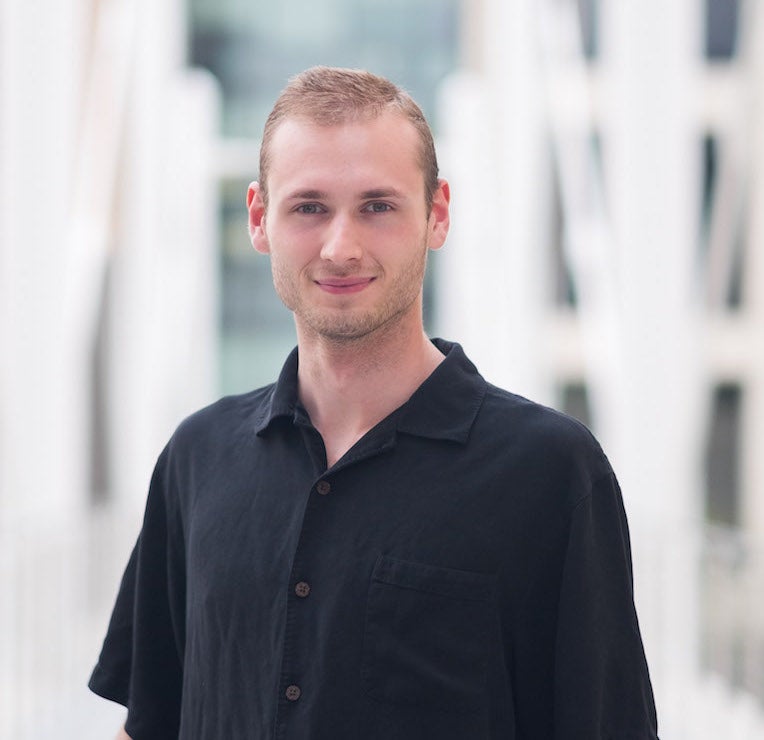 After hearing "Ragamuffin" on Silversun Pickups' newest album "Better Nature," Hanby said he felt the drive to make a video for the song and began drafting plans to produce the music video.  His concept and vision for the song "Ragamuffin" became one of love.
"There are three kinds of love that we will all hopefully experience in some form throughout our lives: self-actualization and the pursuit of passion, romantic love, and family love," said Hanby. "Each of these has their inherent struggles, but as part of the human condition we still seek them out regardless of the challenges and hardships we may face."
Shot over four days near Big Bend National Park in Terlingua, Texas, the vast landscape served the deserted, isolated and dark tone of the music video. Using a drone weighing 30 lbs. with a Red Epic Dragon camera and stabilizer attached, footage was captured at upwards of 45 miles per hour as the drone soared about the rugged mountain terrain.
"Running through the desert being chased by the physical embodiment of individual pain and suffering—the black smoke—toward an insurmountable mountain seemed like a great physical representation of the internal struggle we face," said Hanby.
Hanby directed and acted in the film with actors Ali Brown, Brent Reed and Jessie Hendrickson. The crew consisted of his longtime creative partner and director of photography Michael Castoro and current and former UT Austin students and alumni including director of aerial logistics Andrew Fellers, among many others.
"After we finished filming, there was still a ton of work to be done in post-production. This mainly consisted of creating the black smoke," said Hanby.
Last fall, Radio-Television-Film lecturer and visual effects expert Ben Bays helped Hanby set up a cloud server render farm on Amazon as part of a special projects class. The render farm significantly reduced the time required for rendering and playback of ultra high-resolution smoke graphics.
"In total, we spent about two weeks making the smoke look the way we wanted, and the final render took around three days for the server farm to finish," said Hanby. "To put it in perspective, it would've taken a new iMac a good 45 days of nonstop rendering to accomplish the same thing."
Hanby was quick to point out that making the film was a team effort and praised his crew for their dedication and his professors for their knowledge and mentorship. Hanby noted Bays for his special effects direction, Professor Tom Schatz for his incredible knowledge of film, Professor Charles Ramirez Berg for his guidance, insight and perspective as a film scholar, and Department of Art and Art History Associate Professor Jack Stoney for his deep artistic discussions.
"This film would not have been possible without the talent of our unbelievably dedicated cast and crew, and the constant support of friends and family," said Hanby. "I wouldn't be where I am today without these incredible people."
Upon graduation in May, Hanby plans to live in Austin and continue to produce corporate and creative films.