Outstanding Fall 2017 Moody College Grads
Moody College celebrates the Fall Class of 2017

Moody College fall commencement takes place Saturday, Dec. 9 at 1:30 p.m. in the Frank Erwin Center, 1701 Red River St. The ceremonies will also be webcast live. Here are a few of the outstanding students who will be graduating from Moody College in the Class of 2017.
Ala'a Ibrahim
B.J., Journalism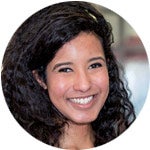 The only school Ala'a Ibrahim applied to was UT Austin because she knew Moody College was the best place to study journalism in the state. Hailing from Houston, Ibrahim was very active on campus as a reporter and producer for Texas Student Television (TSTV), video producer for The Daily Texan, multimedia intern at KUT 90.5 FM and as president of the National Association of Black Journalists (NABJ). 
Off campus, Ibrahim was an investigative fellow for The Texas Tribune and fellow for the Today Show and interned at MSNBC, KXAN and Revelator. She said her favorite experience at Moody College was reviving the UT Austin chapter of the NABJ with the help of four other officers, gaining the organization national recognition and a sharp increase in membership. Upon graduation, she plans to move out of state and continue to tell stories through film.
---
Schelly Stone
B.S., Radio-Television-Film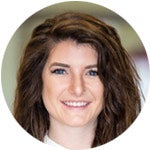 From a small town east of Dallas named Royse City, Schelly Stone chose Moody College because the film program is consistently ranked among the best in the nation. Her experiences while studying on the Forty Acres included interning at the Longhorn Network and Southwest Airlines, studying abroad in Prague, mentoring for the film program's transfer student interest group, and photographing for Ignite Texas and a startup app called Musx.
Stone said the most influential classes she took were two editing classes, and that Anne Lewis and Don Howard made a huge impact on her as both incredible professors and individuals. Upon graduation, she is scheduled to intern for a second time with Southwest Airlines as a film producer traveling and shooting photography and digital video for the airline's social media accounts. 
---
Izzah Ahmad
B.S., Communication Sciences and Disorders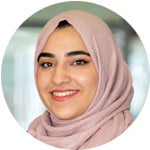 Izzah Ahmad chose to study in Moody College because of the numerous research experiences available to prepare her for a career as a speech-language pathologist. On campus, the native of Cypress participated in the ALDPES honor society, National Student Speech Language Hearing Association and as administrative director of the Muslim Student Association. Ahmad also acted as a research assistant for several labs including the SoundBrain Lab, worked with stroke survivors as a volunteer at Austin Speech Labs and is a peer academic coach at the Sanger Learning Center. 
As a research assistant for Courtney Byrd, Ahmad assessed and performed diagnostic evaluations for clients who stutter. She also worked in Maya Henry's Aphasia Research and Treatment lab to understand traumatic brain injury. After she graduates, Ahmad plans to move to the Houston area before pursuing a master's degree in speech-language pathology.
---
Sam Hoffman
B.S., Advertising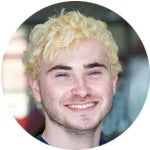 To attend the top-ranked advertising program in the nation, Sam Hoffman moved all the way from Basking Ridge, N.J. Graduating from both the Texas Media sequence and Texas Creative sequence within the Stan Richards School of Advertising and Public Relations, Hoffman was a member of UT Austin's Texas Advertising Group (TAG) for all four years on campus.
Hoffman said the passion, energy and kindness of Sean LaBounty and Lisa Dobias always kept him going when he doubted himself and that the creative sequence enhanced his critical thinking skills in ways he didn't think possible by pushing him to innovate. 
Following an internship at DigitasLBi in Boston as a copywriter on the Dunkin' Donuts and Baskin-Robbins accounts, Hoffman will be interning with RPM, a broadway marketing agency in NYC.  
---
Dorian Maloy
B.S., Communication Studies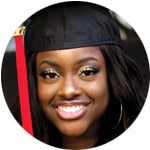 From the East Texas town of Woodville, Dorian Maloy chose Moody College to study the art and skill of communication and apply it in every day life. While studying corporate communications, Maloy also fulfilled her pharmacy prerequisites in preparation for graduate school. In her time on the Forty Acres, she was a member in Alpha Kappa Alpha sorority, the National Collegiate Scholars and the Black Student Alliance. 
Maloy said faculty members Millie Harrison and Josh Barbour and the courses "Professional Communication Skills" and "Organizational Communication" taught her the finesse to lead organizations and said she will use them in her career as a pharmacist. 
Working as a pharmacy technician at Walgreens throughout her collegiate career, Maloy plans to attend pharmacy school and earn a PharmD.
---