UT System Chancellor William McRaven receives Moody College Outstanding Alumnus Award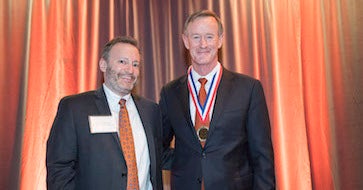 Although he studied in the School of Journalism as an undergraduate in the Moody College of Communication, William H. McRaven (B.J. '77) never intended to become a professional journalist.
The son of an Air Force colonel, he participated in the Navy ROTC program during his time at the university and chose to pursue military service with the goal of one day becoming a naval officer.
After graduating, McRaven succeeded in gaining admittance to the training program for the Navy Sea, Air, Land (SEALs) Team — the Navy's elite special operations force — where, he assumed, his journalism training wouldn't be of much use.
To his surprise, he soon found this wasn't the case. 
"I found that the skills I had learned in journalism were the most important qualities necessary to be a good officer," McRaven said. "Of course, as a Navy SEAL you needed to be physically fit, you needed to know how to lead and you needed to know how to fight."
"But what set me apart from my fellow officers was not my tactical acumen, it was being able to put my thoughts into clear, concise words — to make those words powerful, inspiring, motivating."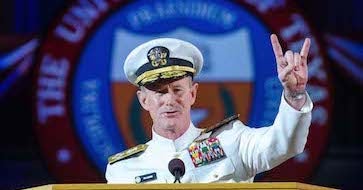 McRaven said his communication training has proven to be critical throughout his storied career, in which he has served as a U.S. Navy four-star admiral, former commander of U.S. Special Operations Command and chancellor of The University of Texas System.
"I found that the tools given to me at this college were more important than any training or education I received in the Navy," McRaven said.
In honor of his legacy in the military and higher education — along with his legacy as an inspiring communicator — the Moody College of Communication selected McRaven to receive the 2016-17 Outstanding Alumnus Award.
The award is given annually to one Moody College graduate who has distinguished herself or himself in professional and private life. Previous recipients include storied Texas journalist Wayne Sellers, former U.S. First Lady Lady Bird Johnson and journalist and political consultant Liz Carpenter.
"The Moody College is proud to call this accomplished and visionary leader one of our own," said Moody College Dean Jay M. Bernhardt. "Chancellor McRaven is proof that no matter what field you pursue with your communication degree, you will have the requisite skills and character needed to succeed and lead."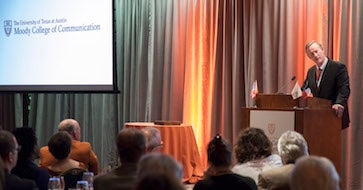 Born in North Carolina, Chancellor McRaven spent most of his childhood in San Antonio where he graduated from Roosevelt High School. He also earned a master's degree from the Naval Postgraduate School in Monterey, Calif., in 1991.
During his time in the U.S. Special Operations Command, he led a force of 69,000 men and women and was responsible for conducting counter-terrorism operations worldwide.
He has advised President George W. Bush and President Barack Obama and other U.S. leaders on defense issues and is the author of "Spec Ops: Case Studies in Special Operations Warfare: Theory and Practice," which serves as a fundamental text on special operations strategy.
"Every important mission outside the theater of war required presidential approval," McRaven said. "Every mission had to be carefully described, clearly articulated, and strongly defended — all skills I had learned here at the Moody College."
In 2014, he delivered the keynote speech at The University of Texas at Austin's spring commencement ceremony, which has since been viewed more than 5.6 million times.
McRaven became chancellor in 2015 and now leads one of the nation's largest systems of higher education, overseeing 14 institutions, more than 200,000 students, 20,000 faculty members, and 80,000 health care professionals, researchers and staff.
"In my time as chancellor, I have continued to return to the basics of good journalism," he said. "Whether crafting a public response, a blog or a more lengthy letter to students and faculty — the basics of journalism never change."
McRaven was presented the award at the annual Friends of the Moody College Dinner on Nov. 9, 2017.