Outstanding Fall 2016 Grads
Moody College celebrates the Fall Class of '16

Moody College fall commencement takes place Saturday, Dec. 3 at 12 p.m. in the Frank Erwin Center, 1701 Red River St. The ceremonies will also be webcast live. Here are a few of the outstanding students who have majored in the Moody College and who will be graduating in the Class of 2016.
Monica Tan
B.S., Advertising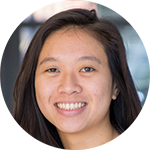 Native Austinite Monica Tan enrolled in the Texas Media sequence in the Stan Richards School of Advertising and Public Relations because it's the highest-ranked program in the nation.
Tan's favorite courses in the program included the "Art Director's Seminar" and "Art of the Uncanny" because of their focus on interpretations and expressions of art. She also took courses toward a Business Foundations certificate.
Tan gained experience working and interning for the Richard School's TexasAdGrad social media team, startup CraftLaunch, analytics company SAS, nonprofit Public Citizen and website Indeed.com.
She plans to travel to Hong Kong, Japan and Colorado before beginning her post-graduate career as a graphic designer at Indeed.com.
---
Denise Cavazos
B.S., Communication Sciences and Disorders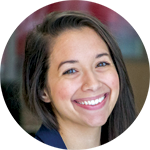 Denise Cavazos discovered the field of speech-language pathology through her mother, a high school special education teacher. The first-generation college student said Associate Professor Courtney Byrd's support, love and guidance made a big impact on her.
The native of Eagle Pass also participated in the National Student Speech Language and Hearing Association, Chi Beta Delta community service sorority, and the Gateway Scholars program. Cavazos also interned as a research assistant through the Intellectual Entrepreneurship program and worked as an administrative assistant at the Harry Ransom Center and as an assistant at the UT Austin Child Development Center.
She plans to stay in Austin and work at a speech clinic before pursuing a master's in speech-language pathology.
---
Brianna Holt
B.S., Communication Studies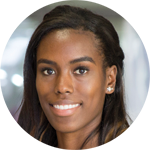 A double-major in Communication Studies (Corporate Communication) and Journalism, Brianna Holt chose Moody College because of its diverse range of studies.
Originally from Dallas, Holt credits the faculty and staff for supporting students inside and outside the classroom. Among those who influenced her are journalism faculty members R.B. Brenner, Robert Quigley, Robert Jensen, Bob Buckalew and Renita Coleman.
She also participated in women's rowing, Texas Darlins, Texas Student Television, The Daily Texan, KVRX student radio and the ministry organization Texas Cru. After multiple internships at organizations including BET Networks, The Daily Dot, KXAN News, Blackbaud and Fons PR, Holt plans to move to New York City and complete a fellowship with Buzzfeed.
---
Perla Arellano
B.J., Journalism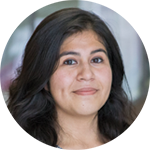 Growing up as a first-generation American, Perla Arellano attended college in respect of the sacrifices her family made in immigrating to the U.S.  
During her time at UT, Arellano was involved in the student organization Future Leaders on The Rise and volunteered at the Austin Region Justice for Our Neighbors, a nonprofit legal clinic that gives immigration legal services to low-income immigrants. A member of the Senior Fellows honors program, the Amarillo native credits journalism faculty Donna De Cesare and Dennis Darling for their teaching and advice and Professor Rosental Alves for introducing her to new ideas and reporters in Latin America.
Following graduation, Arellano plans to pursue a career in journalism and report on Latino issues including immigration.
---
Forrest Wolfe
B.S., Public Relations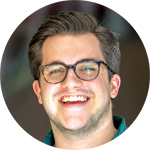 Hailing from Cypress, Forrest Wolfe chose the Stan Richards School of Advertising and Public Relations to combine his interests in writing, integrated brand promotion, strategy and consumer psychology. Wolfe said faculty members Dave Junker and Minette Drumwright positively influenced his critical thinking and that Terry Hemeyer taught his favorite class, "Public Relations Strategies," which trained him in strategy and crisis management.
Outside the classroom, Wolfe was involved in Texas Blazers, Communication Council, Public Relations Student Society of America and the Senate of College Councils. He was also a student ambassador for Communication Career Services and a mentor in the Freshman Interest Group program. He interned at FleishmanHillard, Archer Malmo, Cohn & Wolfe, Shelton Interactive, and Make-A-Wish Central and South Texas. Wolfe recently accepted a job offer with FleishmanHillard as an assistant account executive in Austin and plans to practice a broad set of communication skills on a variety of accounts. 
---
Kim Tran
B.S., Radio-Television-Film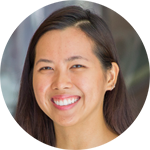 Kim Tran's parents were refugees from Vietnam who arrived in the U.S. as teenagers, working to get an education and make a better life for their family.
Born in Austin, Kim adopted the same mindset and graduates this semester with a double-major in Radio-Television-Film and Biochemistry. Tran chose Moody College based on the reputation of the faculty and the high ranking of its film program.
While at the Forty Acres, she cycled in the Texas 4000 from Austin to Anchorage, Alaska, to raise money for cancer research, performed with SNAFU improv troupe, mentored freshmen in the Texas Interdisciplinary Program, studied abroad in Spain and interned for Apatow Productions and Carousel Television while in the UT Semester in Los Angeles program. She also interned for the Austin Film Festival and wrote for Amy Poehler's "Smart Girls."
After graduating, she plans to move to Los Angeles and write and act in television and comedy.