Communication Studies alumnus wins award from Annette Strauss Institute for Civic Life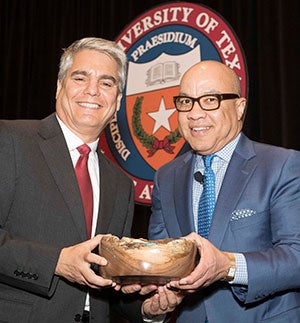 Darren Walker receives the
Shirley Bird Perry Longhorn Citizenship Award
from UT Austin President Greg Fenves.
Darren Walker is a model example of an individual who has made the most out of every opportunity, even when those chances were scarce. In recognition of his decades of philanthropy, drive, dedication and determination, Walker was recognized with the inaugural Annette Strauss Institute for Civic Life Shirley Bird Perry Longhorn Citizenship Award. The honor was given at an event hosted by the institute on April 24 titled, "Great Conversations: Our Shared Responsibility as Citizens of Democracy," and featured remarks by event chair and Speaker of the Texas House of Representatives Joe Straus. The award was created by Sam Perry to honor his late wife and recognize university students, members of the faculty, staff, administration or alumni for an individual or collective act that brings honor to the university community and that positively impacts civic life.
Walker met Shirley Bird while she was a program director and he was a student leader for the Texas Union and throughout many years and career moves, they sustained a friendship based on mutual respect and admiration. Walker is currently the 10th president of the Ford Foundation, the second largest philanthropic entity in the U.S. in excess of $13 billion in assets and $600 million in annual grant giving.
Born in a Lafayette, La., charity hospital and raised in rural Goose Creek and Ames, Texas, by his single mother, Walker was enrolled in one of the first pilot programs for Head Start. He studied hard, earned a federal Pell grant and enrolled in the Department of Communication Studies at The University of Texas at Austin.
"When I walked onto the campus of UT my life was transformed," said Walker. "By the time I left Austin I was a very different person—more knowledgeable about the world, confident that I wasn't as different as I might have thought and secure in my belief in my ability to make a difference in whatever endeavor I chose."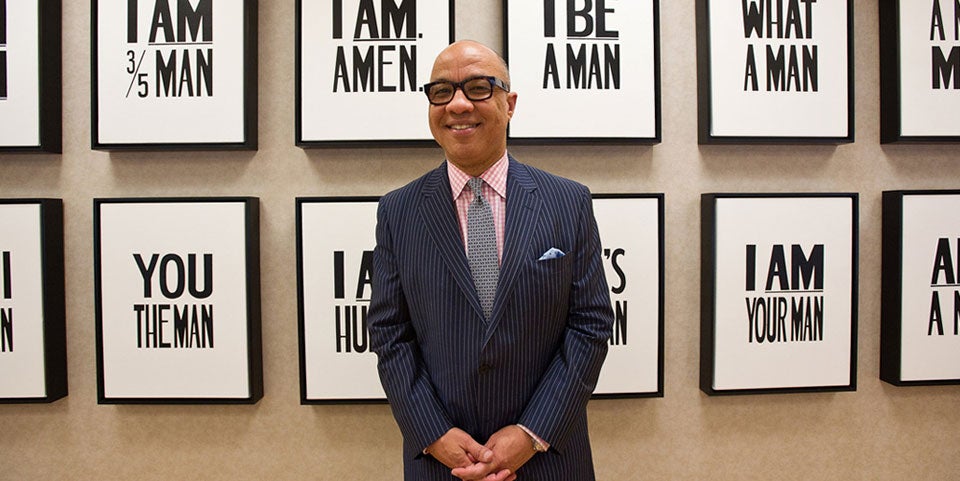 After graduation from the Moody College of Communication (B.S. Speech Communication '82), College of Liberal Arts (B.A. Government '82), and the School of Law (J.D. '86), Walker worked at a prestigious Manhattan law firm and a Wall Street investment bank before launching a career in the nonprofit world.
Following a decision to pursue a passion for social justice projects, Walker took a large salary cut to work on programs to bring economic development to Harlem. He succeeded in landing a large-scale supermarket to the neighborhood, which was largely seen as a "food desert," or area where affordable and healthy food is hard to obtain. The investment led more businesses to flock to Harlem and the borough began a transformation into an increasingly eclectic and desirable community. He then worked as a vice president at the Rockefeller Foundation for several years before moving to the Ford Foundation in 2010.