Moody to open Institute for Media Innovation
RTF professor S. Craig Watkins will lead institute as founding director
Digital media are rapidly revolutionizing the world, and there is no better place to study and shape this trend than the Moody College of Communication at The University of Texas at Austin.
Jay Bernhardt, dean of the Moody College, has initiated the formation of the Institute for Media Innovation to create connections within the college, across campus and throughout Austin as the center for scholarship, teaching and partnerships for media innovation.
Dr. S. Craig Watkins will lead the institute as its founding director. He joined UT as a faculty member in 1995 and is now a professor in the Department of Radio-Television-Film. He has emerged in the last decade as a leading scholar and visionary through his global work studying and surveying young people and their behaviors with digital and social media.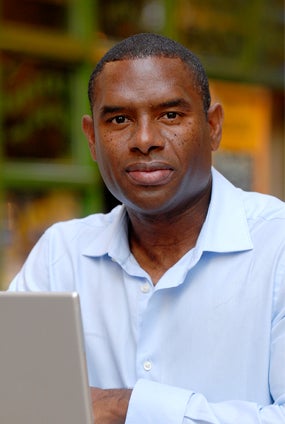 "The power dynamics are changing. The defining feature of this young generation is they see themselves as not just consumers, but creators and producers of content," Watkins said. "That is pivotal and opens up opportunities for breakthroughs."
Watkins said work within the institute will start in late 2018.
Moody faculty and students will engage in a hub for research and practice. Watkins said he envisions research that will focus, in part, on understanding the disruptive capabilities of new technologies. The practice component, he said, will allow Moody to work with partners and stakeholders to explore ways to build the future of media.
"This new institute will build bridges between leading new media scholars and stakeholders to become the center for scholarship, teaching and partnerships," Bernhardt said. "We believe it will be an incubator for larger, more complex research projects that lead to creation with a real impact."
Since 2007, Watkins has traveled the United States and Europe to engage with young people in conversation, surveying and tracking their behavior patterns.
Watkins conducted a seven-year, funded research study with the MacArthur Foundation focusing on youth and digital media. He teamed with scholars from around the country to explore how the adoption of digital media is changing young people's lives. Watkins' work, in particular, studied issues related to digital equity and the participation of diverse young people in the making of digital media culture and society.
"I examined how black and Latino teens have become early adopters of technology and innovative users of things like social media and smartphones," Watkins said. "It's a long-term interest of mine, how media and technology work together to move the needle."
He has authored multiple books, including, "The Young and the Digital: What the Migration to Social Network Sites, Games, and Anytime, Anywhere Media Means For Our Future." He also has two books set to be released in December and in April 2019. His upcoming books focus on youth digital media behaviors and what he calls, "the new innovation economy."
"I define the new innovation economy as the dynamic ways in which young creatives are using tech ingenuity and social ingenuity to imagine, design and realize new ways in which smart technologies can be deployed for social, economic and political impact," Watkins said. "With this generation, there is this idea of empowerment. They feel as though they can be an asset and have an essential voice in the media."
Bernhardt said of Watkins: "No one is better positioned to lead the institute and provide the vision and passion for dramatically expanding our already outstanding work in this area at Moody and all of UT."