Moody College Sends Off Graduates with Tears and a Toast
The class of 2022 shares its departing words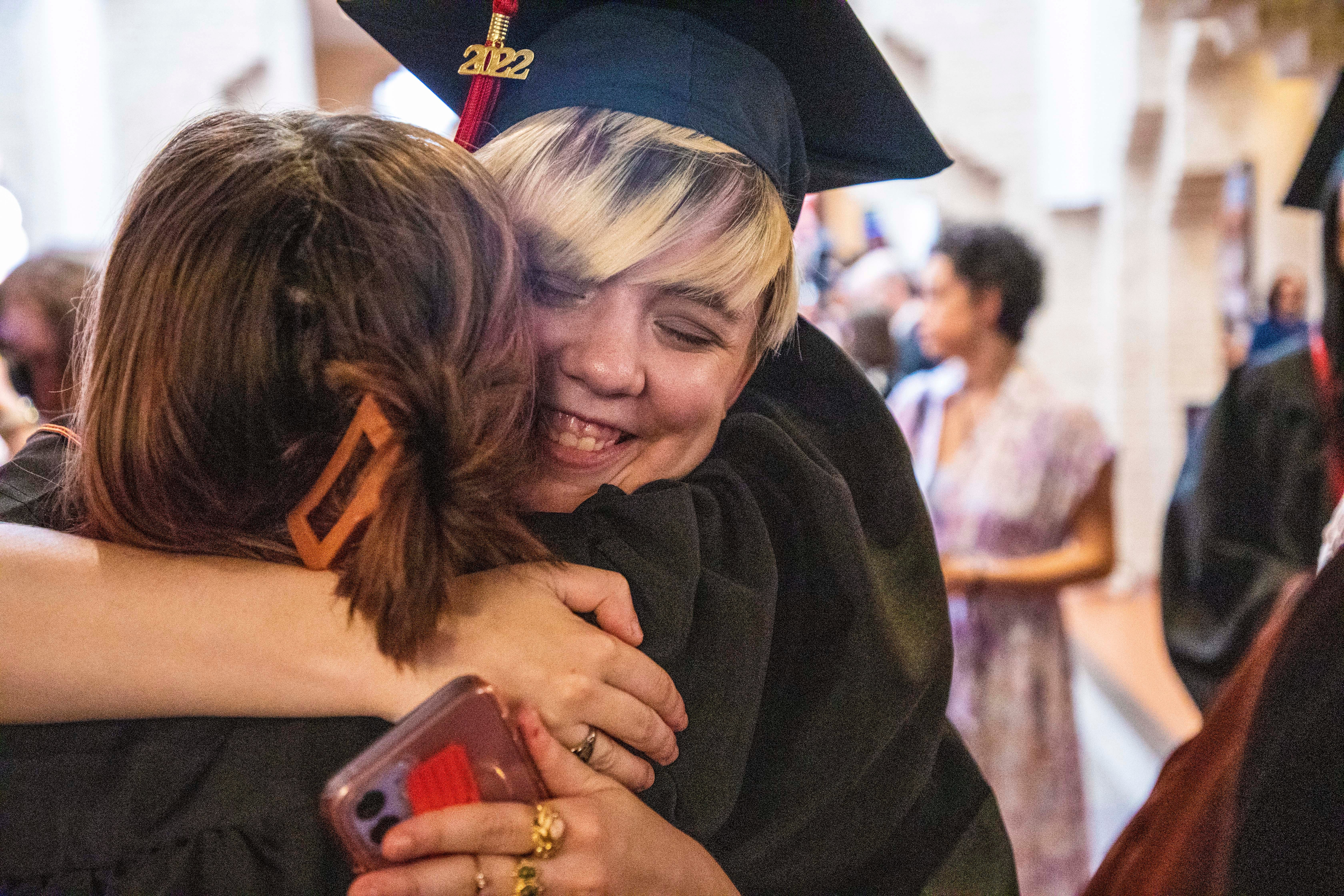 The sound of cheering echoed through the halls of the Etter-Harbin Alumni Center Friday as family and friends came to celebrate their graduating loved ones at the 2022 Moody College Graduation Ceremony.
It was a sea of black caps and gowns and burnt orange doctoral regalia. Departing seniors and graduate students, tearful and sentimental, expressed regret at the end of their time at UT but were eager for next steps: graduate school, internships, new jobs, new cities.
Mallory Richards, who earned a bachelor's degree in Communication and Leadership, said she was emotional when she dressed in the morning. "I obviously wore these in pictures," she said, looking down at her robes. "But to actually put it on for real was really special."
Her mom, Melissa, held back tears. "I feel like she was just in kindergarten," she said.
Beginning in the morning, graduates from each of the college's seven majors processed to the ceremonial stage to shake hands with and receive their diplomas from Moody College Dean Jay Bernhardt, starting with Communication and Leadership, then Communication Studies; Speech, Language, and Hearing Sciences; Journalism and Media; Public Relations; Advertising; and Radio-Television-Film. Family and friends walked alongside them. Parents clasped their children's hands.
Carolina Gamez, who received a bachelor's degree in Communication Sciences and Disorders, was surrounded by family. "I wanted them all here with me because, without them, none of this would be possible," she said.
As graduates snaked through the alumni center, they stopped at photo stations to snap pictures with their loved ones, encircled by Moody banners, next to Bevo and under an arch of burnt orange and white balloons. Many who graduated last year also walked in the ceremony, including Joansandy Wong, who received her doctorate in Rhetoric and Language Studies last summer.
"My family really wanted to see me do the hooding," Wong said. "I am the first one in my family who went to college, so this is a big step."
Wong's father, who is ex-military, tried to remain stoic. His eyes glistened ever so slightly.
Dean Bernhardt, in his opening remarks, acknowledged the class of 2022 for its unwavering dedication.
"We know that you have spent far too much of your time behind a computer screen over the past few years. As a result, your educational experience has been much more difficult than most who came before you," he said. "We acknowledge that fact and stand in awe of how much you have overcome.  Despite facing many challenges, you have adapted, and you have persevered in a way that no other class has."
Bernhardt stressed the exceptional value of a Moody College degree, especially during this time in history, as communication is rapidly changing because of technology and media convergence, and now, as a result of the pandemic. The 2022 graduating class is entering a new kind of hybrid world, he said, where they are operating successfully both in person and online and using innovations like AI, AR, data science and the metaverse.
"You are leading the way to our converging worlds, and you will be creating the future of communications for generations to come," Bernhardt said. "You are well prepared to ride this wave of change."
After students collected their diplomas, they enjoyed drinks and desserts on the plaza outside the alumni center during a giant reception with music. The chairs of each of the departments led a champagne toast for graduates from each of their majors. 
"It's definitely a nice, celebratory moment," said Briana Stubblefield, who graduated with a degree in Advertising and will now pursue her master's degree at UT. "I am happy, excited, ready for the next chapter."
Jordyn Anders, who graduated with a degree in Speech, Language, and Hearing Sciences, will also continue her education. "I am even more determined and inspired," she said.
Some said it felt hard to close their chapter at UT. Sydney Underwood, who graduated with a degree in Radio-Television-Film and is now going to work for Comedy Central, said she was nervous to be leaving. "I'm really going to miss it," she said. "But I feel like the RTF program really set me up to go out into the real world and to work in the industry."
Clark Dalton, who graduated with a degree in Journalism and Media, also praised Moody College for the way it set him up in his career.
"I think my favorite part about Moody is the opportunities you get at this school, particularly in the journalism department, because there's so many great professors you get to work with that help you understand the craft better," he said. "Not every kid in college gets the opportunity to do the things I did, whether it's going to [Darrell K. Royal Memorial Stadium] covering a football game or interviewing a musician for [Austin City Limits]."
Celeste Olvera's favorite part of graduation: hearing the sound of the tower bells ringing when she returned to campus Friday. Olvera, who received her bachelor's degree in Public Relations in December, decided to stay in Los Angeles after participating in the UTLA program. She has a job now working in the music industry.
She said sound of the tower made her emotional, as she remembered all the long nights she spent on campus.
"I feel like I finally am coming full circle and just appreciating campus and everything in a different perspective now," she said. "I'm happy, and honestly, honored to graduate, to be a Texas Ex. If I could do it all over again, I would."
In a speech Friday, Moody College Communication Council President Catherine Lindberg, who graduated with a bachelor's degree in Advertising, imparted a bit of wisdom to classmates from her mom: Be brave, not perfect.
"I know we have not had a perfect four years, but we have been brave," she said. "If we can take our lessons from being adaptable and combine them with bravery, there's nothing in our future that we cannot meet and conquer. In four years, the world has changed, but more importantly, we have changed. So, class of 2022, let's be brave and harness our experiences to prove what starts here really does change the world."
Hear more from our graduates by checking out our Instagram series "Gratitude Notes to Moody."