Moody College honors exceptional staff, alumni and supporters
College hands out five awards at 2023 Friends of the College dinner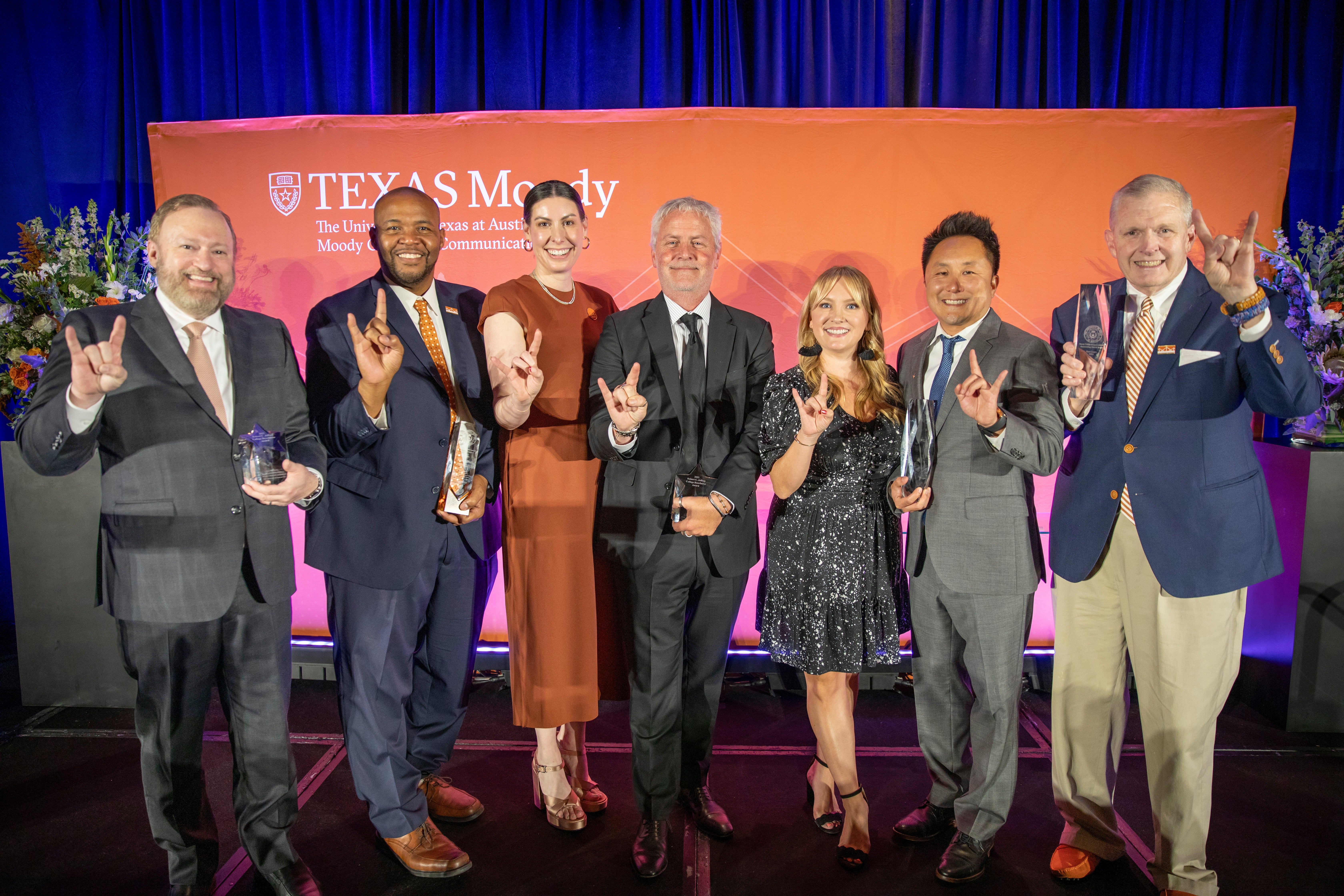 Moody College of Communication recognized some of its most revered community members Friday at its annual Friends of the College dinner. 
The event, held each fall, brings together faculty, staff, students, alumni and supporters to celebrate accomplishments from the past year and to salute and acknowledge the people who make Moody College special.
This year's ceremony was held in conjunction with a special event Friday afternoon to celebrate the 10-year anniversary of becoming Moody College of Communication. A decade ago, the Moody Foundation gave a $50 million endowment to the college that led to its naming.
Friday's awards included two Robert C. Jeffrey College Benefactor Awards, named for the college's third dean, which go to people who have given generously to the college through their time or resources. They went to Emmy-winning film and TV composer Blake Neely and former Moody College Dean Jay Bernhardt. 
Outstanding Alumni Awards went to Tiff's Treats founders Tiffany and Leon Chen and former journalism, corporate communications and public affairs industry leader Ken Capps. 
This year's ceremony also included a new award, the Jay M. Bernhardt Award for Staff Excellence, which honors a staff member who has gone above and beyond in their duties to make a significant impact at Moody College. It was given to Kyle Clark, assistant dean for advising and director of student support.
Learn more about the award winners below.
TIFFANY AND LEON CHEN
2023 Outstanding Alumni Award
When Tiffany and Leon Chen were students at UT, they had no idea that in 20 years, their homemade cookies would make their way to parties, offices and front porches across the country. Tiff's Treats, which they founded in 1999 in their Hyde Park apartment while students at the advertising and business schools, respectively, has today become a staple in how people say happy birthday, congratulations, thank you and my condolences, with baked-to-order cookies that always arrive warm at the door. Today, Tiff's Treats is a multimillion-dollar company with 86 stores across the country, employing 1,700 people. Last year, the Chens published an autobiographical book, "It's Not Just Cookies: Stories and Recipes from the Tiff's Treats Kitchen," giving an honest look inside their business and their marriage. On top of being husband and wife, parents, business partners and published authors, the Chens give back to their community whenever they can, donating to local charities and visiting Moody College students to share their wisdom and expertise.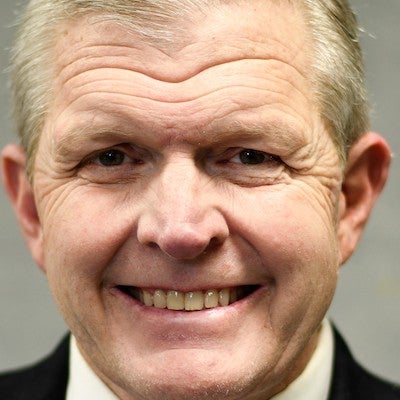 KEN CAPPS
2023 Outstanding Alumni Award
Ken Capps began his career in journalism 45 years ago at UT's then-College of Communication. He was not your typical incoming freshman. Before he set foot on the UT campus, he was already a full-time TV broadcaster at KTBC-TV in Austin at the age of 17. In his 20-year journalism and 20-year corporate communications and public affairs career, he has been honored with numerous awards. Capps enthusiastically mentors Moody students and has taught classes on everything from Reporting in a Crisis to Crisis Communications for CEOs. Currently, he serves on the advisory council of Moody's Center for Sports Communication & Media. He also created an endowment for budding sports writers at Moody College.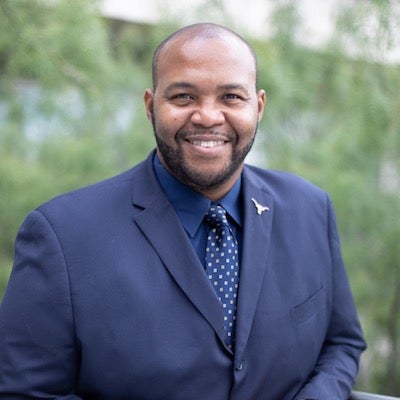 KYLE CLARK
2023 Jay M. Bernhardt Award for Staff Excellence
Kyle Clark is Moody College's assistant dean for advising and director of student support and has worked tirelessly for UT for 22 years. He has had many roles in his time at the University, starting in Housing and Dining as a graduate resident assistant. He then worked in New Student Services, followed by the University Leadership Network scholarship program before coming to Moody College in 2020. Clark is advisor to the college's Communication Council, where he helps student leaders elevate student concerns to Moody College faculty and administration. Fun fact! Clark also works as a DJ at high-profile events, making him the perfect person to spearhead Moody College's undergraduate student events.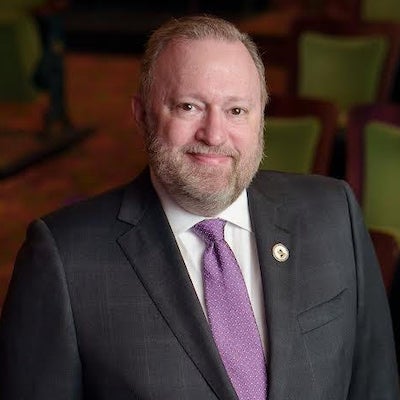 JAY BERNHARDT
2023 Robert C. Jeffrey College Benefactor Award
Jay Bernhardt served as dean of Moody College from 2015 to 2023, departing this year to serve as president of Emerson College. In his eight years as dean, he left an indelible mark on the college, helping raise more than $130 million, hiring 50 tenured and tenure-track faculty members, assisting in boosting the four-year graduation rate to more than 80%, and establishing numerous centers, institutes and programs engaged in cutting-edge research. He is revered for the sense of community he helped build at Moody College, supporting faculty and staff culture through new awards and community events. Bernhardt helped spearhead the development of Moody College's new Strategic Plan, which will guide the college's energy and investment in the years to come.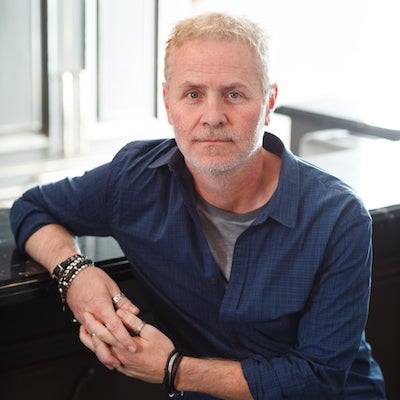 BLAKE NEELY
2023 Robert C. Jeffrey College Benefactor Award
Blake Neely graduated from UT with a degree in linguistics in 1991. In his 32-year career as a composer, he has scored more than 35 TV series and 20 films and received five ballet commissions. In 2022, he won the Primetime Emmy for the opening music of the TV series "The Flight Attendant." He has been nominated for seven other Emmys and has served as a featured lecturer on film music at numerous universities, including UT. Neely has continually given back to Moody College through its UTLA program, supporting students who are pursuing careers in the entertainment industry while studying in Los Angeles. In 2020, he established a major endowment for UTLA, which supports scholarships for current and future students to ensure access to the program regardless of financial status.