A look at the 2021 faculty and staff award winners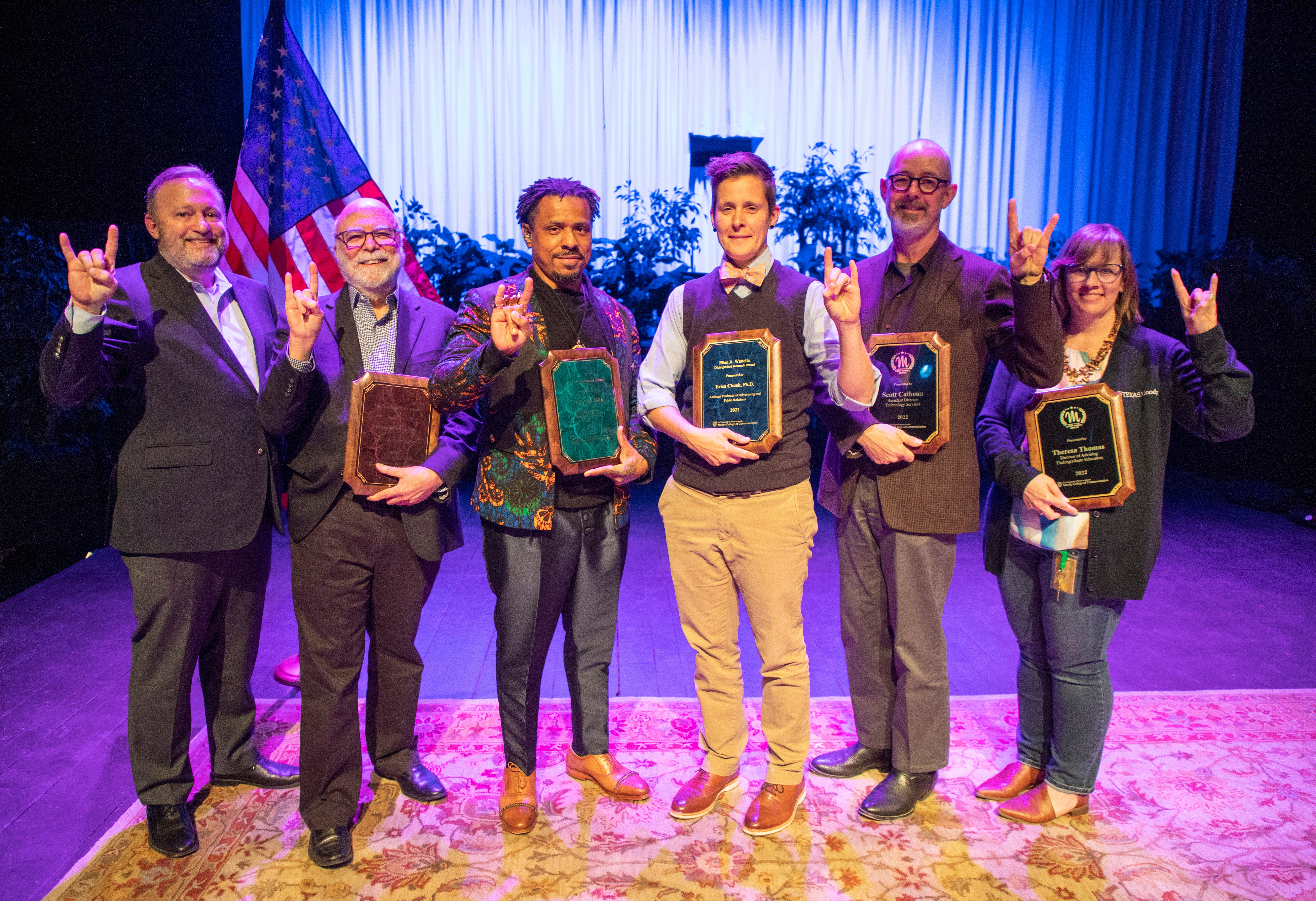 Every year, the Moody College of Communication recognizes faculty and staff for their significant contributions to education, scholarship and creative endeavors. In the face of numerous obstacles over the past year — extreme weather, disease and social isolation — this year's recipients were able to unite students and staff, tell compelling stories and break the molds of traditional research. Read more about these outstanding faculty and staff and listen to speeches from the Moody College Spring 2022 Town Hall.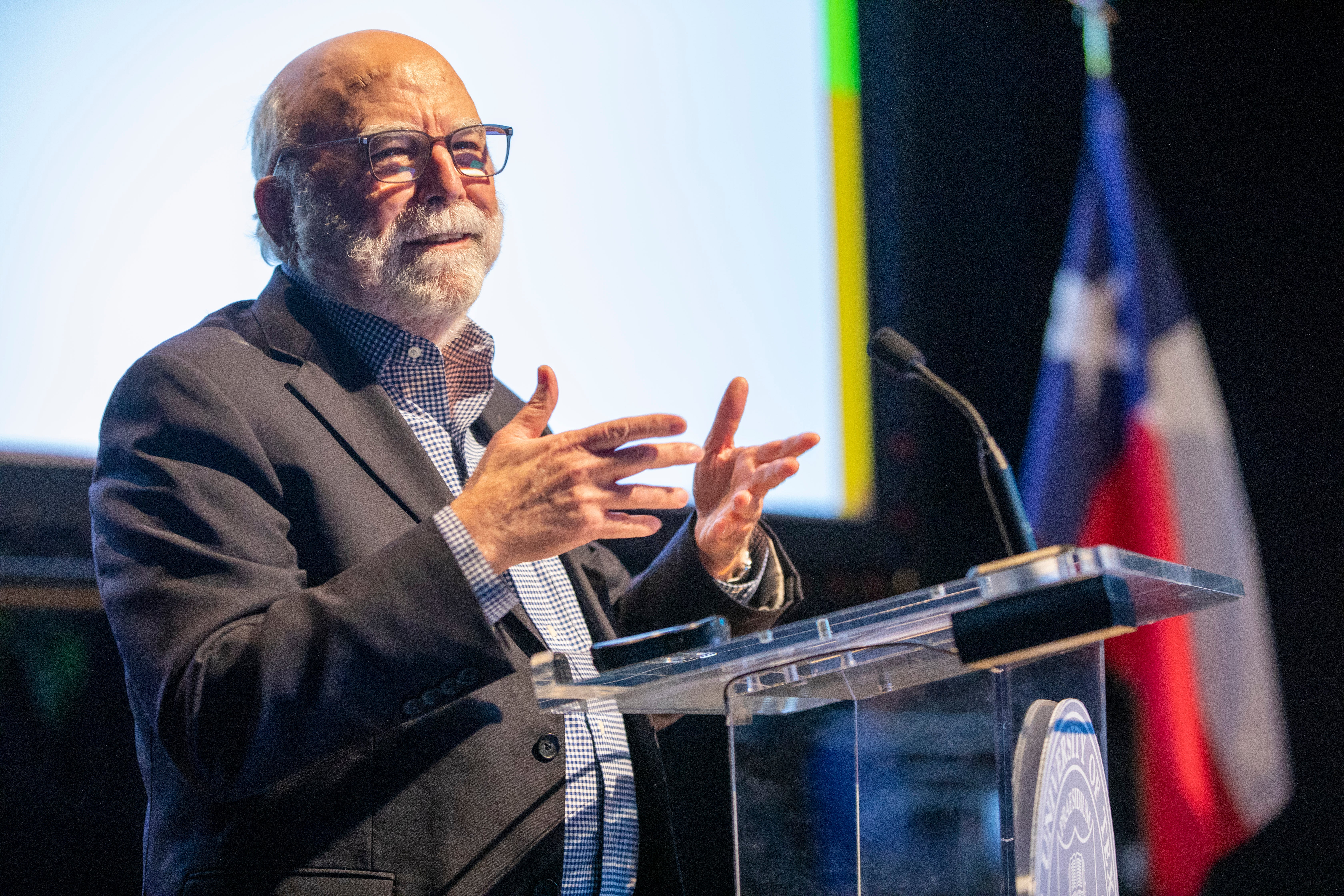 Moody College of Communication Teaching Excellence Award
Rosental Alves, professor in the School of Journalism and Media
A former foreign correspondent and newspaper editor, Journalism and Media Professor Rosental Alves has been praised by students for his warm personality, his passion for reporting and his ability to translate his personal experiences in a way that provides a deeper understanding of the subjects he lectures on. Alves, who founded the Knight Center for Journalism in the Americas, began working as a journalist when he was 16 and remained in the industry for 27 years before transitioning to academia. His teaching and research focuses on international reporting, internet journalism and journalism in Latin America, particularly the struggle for a free press in that region. In a very challenging year, students said Alves always made them feel supported, sharing his own struggles amid the pandemic, and creating a classroom atmosphere that made impersonal online classes feel personal. He is known for taking an active role in helping student journalists develop their careers long after graduation.
Professor Rosental goes above and beyond to make interpersonal connections with his students, in addition to being one of the kindest and sweetest souls I have seen in a classroom. — Student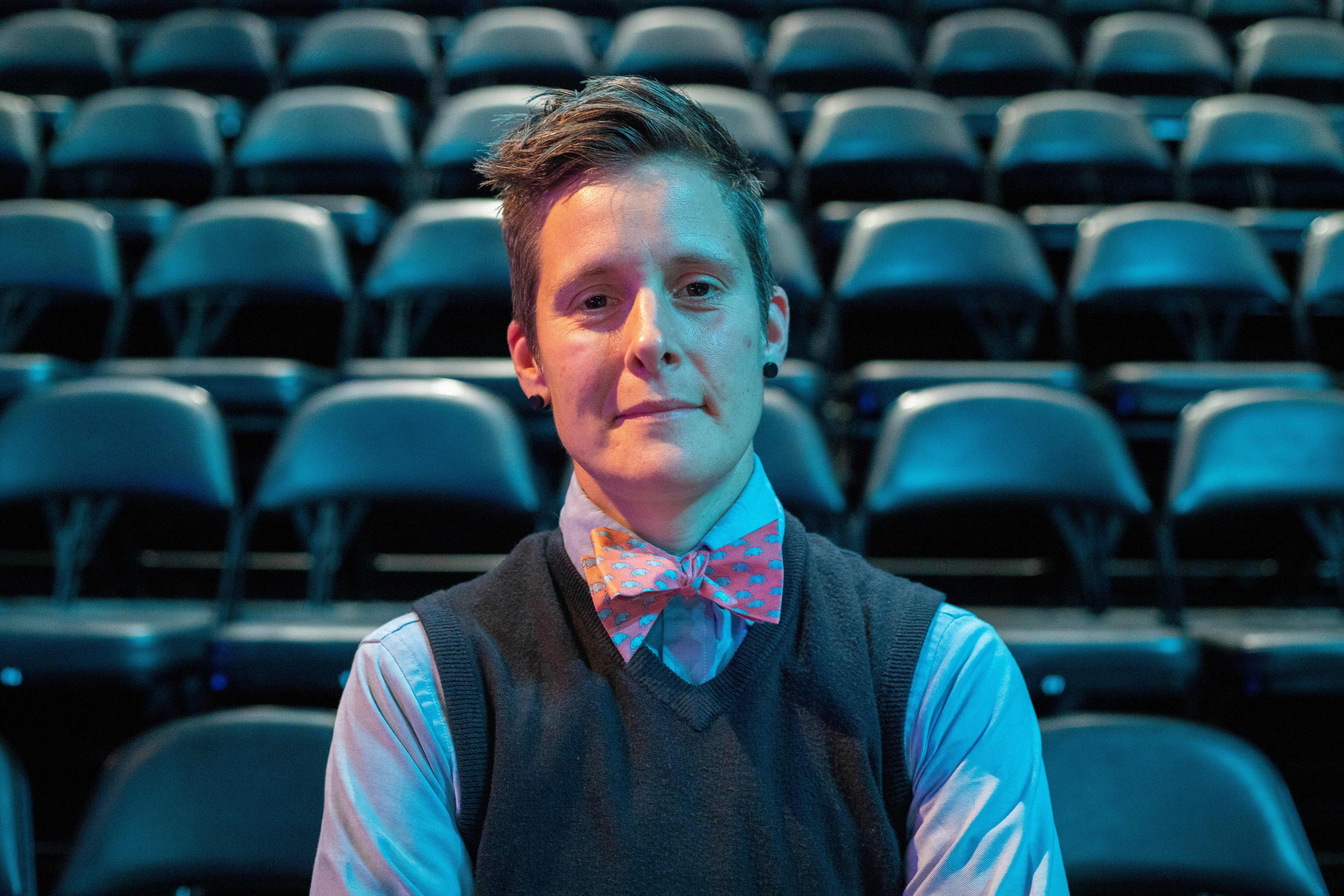 Ellen A. Wartella Distinguished Research Award
Erica Ciszek, assistant professor in the School of Advertising and Public Relations
Advertising and Public Relations Assistant Professor Erica Ciszek has spent their academic career ensuring that marginalized voices and perspectives are included in the study of advertising and public relations. Ciszek was given Moody College's 2021 research award for their study "Power, Agency and Resistance in Public Relations: A Queer of Color Critique of the Houston Equal Rights Ordinance." They and co-author Nathian Shae Rodriguez from San Diego State University interviewed people who campaigned for Houston's anti-discrimination bill, also known as HERO or the "bathroom bill," because of the media focus on allowing transgender people to use restrooms consistent with their gender expression. Ciszek found that HERO communications campaigns silenced the voices of queer people of color, and rather was led by national organizations with predominantly white and male leadership. Their findings speak to fatal flaws within the field of public relations and illuminate how poor leadership and lack of inclusion can make or break a campaign. The study, which aims to transform public relations scholarship by centering queer people of color, is praised for its quality, depth and sophistication.
To investigate race, gender, and sexuality within public relations is to recognize the unique experiences that these varied contexts produce. — Erica Ciszek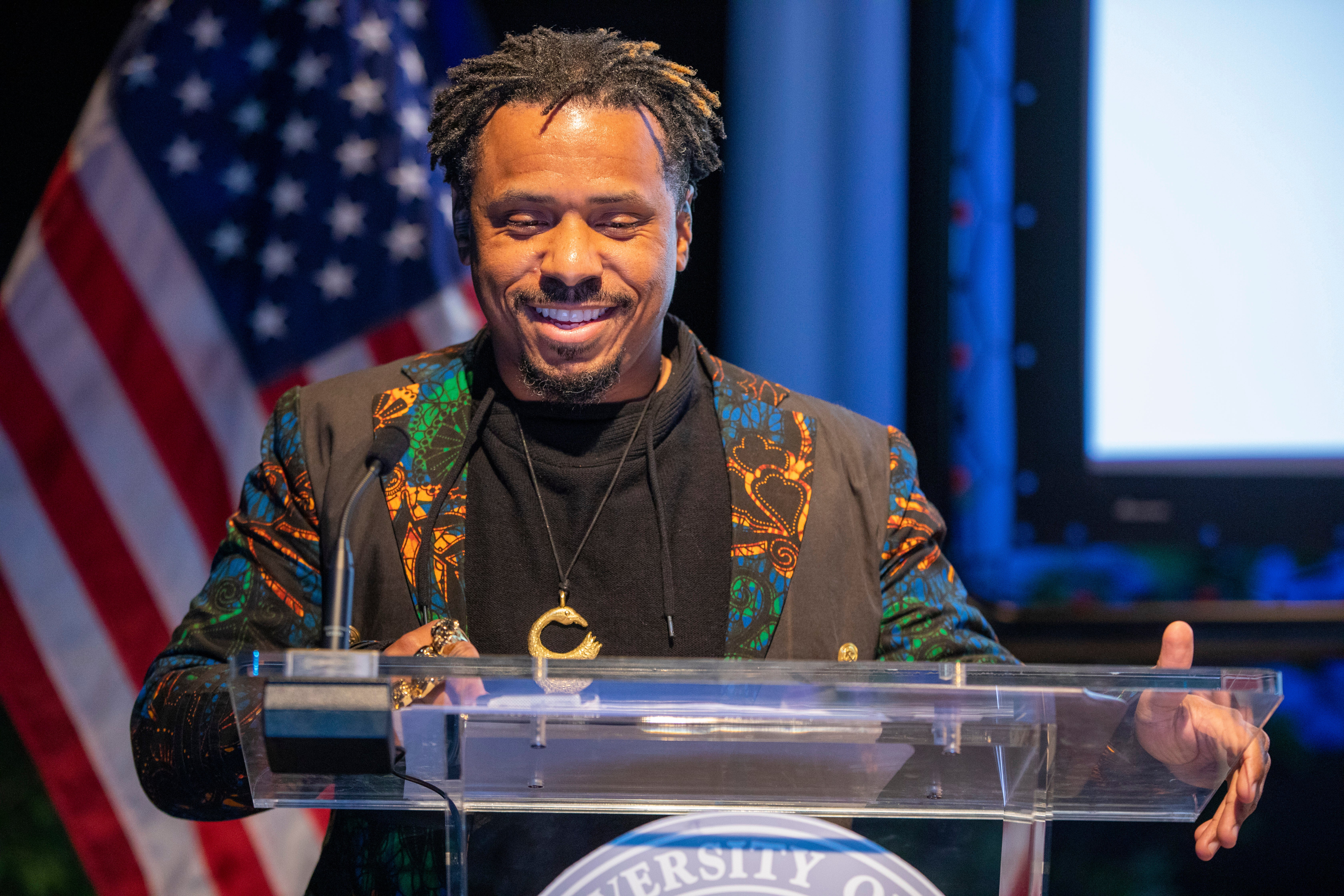 Moody College Creative Achievement Award
Ya'Ke Smith, associate professor in the Department of Radio, Television and Film
Radio, Television and Film Associate Professor Ya'Ke Smith debuted his short film "Brother," in March 2020. It tells the story of Caleb, who after his older brother Casey returns home from a prison sentence, finds his relationship with his best friend Jason put to the test. The film grapples with anti-blackness and toxic masculinity and asks viewers to interrogate where these negative and divisive behaviors come from and what part we play in perpetuating them. Smith, who is the associate dean of diversity, equity, and inclusion and a rising voice in independent cinema, is known for his unflinching and veracious style of storytelling. This latest film is praised for its outstanding quality, the breadth and depth of its message, and its extraordinary impact. View Smith's awards speech.
Ya'Ke is pure in his intentions and motives for filmmaking. — Austin CultureMap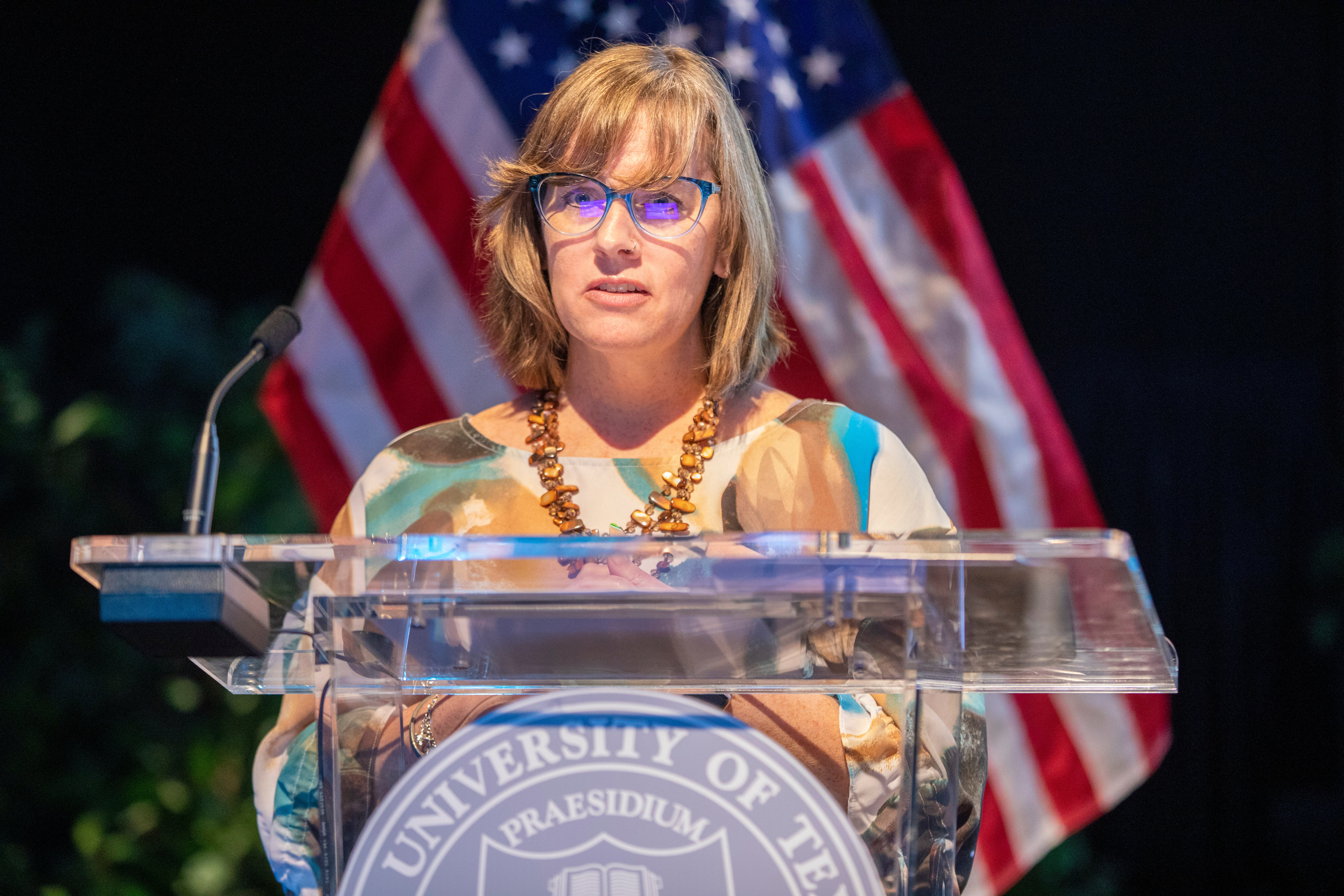 Staff Impact Award
Theresa Thomas, advising and undergraduate education
Theresa has been with UT for 20 years and the Moody College of Communication since 2004, starting as a journalism advisor and working her way up to director of advising. She is celebrated as a trusted advisor, building real relationships with students by supporting both their academic careers and personal trials. In her 15 years of service, she has created the Moody Mentor program, which pairs first-year students with advanced Moody students for academic guidance; the Moody College Success Scholars Program, which provides support to some populations of incoming freshmen transitioning from high school to college; and COM Back on Track, which helps Moody students on scholastic probation raise their GPA. During the pandemic, she worked tirelessly to help students navigate our new and challenging world.
She's got amazing people skills, works incredibly well with others, and is adored by students. Her impact is immeasurable. —Staff member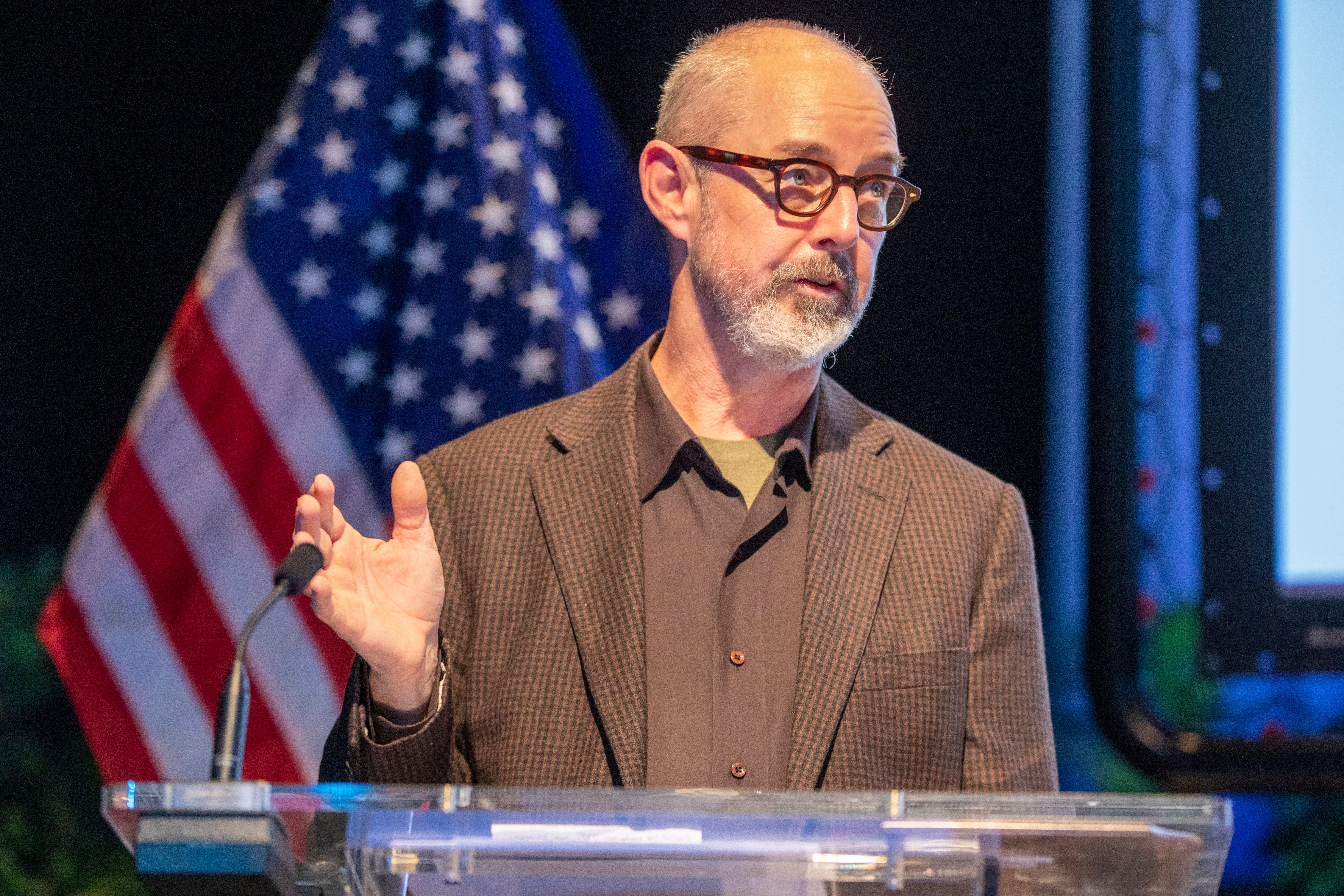 Staff Impact Award
Scott Calhoun, Moody College technology services
Scott has worked for the Moody College of Communication since 1997, first as a systems analyst and now as assistant director of technology services. His fellow employees praise him for his dedication, positivity and helpful attitude. In addition to his responsibilities managing Moody's entire tech services operation, he is also the go-to person for software purchases and reviewing terms and conditions. During the most difficult times of the pandemic, Scott worked tirelessly, making special trips to campus to ensure everyone's equipment was in good working order, regardless of whether they were at home or in the office. He truly exemplifies the Moody spirit.
I think you'd be hard pressed to find someone who better exemplifies Moody community.  No request is too big or too small for him to respond to, and he's always a joy to work with. —Staff member