Moody Sets Bold Vision for the Future with $165M Campaign
UT Austin's What Starts Here campaign has an overall goal of $6B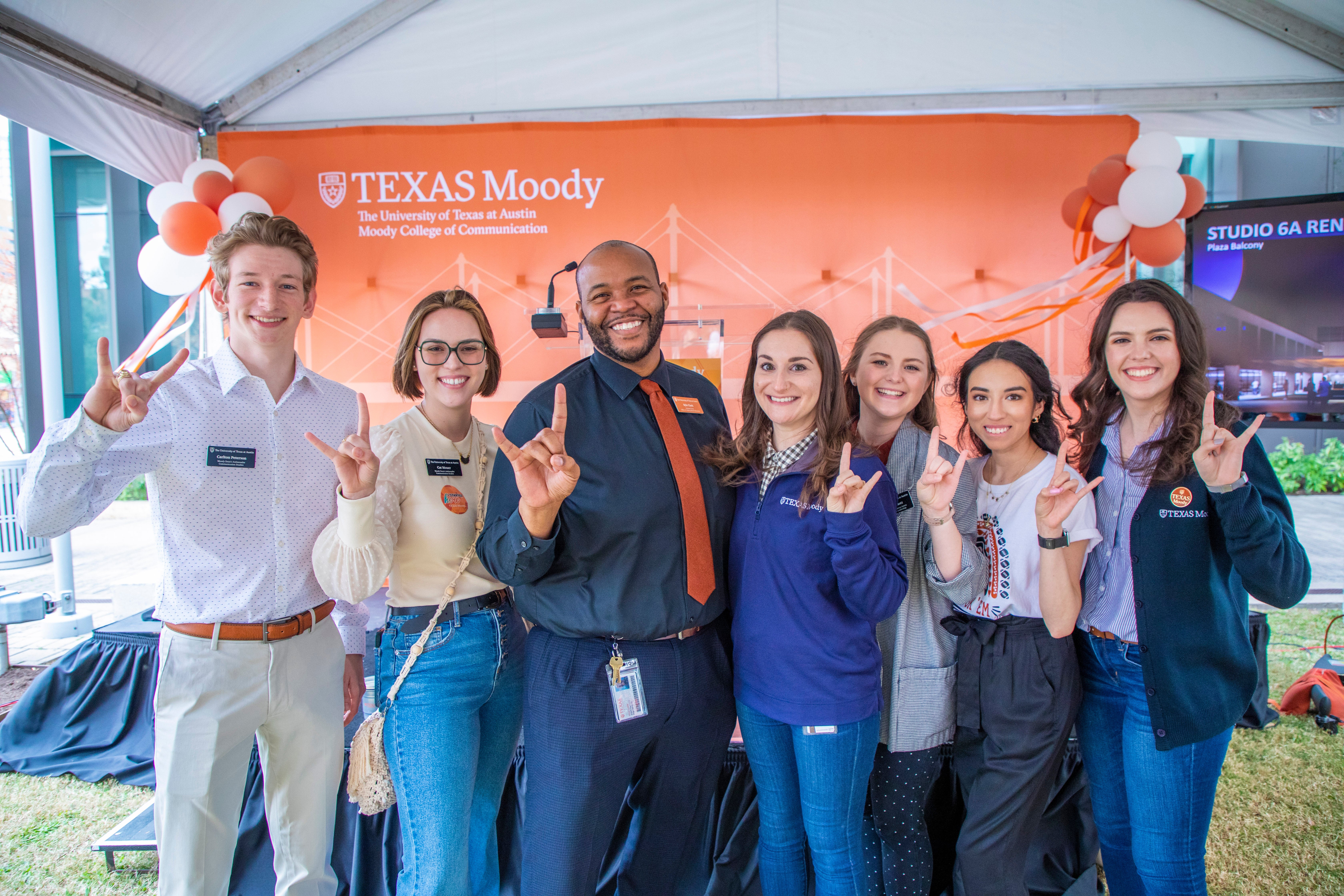 On Friday, The University of Texas at Austin publicly launched the What Starts Here fundraising campaign — the biggest and boldest fundraising effort in university and state history — with a goal of raising $6 billion.
With the additional support, UT Austin aims to become the highest-impact public research university in the world by supporting students, recruiting the best faculty, transforming healthcare and ensuring its scholarship translates to real change for Texans.
The Moody College of Communication has announced its own goal to raise $165 million as part of the campaign, which will support, among its many priorities, student scholarships and internships and endowed professorships.
Fundraising dollars will also pay for facilities upgrades, the centerpiece of which is a state-of-the-art renovation of the world-famous Studio 6A, former home of KLRU and the original home of the Austin City Limits show. The space in the Jesse H. Jones Communication Center (CMB) that now houses Moody's film and production studio is set to become the best stage and live event space in Austin.
"Moody is the best communication college in the world, and we couldn't do what we do if not for the generous financial backing of our incredible supporters," Moody College of Communication Dean Jay Bernhardt said. "Your support enables us to make strategic investments in our facilities and also in new innovative areas of communication, like digital storytelling, data science, augmented reality, and many other emerging technologies that are changing the world, now and in the future."
Donations will also help to establish new centers, institutes and programs and provide enrichment opportunities for graduate students, as well support for the UTLA and UTNY programs, which offer an immersive education in our country's largest cities.
On Friday, Moody faculty, staff and students joined in a celebration on the G. B. Dealey Center for New Media lawn to kick off the campaign. Dean Bernhardt provided remarks and a quintet from the Butler School of Music performed songs. Several Moody programs were represented, including KUT and KUTX, The Drag audio production house, Texas Student Media, Moody Honors, and the Speech and Hearing Center, which gave free hearing tests.
"Today, we are celebrating the unveiling of a bold vision and a bold goal for Moody College to have an even larger impact than it does today," campaign co-chair Marsha Jones said. "The students at Moody are already changing the world, and collectively, we can support them in achieving even more than they imagined."
While state funding supports some university operations, UT Austin relies on philanthropic support to drive excellence in its scholarship, programs and facilities. It was through donor support that the university was able to build the Texas Memorial Stadium, invest in faculty endowments in the 1990s and realize transformational new endeavors like Dell Medical School.
Money raised in preparation for the public launch of the campaign is already supporting several Moody initiatives, including the establishment of a premier stuttering education and research center and The Lab, a new student-led ad agency experience to ensure all advertising and  public relations students are industry ready upon graduation.
"We sent our four daughters to Moody College because we truly believe it is the best communication college in the world," campaign co-chair Jim Nelson said. "That is because of the people here and the programs it offers. And central to this is philanthropy, which makes all these things possible."
UT Austin has set 2027 as the end date for its What Starts Here campaign. Donations to Moody College are being accepted through its campaign website.