Michael Barker to present College of Communication commencement
Alumnus and Sony Pictures Classics co-founder will draw on his experiences at UT

Before Michael Barker co-founded independent motion picture studio Sony Pictures Classics, he was a film connoisseur and information sponge at the University of Texas at Austin, where he will return to deliver the College of Communication commencement address at 3:30 p.m. on Friday, May 18 at the Frank Erwin Center, located at 1701 Red River Street. The commencement address will livestream at http://collegetvticket.com/schedule/index?school=410&activity=27.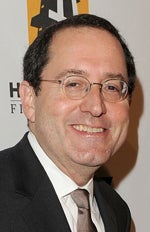 Born and raised at an American military base in Nuremberg, Germany, Barker spent four of his teenager years in Dallas before making his way to the Forty Acres.
"I didn't know what to do exactly but I discovered that I was meant to be in the College of Communication," said Barker, co-president of Sony Pictures Classics. "Every department offered something in all the areas I was interested in."
Barker said that his roommate was an editor at The Daily Texan and that journalism was a hot major at the time because of the recent Watergate scandal. The Department of Radio-Television-Film also intrigued him because it ran a program named CinemaTexas, a graduate-student-run film society that operated from the early 1970s to the mid-1980s. The young Barker went to screenings Mondays through Thursdays each week, which allowed him to see films from around the world, complete with essays and critiques by CinemaTexas members.
"From '72 to '76, the university had tons of these film programs all across campus," said Barker. "I'd see 10 to 14 movies a week."
Ultimately, Barker said he majored in speech communication because the broad-based coursework appealed to him and he learned multiculturalism while a student worker, when his job was to help students from foreign countries learn how to deliver speeches in English.
"I think about those students all the time when we win Oscars and other awards for foreign films," said Barker. "The diversification of the student population is something special that I really remember about UT."
The film executive also noted that courses in non-verbal communication continue to serve him by helping him understand a person's demeanor based on their movement, patterns and mannerisms.
Career
Barker graduated in 1976 but still returns to Austin for the South by Southwest (SXSW) Film Festival, where he premieres at least one film each year. The latest SXSW offerings from Sony Pictures Classics for 2012 include two: "The Raid: Redemption," in which a SWAT team becomes trapped in a tenement run by a mobster and his army of thugs; and "Searching for Sugar Man," a documentary about a musician whose bootlegged copies drifted from the U.S. to South Africa and made the artist wildly popular overseas.
"I get a real thrill premiering my movies at the Paramount Theatre," said Barker. "I saw 'The Godfather' there and it still brings back fond memories."
Barker's post-graduate career began after leaving Austin for New York to pursue a greater number of entertainment industry opportunities. He took acting courses taught by Stella Adler and landed his first job at Films, Incorporated, which rented 16mm films to libraries, churches, schools, prisons and other organizations. It was at Films, Inc. that Barker met Tom Bernard and forged a partnership that would eventually launch two motion picture companies.
"I was head of the program that selected movies to screen at the Texas Union and Tom had done the same thing at his school," said Barker. "We both concluded early on that even though movie-making is collaborative, quality independent films are driven by the personality and the force of the director and writer – and that's often the same person."
The pair went on to work at United Artists from 1980 to 1983. The company was considered a distributor of foreign language films along with American independent and reissues of classic films, and saw success releasing independent foreign movies such as "The Last Metro" by Francois Truffaut.
After gaining experience at UA, Barker and Bernard co-founded Orion Classics, a division of Orion Pictures, which was managed by four legendary film executives who Barker said, "followed the mantra of doing everything to support the filmmaker." It was at Orion Classics from 1983 to 1991 that the duo began to dabble in movies at the production stage.
Arriving at Sony in January 1992, the two were told by CEO Peter Guber that Sony wanted a film label with quality-of-brand recognition and the kind of content that could stand the test of time. According to Barker, this original concept launched Sony Pictures Classics, and is still what the company strives to accomplish with every film.
"Sony has always allowed us a lot of freedom to make decisions in what we want to do and how we want to do it," said Barker. "To invest in something that will be valuable years after it's first released – a long-term way of thinking. The reason we have 'classics' in our name is that we hope our films earn that title."
Barker explained that Sony Pictures Entertainment insists on a fully diversified slate of films that allows for content at all levels, including space for big studio movies and room for lower-budget independent films.
"What's also exciting is that there are so many ways to see a movie now: streaming, on phones, on iPods, in airplanes, in IMAX, and on iMacs," said Barker. "It allows for a wider array of movies to be made and to be seen and there's a place for all of those venues. The tough part is the increased competition for the audience's attention."
About two-thirds of the films distributed by Sony Pictures Classics are acquisitions with the remaining third comprised of films that are committed by the company at the first stage of production.
The Independent Motion Picture Industry
Barker said that handling smaller-budget films requires very cost-effective means at all levels of expenditure and a disciplined calculation of risks taken, actors cast, and how a film is distributed and marketed. For example, Sony Pictures Classics only has 25 employees that handle theatrical distribution for all the United States.

"You never know the results ahead of time," said Barker. "Whether it's a $200 million movie or one that costs $3 million – these costs have no bearing on what the results will be."
Sony Pictures Classics now boasts a library of more than 350 independent titles that include everything from animation and documentaries to American independent movies and foreign films. Major successes for the motion picture company include Best-Picture Oscar nominees "Crouching Tiger, Hidden Dragon," "Capote," "An Education," "Howards End" and "Midnight in Paris."
"We made a difference in the release of 'Capote,'" said Barker. "The picture did almost $30 million at the box office and we educated people on what it was to jump start the word-of-mouth and get it out there."
Barker also gained insight from 2000's "Crouching Tiger, Hidden Dragon," the highest grossing foreign language film of all-time in North America.
"We learned that young people don't care about subtitles as much as the older mainstream audience," said Barker. "It doesn't bother them."
In terms of marketing, social media is an important part of new strategies and Barker said that the approach depends on the target market of a particular project.
"For younger audiences, we emphasize the Web and certain TV spots on specific television shows," said Barker. "For older people, we'll put ads in the newspapers and radio as well as paying attention to social media – every film is unique."
Distribution is tailor-made for each film, from theatrical to digital media to DVD, Blu-ray and through vendors such as iTunes and Amazon, often using a combination of all methods.
"Most of our movies adhere to the usual windows to get the most revenue. Word-of-mouth and longevity of runs in theaters are still important – we kept 'Midnight in Paris' in the theater for 11 months and we are proud of that," said Barker. "Ideally, we want to get the crowds into the theaters but if (people) don't go, then our campaign makes an impression so the audience remembers the title and wants to see it later."
Taking a look at trends, Barker noted that film content is often dictated by current events.
"The global economic crisis has caused – even in the independent scene – a greater interest in a lighter movie over a heavy drama," said Barker. "The issue that becomes a challenge is that the audience has so many options now from Twitter to TV to sports events to theaters. Everyone is fighting for the audience's attention."
When asked what films he embraces as his all-time favorites, the film executive took a few moments before responding, "'The Big Sleep,' 'The Godfather' and 'Rear Window.'"
While he's worked with dozens of groundbreaking filmmakers, Barker said the most visceral experience came from a meeting with legendary Japanese director Akira Kurosawa, who asked Barker and Bernard to travel the U.S. with him to promote Kurosawa's epic 1985 film "Ran," based on Shakespeare's "King Lear."
"He was very excited that we were young and full of energy," said Barker. "We have present-day relationships with people that have become a part of our Sony Pictures family, but the time we spent with Kurosawa really stands out."
In terms of day-to-day activities, Barker said managing an independent motion picture company includes everything from creating trailers, reading screenplays and watching cuts of a film, to meeting with filmmakers and crafting strategies to market and distribute releases.
"I'll tell you how Tom (Bernard) puts it: 'We like what we do, we've always liked what we do and we're happy doing what we do,'" said Barker.

When he revisits campus to deliver his commencement speech, the alumnus said he looks forward to reflecting on his time at the Forty Acres.
"By meeting so many people of different religions and political affiliations, I learned about the world at UT. You could find your place there at the university – no matter how eccentric you were," said Barker. "The multidisciplinary approach that I received as a speech communication major helped mold who I am."

In terms of advice for new graduates, Barker emphasized not to pass up any opportunity to work with someone from whom you can learn.
"When you start in the business you desire to be in, there's no job too menial. My first job was typing invoices to rent movies out to churches and libraries," said Barker. "When you do those first jobs, be careful not to be too frustrated that things aren't going fast enough for you. Trust in the process, strive upward and you'll get there."
Awards and Mentions
126 Academy Award nominations and 29 wins
Best Picture Nominations – Midnight in Paris; An Education; Capote; Howards End; Crouching Tiger, Hidden Dragon
Five Academy Awards for Best Documentary Feature
12 Academy Awards for Best Foreign Language Film
35 Independent Spirit Awards
17 Golden Globe Awards
Directors Guild of America – Honors Award
The Nation of France – Chevalier of the Ordre des Arts et des Lettres
FINDIE Spirit Award
GLAAD Media Award
Independent Feature Project – Gotham Industry Lifetime Achievement Award
Sony Corporation – Special Recognition Award
Selected Filmography
Crouching Tiger, Hidden Dragon; Howards End; Inside Job; Fog of War; Babette's Feast; All Around my Mother; The Lives of Others; A Separation; Rachel Getting Married; Sweet and Lowdown; Take Shelter; Pollock; Slacker; Welcome to the Dollhouse; Kung Fu Hustle; Moon; Orlando; Run Lola Run; The Triplets of Bellville; Persepolis; Waltz with Bashir; Dogtown and the Z Boys; Crumb; Winged Migration; It Might Get Loud; Ran; A Prophet; White Ribbon; Talk to Her; Central Station; Wings of Desire
Barker's passion for movies even led him and his colleagues to restore and theatrically reissue films that inspired him while an undergraduate at UT, including "The Passenger," "The Garden of the Finzi Continis," "Murmur of the Heart" and classic films by Indian filmmaker Satyajit Ray.
Filmmaker Collaboration
Woody Allen, Pedro Almodovar, Louis Malle, Zhang Yimou, Michelangelo Antonioni, Suzanne Bier, Ingmar Bergman, Francis Ford Coppola, David Cronenberg, Jeff Nichols, Guillermo del Toro, Jean-Pierre and Luc Dardenne, Jonathan Demme, Rainer Werner Fassbinder, Michael Haneke, Nicole Holofcener, Akira Kurosawa, Norman Jewison, Ang Lee, Richard Linklater, Errol Morris, Roman Polanski, Sally Potter, Francois Truffaut and Wim Wenders.