Education, Environment and Opportunity
Broadcast journalism legend Neal Spelce delivers fall commencement address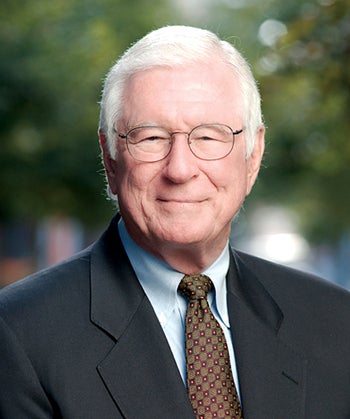 Moody College of Communication fall commencement takes place Saturday, Dec. 9 at 1:30 p.m. in the Frank Erwin Center, 1701 Red River St. and will feature an address from alumnus Neal Spelce (B.A., B.J., B.F.A. '58), legendary newsman, public relations professional and media executive. The ceremonies will also be webcast live.
Spelce has been a media legend in Central Texas and beyond for more than 50 years in the fields of journalism, public relations and media.
After earning degrees in journalism, speech and radio-television from The University of Texas at Austin, Spelce worked as a broadcast journalist for KTBC-TV, where he became known for his heroic live coverage of the UT Tower shootings on campus in August 1966.
Neal Spelce
Spelce went on to serve as a communications executive and has consulted business leaders and political candidates across party lines, including President Lyndon B. Johnson, Senator John McCain, New York Governor Mario Cuomo and Texas Governor Ann Richards.
During his career, Spelce earned numerous community and industry honors including top awards from the Society of Professional Journalists, the Public Relations Society of America and the National Headliners Clubs highest award for consistently outstanding television news coverage.
In 2016, Moody College dedicated CMB Studio 4E as the "Neal Spelce Broadcast Journalism Studio," following a fundraising campaign that was supported by Moody College friends and alumni.
At the dedication ceremony, Spelce recalled the lessons he learned in journalism and radio and film that provided a foundation for his career as a broadcaster.
"I want to give great thanks to The University of Texas for providing the education, environment and opportunity…for anyone who wants to come into this fantastic environment, this institution and decide what they want to do when they grow up,"  said Spelce. "Today, it's even better and greater than fifty years ago when [I was] here."