Radio-Television-Film alumnus' film honored with four Academy Award nominations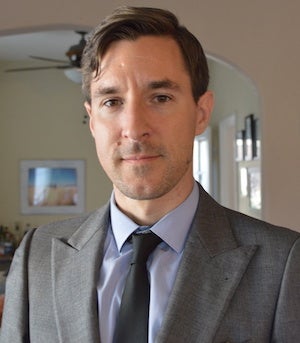 Executive producer and Department of Radio-Television-Film alumnus Ray Mansfield's (B.S. '00) horror film "Get Out" was honored with four Oscar nominations for best picture, lead actor, director, and original screenplay leading up to the 90th Academy Awards ceremonies to be hosted by Jimmy Kimmel and broadcast on the ABC network on Sunday, March 4 at 7 p.m. CST.
"Get Out" will face stiff competition in this year's best picture category at the Oscars from "Darkest Hour," "Dunkirk," "Call Me by Your Name," "Lady Bird," "Phantom Thread," "The Post," "The Shape of Water," and "Three Billboards Outside Ebbing, Missouri."
In January, "Get Out" was in the running for two Golden Globes in the categories of best motion picture musical or comedy, and best performance by an actor in a motion picture musical or comedy by leading man Daniel Kaluuya. The horror and dark comedy motion picture was edged out by best picture-winner "Lady Bird" and actor James Franco's performance in "The Disaster Artist."
The plot of the film centers around a young African-American man who meets his white girlfriend's parents for a weekend in their secluded estate in the woods. Before long, the friendly and polite ambience gives way to a bizarre nightmare.
We caught up with Mansfield to see what he's been up to since his time on the Forty Acres and how he became a successful Hollywood producer.
How did you begin your career in film?
My first job was right out of film school as a director of photography on a documentary. That shoot brought me to California. I loved the state and I loved Los Angeles. When we got back to Austin I packed my car up and moved out to L.A. My first job there was as a production assistant on a John Grisham movie. I did some other on-set P.A. work while looking for a full-time job. Then, I was hired in the mailroom at a management and production company called 3 Arts Entertainment, where I was lucky enough to work for several years with Bernie Mac, an entertainer I had admired growing up.
"On paper this movie should not work. Not changing the movie to be something it's not was a challenge worth overcoming."
I left 3 Arts to pursue my first entrepreneurial effort and launched a production company with a film school friend. We wrote screenplays and developed feature films while producing "added value" content for the studio home entertainment departments. This was at the time when everyone was putting out "director approved" double-disc DVD packages of successful films. So, we did behind-the-scenes documentaries, short films, animations, etcetera things for the studios to fill up their second disc.
During that process, I realized how hard it was to find money for feature films. So, I set out to learn film financing. I was then hired by a management and production company called The Collective, which had a film financing division that I worked in. After several years, I felt I'd learned enough about packaging and financing feature films to give my own company another try so I launched my second production company called Movie Package Company. Here, an industry colleague and I produced and financed about a dozen movies as producers and executive producers. I then launched QC Entertainment in 2016 with a longtime friend and excellent movie producer. And that's what I'm doing now.    
Why did you decide to be a producer?
It found me naturally. I'm interested in all aspects of the filmmaking process. I like the business. I like the creative. I find negotiations just as interesting and creative an endeavor as developing a screenplay or sitting in the editing room. I wanted to have a hand in all sides of the business. I think I would get bored if I only had one focus to put my energy and mind into each day. And that lead me to being a producer.