Finding your place to belong
First-year foundations class designed to position student success
The Fall 2020 semester rolled into action on Wednesday, Aug. 26 with scenarios rarely, if ever, faced among a college community.
These are historical moments, indeed, and in the case of Madeleine Redlick, they involved sitting in her home office, psyching herself up to teach with a carefully curated musical playlist, and then delivering a live lecture into a computer screen behind which were more than 800 first-year Moody College students.
"My job this semester," she told them, "is to show you all around your new home."
Moody Talks, Episode 4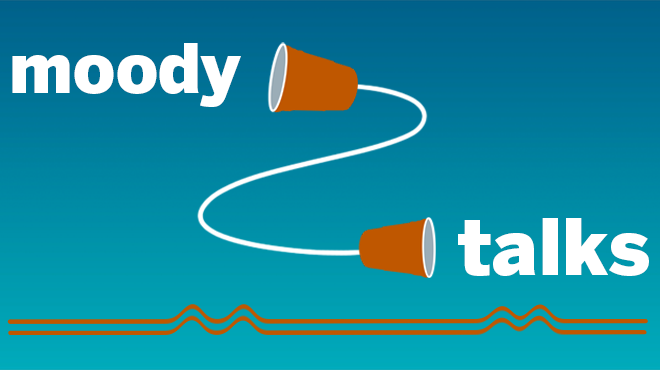 In this episode, host Austin Martinez visits with Claire Clements, a journalism first-year student who loves reading, visiting coffee shops, and advocating for disability rights, about her unique journey to find a sense of belonging as a new college student. Listen on iTunes.
Indeed, Moody College is now the grateful academic home to a new cohort of students, and Redlick is the faculty leader of the Communications Foundations program. Following several years of development, the first of the two Communications Foundations classes launched this fall, and it is required introductory curriculum for all first-year and incoming students.
Because of the breadth and depth of interesting, innovative and inspiring research among all of Moody College's seven majors, the Communication Foundations course was developed to provide students with an understanding of all the communication fields represented in the college, as well as the key concepts and axioms that ground each of those fields.
As noted in the class syllabus, "we want to give you more than just knowledge. We want to give you skills."
By the end of the semester, students should be able to:
Explain basic concepts that unite communication.
Identify resources in Moody College and on UT campus that support personal and academic well-being.
Analyze communication factors that enhance group collaboration and teamwork.
Evaluate how the diversity of communication enables and enriches their personal, academic and professional develop.
Ultimately, the course is intended to position students for success in all aspects of their life, this semester and beyond. And in this way, Redlick is part teacher and part tour guide. Each class meeting includes her own wise words and announcements, as well as guest lectures and a facilitated live Q&A.
Dean Jay Bernhardt visited during the second class meeting, and along with describing his scholarly background as a public health practitioner, he also explained his role as Moody College's "chief academic officer," and advised students to "take some risks, take some chances," by stretching their boundaries and thinking outside the box.
Other class visitors include undergraduate studies Dean Brent Iverson, CARE Counselor Abby Simpson and faculty members from throughout Moody College.
"We're low-key famous at this point," Redlick told her students. "People are very excited about the list of guests we've put together to talk to you."
In addition to the interdisciplinary topics and speakers, the course's framework is progressively student-focused. Redlick leads a teaching team of graduate students and undergraduate students who have specific roles to enhance engagement and community.
Ciara Alpert, for instance, is an undergraduate learning assistant and the designated class "Q&A captain."
"Dr. Redlick probably determined our roles based on our previous experience and strengths noted on our applications. I'm in Corporate Communication, so I love to communicate. She might have thought I'd be a good fit for creating and answering questions," Alpert explained. "My main role is to create attendance quiz questions every class based on the speaker's presentations. This is to make sure students are paying attention to the valuable content that our speakers provide.
"I'll also monitor student questions in the chat during class. With a class of over 800 students, we receive many questions in the chat, over email, and in-office hours which we all work on answering."
Alpert said this is a class she wished was available as a first-year student. As a corporate communication major, she wasn't exactly sure what she was going to learn or even how she was going to learn it. The foundations course is designed to help incoming students think about why they selected their major and research more thoroughly how they will engage with curriculum in the coming years.
"I want them to complete this course feeling like Moody is their home and that they are surrounded by people who want to see them succeed," Alpert said. "I also want them to understand how communication ties into all Moody majors and that's why we're a part of the college of communication."