Integrity, Honesty and Trust
Alumna and broadcast legend Arthel Neville receives 2017 Reddick Award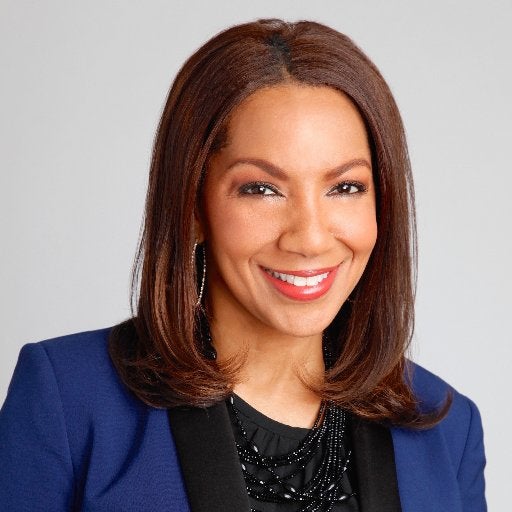 After studying journalism in the Moody College of Communication, Arthel Neville (B.J. '86) went on to become the first high-profile black female entertainment reporter as host and producer of "Extreme Closeup" on E! Entertainment Television and the first African-American woman to host her own daily show on CNN.
She's also blazed trails on high-profile assignments including co-hosting Fox's national morning show "Good Day Live," serving as guest host of "The View," and co-hosting the Miss Teen USA Pageant with Dick Clark and the Miss Universe Pageant to a worldwide audience of over 60 million people.
Currently, she is co-anchor for "America's News Headquarters" on the Fox News Channel.
In honor of Neville's contributions to journalism and communication, the Moody College presented her with the 2017 DeWitt Carter Reddick Award.
Established in 1974, the Reddick Award recognizes professional or scholarly excellence in the field of communication. It is named in honor of DeWitt Carter Reddick, who served as the first dean of the College of Communication and as director of the School of Journalism.
"During her illustrious career, she has always demonstrated the journalistic virtues of integrity, honesty, trust," said Moody College Dean Jay Bernhardt. "Her career has introduced to many local and national networks and platforms the perspectives of an African-American woman.
It is this combination of professional integrity and courageousness that we seek to instill in our students."
While earning her journalism degree at UT Austin, Neville reported for Austin ABC-affiliate KVUE — working both as full-time student and full-time reporter during her junior and senior years.
This experience helped lay the foundation for her reporting career, providing her real-time examples of what she was studying in the classroom. Neville said the tenacity and work ethic she demonstrated while in Austin helped define her career and dedication to her craft.
"Some of the memories I created while a student there at UT stand out in my mind like they took place yesterday," Neville said. "Daily drives from campus up MoPac to KVUE, where I'd trade my full-time student hat for that of full-time reporter—taking what I'd learned in class that morning and applying it later that night. It was a real-time discovery of how my education at UT was preparing me for the decades-long career that would lie ahead of me."
After graduating in 1986, she worked for local stations in New Orleans and Houston and went on to a variety of positions at the national level.
"Ms. Neville's rigor and dedication to journalism was particularly apparent in her 2005 reporting on the impact of Hurricane Katrina on her native city of New Orleans," said Bernhardt. "In her insightful and poignant coverage, she deftly balanced covering the storm as a reporter and experiencing it as a victim—following the flooding of her own family home during the storm."
Past Reddick Award recipients include Walter Cronkite, Molly Ivins, Bill Moyers, Helen Thomas and Ted Turner.
Neville was presented the award at the annual Friends of the Moody College Dinner on Nov. 9, 2017.
"I vow to continue to work hard, remain compassionate and never waiver in my commitment to being ethical and doing the right thing," she said.