Bill Murray honors alumnus Cappy McGarr for gifting prized posters to UT Austin
As home to some of the most incredible memorabilia and archives in the world, the Harry Ransom Center at The University of Texas at Austin is known internationally as a museum and repository of special items. These include the first photograph ever taken and one of only eight copies of the Gutenberg Bible located in the U.S.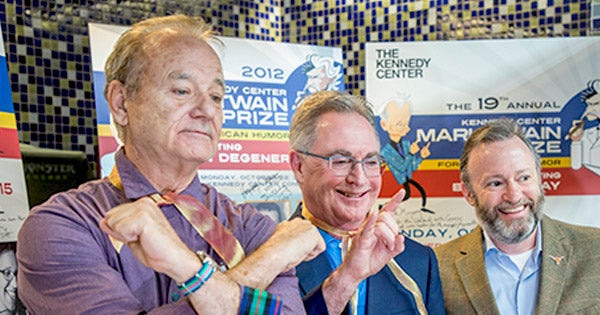 Adding to this impressive collection are posters gifted by Moody College of Communication alumnus Cappy McGarr (B.A. '73, B.J. '75, M.B.A. '77), which are autographed by the comedians who won the Mark Twain Prize for American Humor, now in its second decade. McGarr was one of the original co-creators of the award.
"They stayed in my home 20 years, but recently as my wife Janie and I did a bit of spring cleaning, we decided it was time to de-clutter," chuckled McGarr at a ceremony at Cappy's Place cafe in the Belo Center for New Media. "We asked ourselves, who would want these? Or more accurate, we asked, who could refuse these? Ultimately, we decided we could not deprive UT of these priceless relics."

The posters highlight the best in comedy such as this year's winner David Letterman and past winners including Steve Martin, Tina Fey, Will Ferrell and Bill Murray, the winner of the 2016 award. Presented every year by the John F. Kennedy Center for the Performing Arts, the award is considered the highest honor for those who have made an impact in American society similar to Mark Twain, an acclaimed writer, performer and satirist.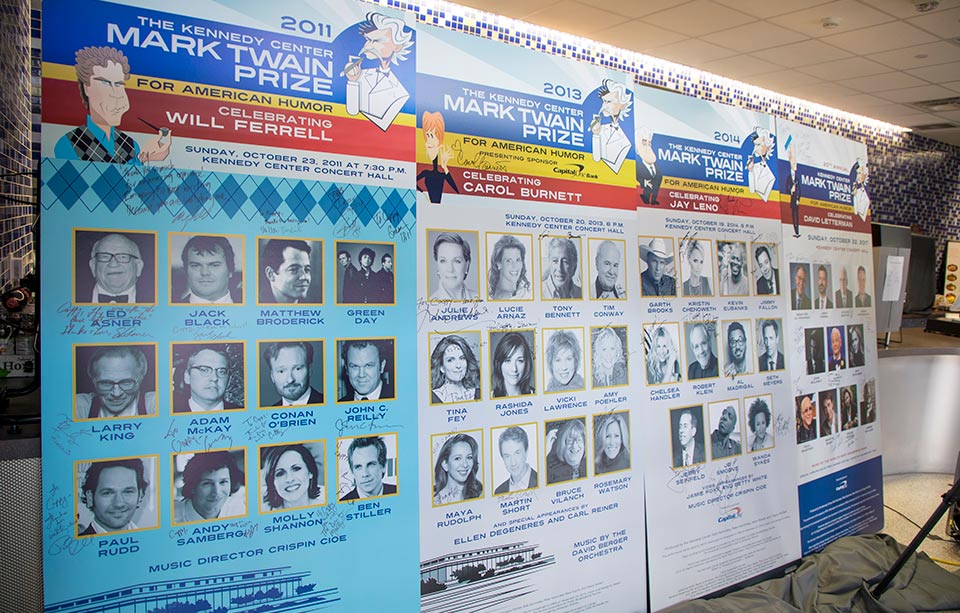 "The Twain Prize celebrates great humorists who communicate and connect with others through laughter," said Jay Bernhardt, dean of Moody College.
Famous as a comedic actor on Saturday Night Live, Murray starred in such films as "Ghostbusters," "Stripes," "Rushmore," "Groundhog Day," "Caddyshack" and "Lost in Translation."
"With this gift, I'm excited to combine two of my great passions: humor and The University of Texas." - Cappy McGarr
Murray was in town for South by Southwest, where the film festival portion screened the new Wes Anderson film "Isle of Dogs," in which Murray has a voice role. He also performed a show at The Long Center with Jan Vogler & Friends: New Worlds, which showcases the core of the American values in literature and music. "Thanks for inviting Cappy to be here today, it gives me an opportunity to say I really like it here in Austin, Texas," said Murray.
Following short speeches by Bernhardt, McGarr and Murray, the three had a ceremonial ribbon-cutting. While Bernhardt and McGarr held up the "Hook 'em Horns" sign, Murray formed an "X" with his arms to show support for his son, who coaches basketball at Xavier, which lost on Sunday to Florida State in the NCAA national basketball tournament.
"I've always felt that humor, which is so important to our national life and discourse, doesn't get celebrated the way it should," said McGarr. "With this gift, I'm excited to combine two of my great passions: humor and The University of Texas."