Building Trust Through Engagement
Center produces research, tests to sustain vibrant news media
The purpose of research is to reveal truth and unlock mystery. For Talia Stroud, it also provided a mission.
Fresh out of graduate school, Stroud joined the faculty at The University of Texas in 2006 to continue pursuing her fascination with partisan media, which ultimately resulted in a book, "Niche News: The Politics of News Choice," and an opportunity to work with the Federal Communications Commission to study communities and their information needs.
As part of an FCC working group, Stroud learned more about the difficult economic situation facing local news outlets. The process motivated her to do more than study media divides, but actually devise solutions.
 "News media provide a space where people can come together to learn about what is happening in the world and in their communities," Stroud said. "It is imperative that we figure out ways to help this industry."
In 2011, Stroud received her first research grant for what was then the Engaging News Project, which grew into the Center for Media Engagement in 2017. Under Stroud's leadership, the center works to sustain a vibrant news media through research and testing of strategies for delivering news and informing the public.
Stroud was selected to be part of the ABC News Decision Desk team in New York during the midterm elections. She is working with the data tabulators in an off-camera role.
Because of the volatile economic environment, many news organizations are making bold decisions about news delivery, content variety and audience engagement strategies without evidence of viability.
"Newsrooms need to make decisions, and many of their decisions have financial implications. They don't have the resources to do research that could inform these choices," Stroud said. "I think scholars have an important role in that we can help make things better."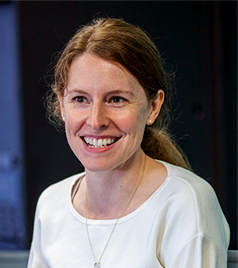 That's where Stroud's center comes into play. By partnering with newsrooms from The New York Times to the Graham Media Group and with organizations such as Google, Facebook and the American Press Institute, the center conducts experiments and studies implementations over time. Their findings  have been recorded and documented in more than 35 research reports.
For instance, the center looked at how quizzes capture reader interest and spark user engagement, and now offers a free, interactive and embeddable quiz developer which has been used by more than 150 news organizations. The center also studied how comment plugins such as a "respect" button foster a healthier online discourse.
When they were first getting started, few newsrooms knew about Stroud and her team. They got a boost of good fortune when the Poynter Institute for Media Studies sent out an email message on their behalf, encouraging newsrooms to partner for a study. Today, newsrooms actively seek out partnerships with the center. To date, more than 50 newsrooms have collaborated on research with the center to develop better practices for site design, comment sections and audience engagement.
"News media are a critical institution in our democracy," Stroud said. "I hope our work helps them make choices that increase trust in the media and improve their bottom lines, so the public can be informed in a sustainable way."