$5M Gift Creates New Nelson Center for Brand and Demand Analytics
Center is part of the Stan Richards School of Advertising & Public Relations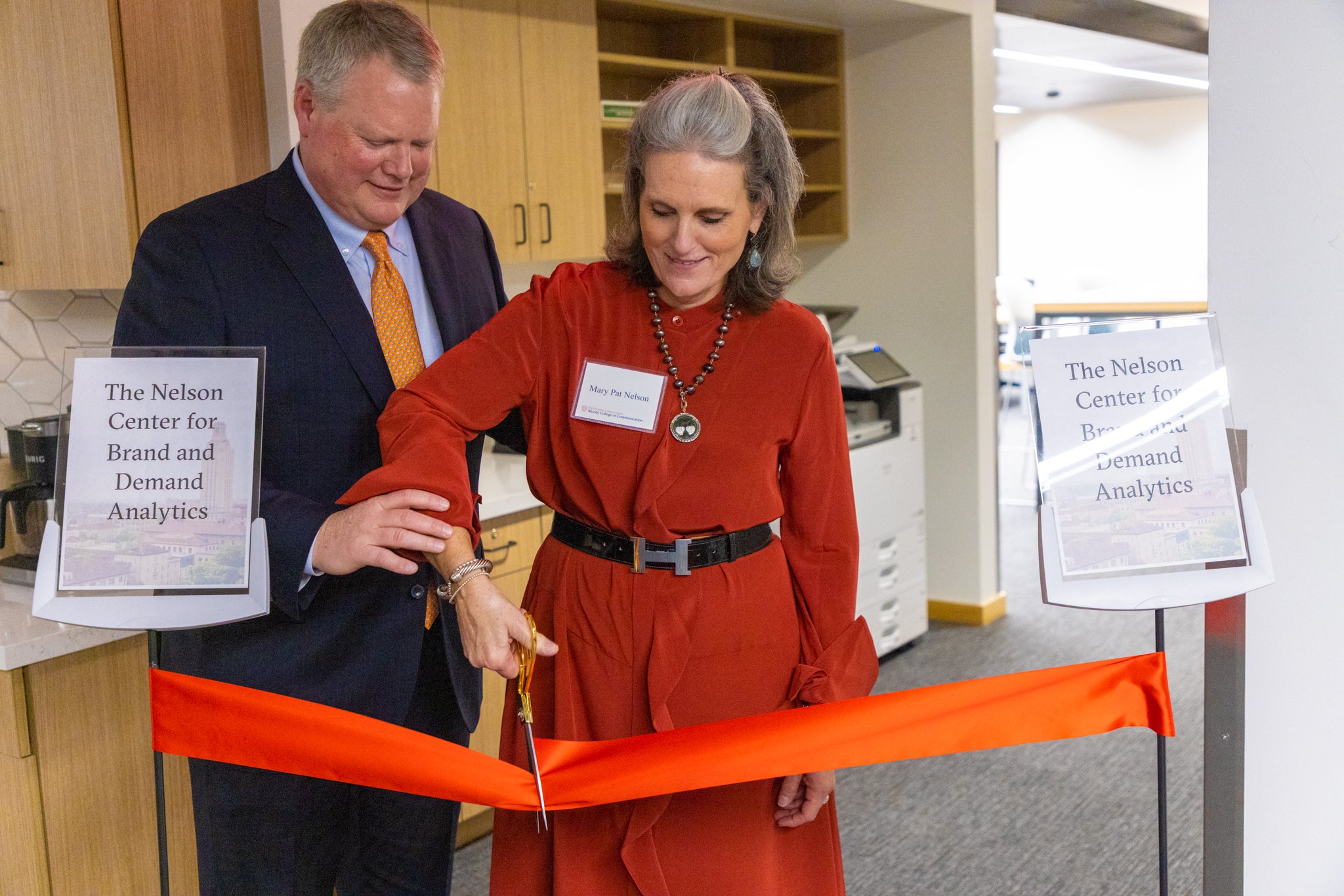 Moody College of Communication is poised to become a leader in analytics by providing industry-ready skills through the new Nelson Center for Brand and Demand Analytics.
The center, which is part of the Stan Richards School of Advertising & Public Relations, will offer a first-of-its-kind credentialing program in brand and demand analytics that will give advertising and public relations students the skills to compete in today's job market. It will also have an industry partners program that will connect students with leading companies across Texas and nationally for jobs and mentorship.
Jim and Mary Pat Nelson, whose four daughters graduated from Moody College, donated $5 million to create the center, after seeing the need for analytics skills in their own business, Warren CAT, the largest and fastest growing Caterpillar dealership in the country.
"Brand and demand analytics are used every day by businesses trying to identify new customers and engage with existing customers, so we feel like this center is an opportunity to keep UT and Moody College on the cutting edge," Jim Nelson said.
"The university has been great to our family. This is our way of giving back," Mary Pat Nelson added.
In addition to the certificate and industry partnership program, the Nelsons' gift will also support faculty members specializing in media analytics, digital media, branding, social media, entrepreneurship and innovation to conduct their research alongside students, as well as to create case studies other Moody College professors and other universities can use for their classes.
"UT already has one of the largest and highest-ranked advertising and public relations programs in the country," said Matt Eastin, a professor in the Stan Richards School of Advertising & Public Relations and founding co-director of the center. "The Nelsons' support is making an excellent program even better and gives our students specific industry-ready skills in addition to the strong foundation of knowledge they gain in their program of study."
The center will be located in the newly renovated Jesse H. Jones Communication Building B and will become a hub for students to collaborate with industry professionals on projects and for peer coaching and support.
Today, both B2B and consumer-based advertising and public relations is dependent on analytics to track and measure how people and companies interact with brands. Advertising and PR agencies use data points — from clicks to comments to sentiment analyses — to determine how to offer a better user experience. Therefore, today's advertising and public relations students need experience with tools like Excel, Tableau, Google Analytics, Facebook Insights and various types of regression and hypothesis testing, to be able to compete for high-paying jobs. The center's industry-informed credentialing program will achieve this by offering badges in these industry driven skills that students can show employers.
Center Co-Director and Advertising & Public Relations Professor JoAnn Sciarrino said badges have become increasingly more important over the last 10 years as employers look to hire talent with data analytics skills and need a simple, seamless way to verify qualifications. However, up until now, badges typically have not been used to denote brand and advertising analytic skill.
"We hope badges and certifications become more common in the brand and advertising industry because it will help our students secure better jobs," Sciarrino said. "Based on our research with top industry executives, hiring managers and talent recruiters, companies are looking for shortcuts to decide which candidates have the knowledge and skills to fill entry-level roles that increasingly require basic analytics. Even entry-level roles in creative and account service now require basic analytics.  The Nelson center will make our students more competitive and distinctive."
The certificate program will first be offered to Moody College students but is expected to be offered to UT Austin students from other majors in the future.
"We are incredibly grateful to the Nelson family for their support in establishing the Nelson Center for Brand and Demand Analytics at Moody College," Moody College Dean Jay Bernhardt said. "Their generous gift will allow our top-ranked programs in advertising and public relations to get even better and prepare our students for the jobs of the future."