UT launches a new Course Evaluation System in Fall 2022
Now integrated on Canvas, instructors will be able to track student response rates while the survey is active. The survey completion window opens on November 17.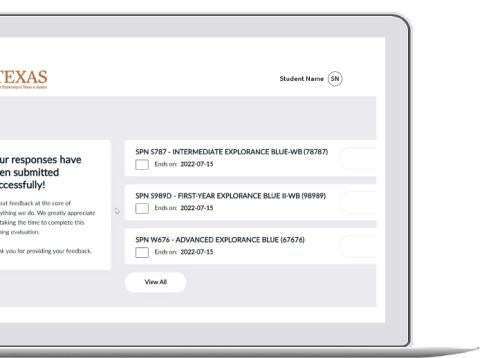 The University of Texas at Austin is launching a new Course Evaluation System this semester. This system has been in development since November 2020, and is based on student and instructor feedback. The main platform improvements include a better mobile phone user interface and downloading features to analyze survey results.
The Course Evaluation System (CES) will be open from November 17 to December 8. Results will be released on January 6, 2023.
Click here to access the new Course Evaluation System.
"We are excited about the new goal of the course evaluation system to really be tailored towards driving teaching excellence and supporting continuous improvement in teaching and learning at the university. And also, I am particularly excited about the response rate interventions that were built into the new system," says Dr. Julie Schell, Executive Director for Instructional Continuity, Innovation, and Accreditation at UT Austin.
One of the main expectations is to increase the response rate. The results of the summer pilot are very promising with a 57% response rate, which is an increase of about 50% compared with the older system. "In the past, doing course evaluations on your phone was very annoying. However, the new system has a clean mobile interface and was easy to use. It took no time at all to complete the survey," affirms a student that participated in the pilot.
Integrated with Canvas
Another improvement of the new system is its integration with Canvas, which includes a "course evaluation" button in the left navigation panel of each course page. Under this tab, instructors will be able to track students' response rate live while the survey is active by checking the "Subject Management" task available there. Canvas will automatically send a message to students with a link when the survey is open.
One way to improve your response rate is to generate a unique QR code and URL and that will take them directly to your survey rather than forcing them to navigate through their dashboard. To generate a QR code or URL, click the three dots at the lower right of the box.

Dr. Julie Schell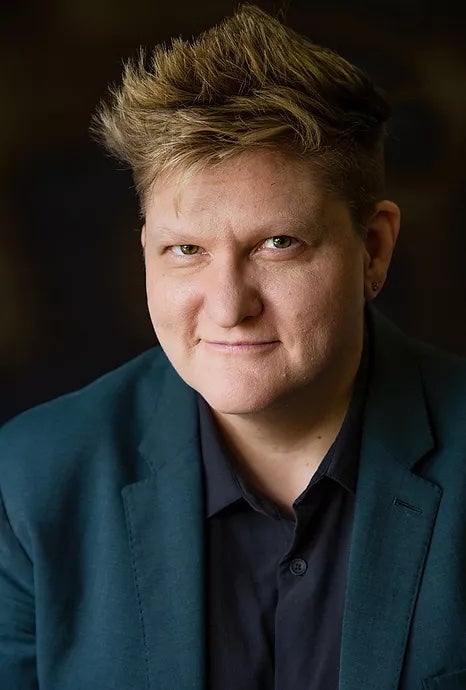 Faculty can personalize questions
From November 2 until November 12, instructors will have the option to personalize their evaluations by adding up to three additional questions from a question bank. At the launch of this process, you will receive an e-mail from UT Course Evaluations (course-evals@utexas.edu) with the subject line "Question personalization is now available." You will also receive a pop-up message in Canvas with a link to choose the personalized questions for your evaluations.These personalized questions are optional; No action is necessary if you do not want to add any question. The responses for those personalized questions will be only available for the instructors. You may elect to share the responses to these questions as part of your instructor annual review or promotion package. 
Schedule for Fall 2022
| | |
| --- | --- |
| November 2 to November 12    | Instructors can personalize questions. |
| November 17 to December 8 | Surveys are open for students input. |
| January 6 | Results are released to faculty/departments. |
Good practices to improve response rates
To improve your response rates, we encourage you to conduct in-class evaluations starting in the beginning or in the middle of the last day of class. You should reserve 15 minutes for this task and leave the classroom while the students answer the survey.
Another practice some instructors use is giving extra points for those students who complete the survey. Students can provide evidence by sending the instructor a screenshot of their dashboard after completing the survey.
You can get more tips in the Response Rate Guide. Click here to download.