Mission
The mission of Moody College is to advance and enhance society through the study and practice of human communication. Aligning with the College's mission, CATE will promote a culture of teaching excellence among all instructors and enable effective teaching practices to ensure the desired learning outcomes among students in preparing them to change the world.
Objectives
The primary objectives of CATE are to:
Foster innovation and collaboration in teaching.
Support new instructors in designing courses and developing teaching proficiency.
Facilitate implementation of effective teaching practices.
Identify and recognize excellent teaching within the college.
Enhance the visibility of excellent teaching in order to propagate best practice.
Manage and support strategic learning initiatives.
 
CATE Services
Experienced teaching and learning consultants are available to meet with you individually to discuss your teaching goals and help craft tailored solutions. Whether you're facing a specific challenge, need a sounding board, or want to explore new ideas, please don't hesitate to contact us.
Get assistance with UT-supported educational technology and online learning tools.
We are happy to review your syllabus and Canvas course and offer tips and tricks to "kick it up a notch".
If you need to design a new course (or redesign an existing course), we can help you follow a structured design process, keeping inclusive teaching practices and accessibility standards in mind.
Invite the CATE team to present to your faculty or graduate students on any number of topics, such as inclusive teaching practices, student engagement, creating and using rubrics, building community, promoting academic integrity, and more.
CATE offers trainings for new faculty and graduate students at the start of each long semester. We are also available for individual sessions to help new faculty get off to a good start.
You are welcome to download and share this one-pager (.pdf) about CATE:
---
People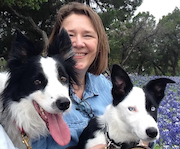 Mary Crawford, Director
Mary is the Founding Director of the Moody College Center for Advancing Teaching Excellence. She enjoys working with faculty to understand their needs and the needs of their students. Her grounding in evidence-based practices is critical to helping faculty craft tailored solutions for online, hybrid, and face-to-face instruction. Mary received a B.A. in psychology from Austin College and an M.A. in Instructional Technology from the University of Texas at Austin. In her free time, she hangs out with her dogs, Violet and Gus.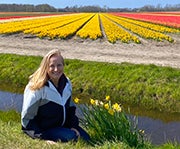 Shelly Furness, Instructional Designer
Rachelle (Shelly) is an experienced secondary and higher education professional. Her experience in education and business drives a passion for project-based, student-centered, authentic instructional pathways. Shelly delights in collaborating with faculty to design purposeful, engaging, and innovative curriculum to support student growth. Shelly received her B.A. in English at the University of Houston. Her M.Ed. in Secondary Education and Ph.D. in Developmental Education – literacy were completed at Texas State University. In her free time, she loves to visit family in the Netherlands or to continue her quest to experience every continent (3 more to go!).
 
Larissa Aguilar, Undergraduate Learning Assistant Coordinator
Larissa is an undergraduate student in the Moody College of Communication getting her BS degree in Public Relations and Radio-Television-Film. Her desired career is in entertainment PR, but she also enjoys writing, specifically journalism and screenwriting. Larissa was an Undergraduate Learning Assistant for three semesters, and learned how to create course assignments, mentor students, and network with key personnel in the field of advertising law and ethics. In her free time, she enjoys watching horror movies and collecting squishmallows. She is excited to be the first ULA Coordinator of the CATE team and use her experience to help guide the largest cohort of ULA's to date.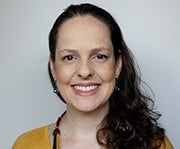 Silvia DalBen Furtado, Graduate Assistant 
Silvia is a PhD student and teaching assistant in the School of Journalism and Media, where she researches automated journalism and the use of AI in investigative reporting. She is currently a teaching assistant in Visual Communications and worked for one year as a TA of Reporting Images. Originally from Brazil, Silvia worked as a cultural reporter at Portal Uai and as an executive producer of videos, films, games, apps and VRs at D2R Studios. She is excited to be part of the CATE team supporting inclusive and innovative teaching among Moody Faculty.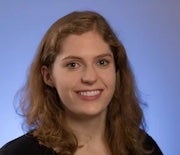 Anya Swanson, Videographer 
Anya is a graduate student in the Department of Radio-Television-Film getting her MFA degree in Film Production. Her main focus is directing but also enjoys producing and editing film projects. Originally from Pennsylvania, she holds a B.A. in Film from Penn State University and spends her free time exploring Austin. She is excited to be a part of the CATE team creating media that showcases and helps the faculty of Moody College.
Contact Us
Email us with questions, to request a training, or to make an appointment.