Moody Graduate Student Spotlight: Ryan Wallace
Ryan Wallace is a PhD candidate at the School of Journalism and Media. With a multidisciplinary background, his research interests focus on how science is portrayed in the media, and ways in which researchers and journalists can better work together to convey science to the general public. As a science writer and editor, he has worked with publications such as The Latin Post, The Science Times, and Archaic Press Magazine. He holds a BS in Ecology and Evolutionary Biology (2013) from the University of California, Irvine, and a MS in Biotechnology (2017) from California State University, San Marcos.
Ryan Wallace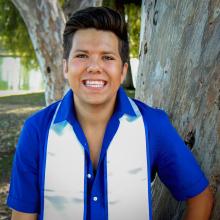 When did you decide you would like to be a teacher?
Basically, what led me into science communication and teaching in general was originally I wanted to be a clinician, I wanted to be an oncologist and help people with cancer. And I ended up realizing that if I was a cancer researcher or doctor, I would help a few patients a day. But as a science communication specialist, as a journalist, as a teacher, I could help inform much larger audiences and teach the next generation of clinicians how to be better communicators.
So that's what led me from the life sciences into the social sciences here at UT, and I have always enjoyed teaching. I have tutored for years. My youngest student, that I have tutored since kindergarten, just started college this year.
Teaching has always been something that comes natural to me, but at the core is the importance of science and health communication. How do we help the next generation of experts be the best that they possibly can be?
And as a graduate student, you designed a whole course in science communication that you have been teaching for three semesters. Tell us more about this experience.
Coming to UT, I was switching from the life sciences into the social sciences, and my area of expertise was pretty specific. There was not necessarily a group where I fit in. I looked across campus and got to take classes from experts in a ton of different subjects: geography, politics, pharmacy. I took classes all over campus and I started to realize that there was a gap that wasn't being filled – students from across campus were not being taught communication. 
As a STEM student, I was going to finish a PhD with a specialty in science communication not having taken a graduate level course in science communication. We don't have it here at UT, so I wanted to provide it as a resource for undergraduates. It also provided a way for me to think more deeply about this topic and engage students from all across UT into this really important topic.
I was given the opportunity to design this course. I asked Kathleen McElroy, the former Director of the School of Journalism and Media, if I could develop the course and she said yes! I ended up doing a semester-long independent study and we were able to develop this course from scratch. It is essentially a multimedia reporting class. I called it "Science and the News." It focuses on teaching non-journalists how to think and act like journalists so that they can better engage with news media.
Thus far, students have had pretty good experiences. They've developed really useful skills. I have had to write letters of recommendation for a lot of different applications. Some of them are going into law school, and some are headed to medicine.
What do you plan to do when you finish your PhD? How does teaching fit in your dreams and goals for the future?
I think that teaching will always be a part of my life. I have young family members, my nephew is 5 years old, and I am already giving him Latin lessons. So, I think that one way or another there will always be teaching in my future. I think that especially when it comes to science and health communication, it's going to be essential. It is not going to just be this niche thing like myself where I found my own way forward. I think it is something that all journalism students or communication students are going to need. My hope is that STEM students and programs start to encourage this kind of crosstalk between the social sciences and the life and physical sciences. Because there is a lot that we can learn from one another, and there are very few of us that go from one side of science to another.