Moody Graduate Student Spotlight: Kathy Cacace
Kathy Cacace is a Ph.D. candidate in the Radio-Television-Film department. She was an Assistant Instructor in RTF 308: Development in Film and Media during the 2019-2020 and 2020-2021 academic years, and has been recognized multiple times by the department for her outstanding teaching.

Kathy Cacace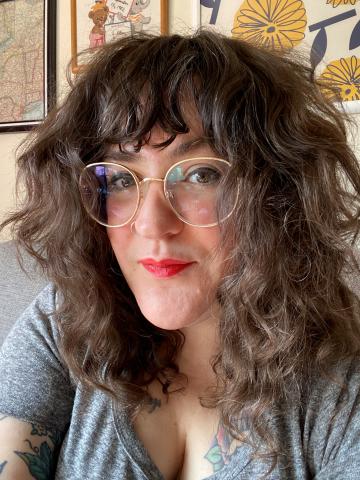 What sort of research do you do, and how does that affect your teaching?
I'm a feminist media studies scholar and my focus is generally on women and comedy in American popular culture.  My MA thesis was all about the history of fat female bodies on Saturday Night Live, and the dissertation I am currently writing looks at how female comics across the 20th and 21st centuries talk about sexual violence.  One of the greatest gifts feminist theory has given me is to complicate and expand my definition of knowledge.  From the Second Wave rallying cry "the personal is political" to Saidiya Hartman's interrogation of the archive of history, feminism has taught me there are more things to know, more ways to know them, and more experts among us than we often recognize.
Which courses that you have taken as a student (graduate or undergraduate) would you say have been most instrumental in shaping your own teaching style?
I value my negative and positive classroom experiences; both made me a better teacher. The one that relates most specifically to my role in RTF is the lone film course I took nearly 20 years ago when I was an undergrad at a small liberal arts college. Despite a deep love for movies, it almost put me off of film and media studies forever. All of the worst cliches about "film bros" were cranked to eleven in that class! The mood was sarcastic and dismissive, the conversations were dominated by men, and class often felt like a competition to cite the most obscure film rather than a place for people to build a body of knowledge together.
Because of how I felt in that classroom, I strive to create an altogether different environment when I teach. RTF sits at one end of a pipeline that can lead to better, more diverse stories on our screens. I believe it's my responsibility to assure aspiring makers that they belong in the room from day one.
I've had wonderful experiences with professors who take pains to build feminist classrooms, too!  Two graduate seminars here at UT that stand out to me are Dr. Jennifer McClearen's course on feminist media studies and Dr. Gloria González-López's course on the sociology of sexual violence.  By building community between students and making space for affect and emotion, these professors have shown me how warm learning can feel even when the subject at hand is quite heavy.
Looking back at the past year, what was the most significant change you made to help your students during the transition to online learning? What was the most significant change you made to help yourself as an instructor?
When I started teaching during the 19-20 academic year, I never could have anticipated that I would end up teaching online through a pandemic (followed by an uprising for racial justice, and a protracted election, and a devastating snow storm).  As I tried to revise my syllabus over that scary spring break when we transitioned to online learning, I realized I was doing so while simultaneously trying to find toilet paper on empty shelves and figuring out which of my t-shirts I could sacrifice for makeshift masks.  If I was struggling to focus, so were the students in my class.
The motto I ended up landing on, putting in my syllabus, and repeating to myself hundreds of times was "People first, students second."  I had to care about my students as people before I could even think about where film and television history fit into the picture. No one can thrive as a scholar if their needs aren't met.  No one can learn (or teach!) if they're hungry, sick, underpaid, afraid, or wrestling with their mental health. "People first, students second" is a motto I'll carry forward with me even when the pandemic is in our rearview mirror.
The other thing I learned was that, at least for me, I was more successful as an instructor when I approached online teaching more like making and disseminating media and less like being in a lecture hall.  Rather than use Zoom, I modeled pre-recorded lectures on podcasts. I created an asynchronous course structure based on how I myself was ingesting media--in binges, at weird times, in fits and starts. With everyone's nerves ground to a pulp, my hope was that a course that mimicked comfort media consumption might feel like less of an impossible task.
Do you have any advice for first-time TAs or AIs?
My goofy but useful tip is that if you're feeling nervous about standing in front of a big lecture hall in your first weeks of class, find a prop!  Mine was a giant coffee.  Something about having coffee in my hand to gesture around with made me feel more relaxed and like myself.
My real advice is just to stay in touch with your empathy. You're hired as an instructor, but empathy allows you to serve as a set of eyes and hands to catch students who find themselves in overwhelming life circumstances (...which brings me to my other teaching motto: "when in doubt, reach out"). I've only taught for two years, so I recognize that my data set is miniscule, but I've yet to see a poor learning outcome result from extending a struggling student some empathy and flexibility.