Graduate Student Spotlight | Ann Clardy Byrd
Ann Clardy Byrd is a current second-year MA in Advertising degree candidate at the Moody College of Communication. While in the Texas Media & Analytics program, she focused on Strategic Planning. Originally hailing from Jackson, MS, Clardy graduated from Ole Miss with a BS in Integrated Marketing Communications. Throughout her time in Austin, she has slowly transitioned from "Fins Up" to "Horns Up" while occasionally wearing burnt orange. Beyond the 40 acres, she spends her time baking and outdoors, although not at the same time. 
Ann Clardy Byrd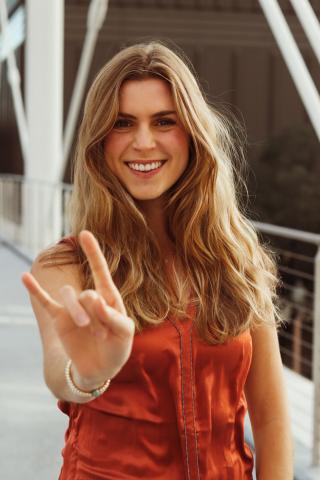 What was the highlight of being a TA this semester?
The highlight of being a TA has been getting to know the students in person. Last semester, I was a TA online and the interaction with the students was different. The interaction between myself and the professor was a good experience. I felt that I contributed to student learning. I found the students passionate and hardworking.
What was challenging?
The logistics of the inner workings of a class to present material was challenging. I had to consider how the students would understand and access the material. Also, I had to learn to how to operate the classroom. Parsing out when it was my job to take charge and make decisions took time. I became more comfortable that I had authority to make decisions. This prompted reflections that I will have to be able to lead in the field. The transfer of skills to working in the industry involves knowing "the importance of having the skill to present my point of view even though I don't know exactly" what the outcome will be. I had to get over the hump of knowing that my decisions will not only help in the classroom, but will transfer into my career. This experience provided a safe space for me to build decision making skills.
In what ways did you feel supported in your role as TA?
Working alongside a ULA to bounce ideas and communicate about student progress helped support my confidence and build relationships. I was very supported by the professor and received constructive criticism with reinforcement for what I did well. I relied on fellow TAs and grew from support of those who were in the same situations as me. I appreciated the access to facilities at UT that are afforded to TAs and the "donut" event.
How has being a TA deepened your knowledge and skills in the field?
I have gained leadership expertise and feel confident in making decisions to share with a team. I understand the importance of being thoughtful and aware of consequences as I make decisions and necessary modifications. The course focused on making connections with a goal of genuine interaction. As someone new to the class, I built knowledge of effective professional relationship building processes.
To what extent has the role of TA built your confidence as an emerging professional?
Throughout the year of being a TA, I have developed professional skills in public speaking, making collaborative decisions and knowing when to seek help. The experience has already had an impact on how I approach my work currently and into the future. I have learned that my point of view is important to express myself with comfort and confidence. This supports my ability as a professional to pitch my ideas for a potential client.
Working with the content has specifically supported my skills with authentic relationship building. I have changed my perspective to incorporate influencer marketing concepts. I will try to keep the elements of the influencing process in mind as I start my professional career.