Moody Faculty Spotlight: Matt McCutchin 
Creative director Matt McCutchin worked at several creative powerhouses including DDB, Deutsch, Ammirati & Puris, and Arnold. He's crafted award-winning work for dozens of iconic brands, including Volkswagen, IKEA, Snapple, Midas, Compaq, Subaru, GM, Bank of America, Chicago Tribune, and State Farm. A second-generation Longhorn, Matt returned to the Forty Acres as a full-time teacher in 2006, and created two innovative large courses for the Stan Richards School curriculum: Brand Storytelling and Digital Graphic Communication. He has also taught at the Miami Ad School, WVU's online IMC graduate program, and Florida's Ringling College of Art + Design.  
Matt McCutchin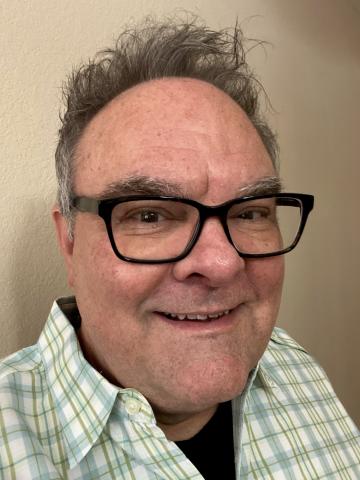 How do you create a sense of inclusiveness and belonging in your course?   
In the time since I created this course in 2016, one of the biggest challenges has always been how to foster that crucial sense of comfort and belonging. The course serves non-design students, both here in Moody and across the University, so naturally students can be apprehensive about the subject, considering it's both creative and technology-heavy.  
Thanks to CATE, I've come to see the bigger picture, that this is a visual literacy class—a "freshman comp" for visual rather than verbal literacy, which is a critical skill in the 21st century.  
At the classroom level, I've experimented with a lot of ways to make students connected and included, especially since the class has been online for several semesters now. One thing that has really helped the students: structuring projects around Adobe's free trial periods, so they don't have to actually buy Adobe Creative Suite. I've also leaned heavily on Canvas discussion boards, to share work and examples, as well as "troubleshooting discussions" where students can help each other with questions, tech issues, and more. 
Why do you feel students from other disciplines enroll in your course? 
First of all, in the three decades or so since design became digitized, it has also became democratized. Nowadays, everyone has access to powerful graphic tools, right on their phone and laptop. Secondly, good design can make a huge impact. Students see how a brand like Apple uses design as a "superpower." 
Students - and not just our future communicators here at Moody - know that their success depends on presenting ideas, sharing on social media, even having a persuasive resume and website for their most important brand: themselves. 
How did you reinvent your class each semester to keep the course relevant in an ever-evolving content area? 
It certainly keeps things interesting. The programs themselves are constantly evolving, and many basic tasks, like removing an unwanted object from a photo, or designing a social media post, can easily be done without pro-level apps like Adobe Creative Suite. And accessible AI apps that generate images from prompts have really entered the mainstream, which begs the question: why heavily Photoshop an image when you can simply type in what you want? So yes, interesting times. 
However, the principles of good design evolve much more slowly, so it's equally important to give students a foundation in the "why" as much as the "how," because the tools are going to change so much over their career. 
What is the best part of teaching this course?  
Seeing the student work. Always. 
Every semester, they blow me away. Especially the ones who came into this thinking "oh, I'm not creative; I can't really draw." Then they create some awesome ad or web site or video. 
What specific teaching approach do you feel offers a transformative experience for your students? In what way do they develop personally or professionally because of this approach?  
Coming from an ad agency background, I've always emphasized "real-world" projects, so once they build their design and software skills, they then apply them to their own personalized projects, from resumes and logos to a website. Along the way, they find skills and literacy—and confidence—they can apply in just about any setting, and also pick up some very tangible job skills. This course is actually a response to a graduating-senior survey, where Adobe and design skills were ranked number-one as the subject students wished they had learned.