Moody Faculty Spotlight: Anthony Dudo
Anthony Dudo is an Associate Professor at the Stan Richards School of Advertising & Public Relations and the faculty committee chair of UT's cross-disciplinary minor in science communication. He researches the intersection of science, media and society and regularly teaches courses focused on integrated brand promotion and science communication. In 2016 he was a recipient of the UT-System's highest teaching honor, the Regents' Outstanding Teaching Award. He previously worked in strategic communications for the Academy of Natural Sciences, a natural history museum operating in Philadelphia since 1812.
Anthony Dudo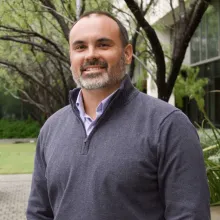 When did you decide to pursue a career as a teacher?
I left high school as an athlete first and as a student second. I was immature and I went to a small liberal arts college near where I grew up, primarily because school looked great, but also because I could play soccer there. And it ended up being this amazing experience. In my college classes, typically, it was a professor and between 10 to 13 students, super small. We would have dinner at professors' houses, we would have book clubs. It was amazing. I just became really close with some of my professors. It looked like an amazing life –  reading books, mentoring students and teaching.
By the end of the four years, I had this idea in my head: maybe I should go to graduate school and pursue a career as a professor. But I was still only 21 and I needed to work for a while. So, I got a job in the marketing department at a big Science Museum in the city where I grew up, which was cool because I had gone there for field trips when I was little, and now I was working at the Dinosaur Museum. It was a really cool moment that combined two things I really loved, which was my training in communication, and my interest in environmental and scientific topics. It was this perfect combination of things.
When did you decide to go to graduate school and study science communication?
I was constantly seeing disconnects at work between the scientists and the experts who worked at the museum with all the different publics and stakeholders. There are a lot of different publics that a Science Museum connects with: K-12 students, teachers, museum visitors, other scientists. The lack of communication and the dysfunctional communication between the experts and all those different publics was confounding. I couldn't believe so many smart people didn't know how to communicate in an effective way.
Those observations started to become hypothesis and research questions. I was thinking about them like a social scientist. Why does scientist X always have this particular hang up when it comes to communicating in this particular way? Has anyone studied that? I started looking around and I've realized that there were some experts in the world that were actually doing that work. This was in the early 2000s. I was really motivated at that point to research about that topic based on my work experience. I also had that great admiration for the professors I had as an undergraduate. And now I am here at UT Austin.
How was your first experience as a teacher?
When I started my master's program, I had to teach three courses on my own each semester for two years. I had no formal background in teaching whatsoever. So I was learning how to teach in real time. Over time you get to the point where you figure out this is my philosophy, pedagogically these are deeply held beliefs and practices that are going to work for me in a classroom. It was really just figuring it out by doing, and also meeting colleagues, supporting each other, and learning from each other. Now it is totally different here at UT Austin. There is much more support and infrastructure to become a better teacher. But fifteen years ago, when I was very new to teaching, I had to learn by making mistakes.
Do you think students today are more prepared to work with science communication?
Yes, absolutely. When I was an undergraduate, there was no science communication as an academic field or as a legitimate professional space. There was no science communication course available. Now, if you look across UT and other universities, the curriculum is still imperfect, but there are science communication courses available. We even have a science communication minor. In some places, there are degree programs in science communication.
The next interesting, and arguably more interesting, conversation is: for whom and when do we make these courses required? Is there a point in which these kinds of courses will become required for certain majors? And if so, for what majors, at what stage of their training and education? Those are the kind of conversations from a pedagogical standpoint which become really interesting. Those conversations are going on here, they are going on at Michigan, they are going on in UCLA, they are going on in many places.
Talking about communication and science, what is the biggest take away that you believe your students should get from your class?
We cannot trust science communication to serendipity. It is often an extremely informal thing that is done because it feels good. But it is strategic. A lot of what is going on – and what my research is focused on – is to diversify the menu for science communication and be mindful to get something accomplished in practice. With the things going on in the world right now, that's not the hard part to make. Because there are so many ways in which scientific issues are impacting people's lives in good and in really bad ways. So we need to wake up, pay attention, and be really thoughtful about our science communication.