Backward Design: Designing Instruction for Deep Understanding
Backward design is the process of designing a course by beginning with the learning outcomes or goals and working backwards to determine forms of assessment and appropriate instructional methods to ensure students achieve those desired outcomes. It is learner-centered and focuses on deep understanding. This is our adaption of Understanding by Design (Wiggins and McTighe, 2005), which you can access online through the Perry Castañeda Library.
Benefits of Backward Design:
Emphasizes deep understanding of big ideas
Focuses on learning first rather than teaching
Makes the desired outcome explicit
Assessment drives learning activities
Helps determine what's in scope and out of scope
Scalable – works for lesson, course, curriculum 
Phases of Backward Design:
Phase 1: Identify Desired Results (Learning Outcomes)
Phase 2: Determine Evidence of Learning (Assessment Plan)
Phase 3: Plan Learning Experiences and Instruction (Course Roadmap)  
---
PHASE 1: IDENTIFY DESIRED RESULTS (LEARNING OUTCOMES) 
In the first phase of backwards course design, the goal is to determine the goals or learning outcomes for the course. What should students be able to do by the end? There are three pieces to consider, outlined below: 
Big Ideas and Essential Questions: These are abstract and transferable concepts, themes, or processes at the heart of a subject. They are provocative and raise questions. They serve as key concepts for making facts and skills more connected, coherent, meaningful, and useful.
Student Understandings: These are knowledge, skills, or attitudes that are associated with learning the "big idea". They may not always be visible or measurable.
Learning Outcomes: These are statements of what students will be able to do at the completion of a course or unit. 
Bloom's (Revised) Taxonomy is a useful tool to aid in developing learning outcomes. For those teaching online, this version of Bloom's Taxonomy has been adapted for digital activities. 
Bloom's (Revised) Taxonomy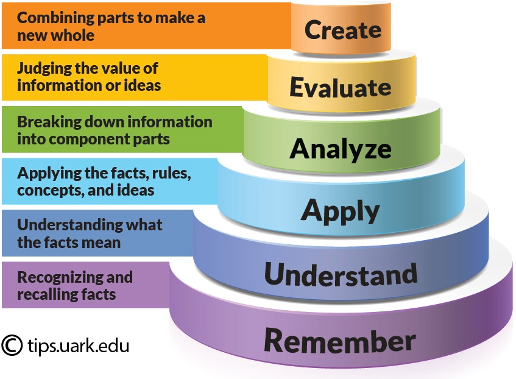 Image credit: Jessica Shabatura, https://tips.uark.edu/using-blooms-taxonomy/
A strong learning outcome...
is realistic, specific, and measurable.
focuses on the application and integration of the content.
drives design of assessment and learning activities.
should reflect the level of learning (first year intro class vs. fourth year seminar). 
When creating learning outcomes…
indicate what the learner will be able to do as a result of a learning experience.
use action verbs that indicate the cognitive level in Bloom's Taxonomy (see this helpful list). 
avoid vague verbs (i.e. understand, grasp, demonstrate understanding of, learn, etc.).
set boundaries on what is in and out of scope.
Examples: 
At the end of this course students will be able to...
define and explain interpersonal communication and its importance to others (understand).
critique communication behaviors within interpersonal relationships in various contexts of our society (evaluate).
develop strategies for improving communication within their personal and professional relationships (create).
---
PHASE 2: DETERMINE EVIDENCE OF LEARNING (ASSESSMENT PLAN) 
In the second phase of your course design it's time to determine how you are going to assess learning. Consider what methods to use and what information you are trying to evaluate with each form of assessment. 
A strong assessment plan…
solicits tangible, observable evidence (clear deliverables for product or performance).
provides clear evaluation criteria.
distinguishes between deep and superficial understanding.
includes both formative (early and often, no or low-stakes) and summative (end of a unit or course, high-stakes) assessment.
When creating an assessment plan…
list the deliverables – the product or performance that will be graded.
ensure each assessment is associated with one or more learning outcomes.
include evaluation criteria for each deliverable (components that must be present and conditions that must be met).
indicate the value of the grading scheme.
Example (Understand Level):
Learning Outcome: Explain and illustrate major interpersonal communication theories and concepts.
Deliverable: Two exams with multiple choice and open-ended questions.          
Evaluation Criteria: Multiple choice questions will be graded for accuracy; open-ended questions will be graded for completeness of answer and accuracy; exam will be 15% of the final grade.
Example (Analyze Level):
Learning Outcome: Analyze the strengths and weaknesses of existing podcasts to determine factors that make podcasts successful.
Deliverable: Written analysis comparing several podcast clips.
Evaluation Criteria: Minimum length: One paragraph for each podcast clip; accurately identifies strengths and weaknesses for each clip; provides clear justification for which is the best story; lists at least three factors that contribute to podcast success; proper spelling, grammar, punctuation
---
PHASE 3: PLAN LEARNING EXPERIENCES AND INSTRUCTION (COURSE ROADMAP) 
The final phase of the design process is designing a course roadmap. The roadmap includes lesson plans, instructional methodologies, activities, and assignments.

The roadmap should include opportunities for:
different types of interaction such as student-teacher, student-student, and student-content (see image at right).
practicing skills and applying concepts.
active learning.
independent and collaborative work.
formative assessment and feedback (graded or ungraded).
When creating a course roadmap...
lay out a logical sequence of learning and assessment activities over time.
break down instructional and learning activities into reasonable chunks.
address all learning outcomes.
indicate when in the sequence summative assessments will occur.
indicate what is done in class and what is done outside of class (synchronous or asynchronous for online classes).
list readings, videos, and all supplemental materials. 
---
Universal Design for Learning (UDL)
The design of products and environments to be usable by all people, to the greatest extent possible, without the need for adaptation or specialized design (Mace, 1988).
Examples of universal design include ramps, curb cuts, textured pavement, audio books, lever-style doorknobs, automatic doors, and flat panel light switches. UDL acknowledges learner variability as the rule rather than the exception. Everyone benefits from UDL.
UDL in Education: 
The design of curriculum, educational materials, assessments, and learning environments to be usable by all students, to the greatest extent possible, without the need for adaptation or specialized design.
UDL guides the design of flexible instructional goals, assessments, methods and materials that are accessible and challenging for all learners. CATE recommends reviewing the set of principles, grounded in brain research into how we learn, developed by CAST (Center for Applied Special Technology). 
Goals:
To cultivate successful, independent learners who are:

purposeful and motivated
resourceful and knowledgeable
strategic and goal driven

Help ALL students achieve the learning outcomes…… by changing the learning environment rather than the learner
UDL Guidelines Checklist    UDL Infographic 
---
All of this information can feed directly into your syllabus. Feel free to download and use this accessible syllabus template and review this guide to creating an accessible classroom. For inspiration, you can review undergraduate syllabi from many schools and colleges across UT.
---
*Remember, learning is done by students, not to students*