CommuniCATE – Spring 2022 Featured Story
ACUE Reflections
Katie Bradford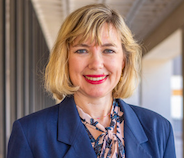 The Association of College and University Educators (ACUE) Course in Effective Online Teaching Practices leads to a nationally recognized teaching credential in evidence-based practices. It is the only college teaching credential recognized by the American Council on Education.
At UT, the ACUE program is led by Dr. Anne Braseby and Dr. Michelle Gaston in the Center for Teaching and Learning. In 2021, 55 people applied to the Effective Teaching Practices certification program, and 30 were accepted. The cohort began their training in late August 2021, and will complete the course in May.
In this interview, Moody faculty Dr. Katie Bradford (Communication Studies) and Dr. Robert Carroll (Communication Studies) reflect on their time participating in the ACUE course.
How would you describe the ACUE course to someone thinking about applying?
Robert Carroll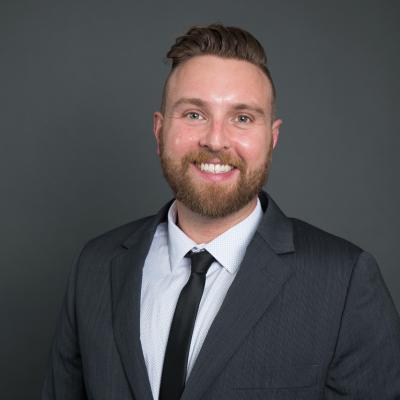 Robert Carroll: It's an amazing opportunity to sharpen your own teaching skills and learn directly from experts. The course is designed to guide you through a year-long set of modules and activities that are meant to help you engage with educational design research and reflect on your own practices. It is both a smart professional step and a great opportunity to personally engage with why we teach in the first place
Katie Bradford: The coursework is broad and deep, covering a wide range of topics relevant for many teaching styles and courses, and providing detailed practices instructors can implement in their classroom or online instruction. Each week participants complete one module on a specific topic. Some modules cover classroom management (e.g., "promoting a civil learning environment," "ensuring equitable access to learning," "facilitating engaging class discussions"), and others cover practical skills (e.g., "providing useful feedback," "developing effective class sessions," "teaching note-taking skills").  The modules take between two to three hours to complete.
An important characteristic of the "teaching practices" content is that it is all research-based. Thus, when you try something new in the classroom, you know it is not just something that another instructor pulled out of their back pocket; rather, the teaching practices are based in actual research trials. The lessons also teach us to tell students what we are doing is research-based.
How did you decide to participate in the program? 
KB: My colleague Dr. Matthew Ingram first told me about the program and spoke highly of how it has enhanced his teaching skills and creativity. I researched ACUE and had planned to enroll on my own. When I discovered that UT offered an opportunity to participate in the program, I applied to be a part of the 2021 cohort. I am a part-time faculty member teaching one face-to-face course and one asynchronous, web-based course. Since I am teaching in both modalities, I knew this program was an opportunity to develop and enhance my skills, and to become a better instructor overall.
RC: I'd heard about the course from Dr. [Madeleine] Redlick Holland and how much she enjoyed learning and connecting with others. She also said that she found most lessons immediately applicable and relevant to her work. Additionally, last fall I was building two new courses and thought this would be an excellent opportunity to learn more about course design as I was doing the work.
What has been the most rewarding aspect so far?
RC: I've had a few "aha!" moments that I'm looking forward to implementing in future courses. Specifically, I've learned more about how to lead online discussions more effectively as well as shape learning outcomes and assignments that challenge students at every cognitive level.
KB: Two favorite lessons were those on "helping students persist in their studies" and "motivating your students." These focused on intrinsic motivation, and really hit home for me. For example, one tip is to "praise students on their progress"—that is, their effort—while putting less emphasis on their innate ability. After studying the modules related to student motivation, I added to my class some encouraging messages about growth through effort, that we are all here to learn. I've observed how much this message eases my students' stress and encourages them to persist.
Students sometimes need to learn to not be paralyzed by a goal of perfection on their first try at something new. They are in college to get better at whatever they choose to pursue. Therefore, they need to hear that it is okay to fail, and to seek help and try again and do better the next time. This is the process of learning.
What was the first ACUE idea you implemented in your course?
RC: One of the earliest modules we discussed was around student persistence. They had some wonderful literature on the topic. Through this work I was able to create and shape one of my new courses around these principles. The research is pretty clear that students persist when they feel a connection to the work they're doing and see immediate benefits. While our goal as faculty is to prepare students for the future, we can also reshape our courses to help students feel connected in the moment.
KB: The first ACUE module was about how to have a great first day of class. Although I completed this lesson a few days after the first day of class in Fall 2021, I was able to implement some new practices, including a "syllabus reconnaissance" and "interview the instructor."
Another practice that I easily added to my in-person class is the "muddiest point." Here is how it works: I distribute blank index cards to students. At the end of a class meeting, students write on their index card anything from the day's lesson—or the course in general—that is confusing or that they wonder about. Then I collect the index cards at the end of class. Students often carry the responsibility of contacting their professors for clarification and help. With this simple practice, we reach out to students to share their experience in our class, rather than putting the onus on them. The practice also communicates to students that the professor cares about the student engagement and learning. It makes us more approachable, which contributes to student success.
What ideas are you excited about implementing in the future?
KB: My teaching style is to move among various interaction modes, including lecture, class discussion, class activities, and one-on-one student interactions. One new tool I plan to use in the future is having students reflect on their own participation in class discussions, accompanied by my clarifying the importance of participation and how students will be evaluated based on their involvement and engagement. In my online class, I will use surveys to confirm student understanding of assignments.
RC: Just this week, we're getting into learning outcomes and adjusting course expectations at the pre-semester planning level. This has helped me craft more specific language and assignments that I can use to help students reduce uncertainty around what is expected from them. The clearer we are as faculty with expectations and outcomes, the easier it will be for students to step confidently into our classrooms and help them be proactive in their learning.