Overview
Program Type: Affiliated Studies
Dates: Summer Whole (June 17, 2022 to August 7, 2022)
Application Deadline: February 15, 2022
Language(s) of instruction: English
UT instructor: Dr. Scott Stroud, Department of Communication Studies
The SPICE program is an intensive summer study abroad program in Erfurt, Germany, offered through The University of Texas at Austin Moody College of Communication and the University of Erfurt Department for Media and Communication.
Click here to see a SPICE Program flyer with current courses and other details.
The program includes two courses, taught by U.S. faculty on the campus of the University of Erfurt, and a 3-4 day excursion to Berlin featuring company and site visits. Participants are generally students from the University of Southern California (Annenberg School), Washington State University, the University of Oklahoma, the University of Erfurt and The University of Texas at Austin. UT-Austin students will share classes and living arrangements with German students, making this a unique learning and cultural experience.
The University of Erfurt was recently ranked among the top three media and communication studies departments within Germany. The department's emphasis on small group teaching, personal contact and innovative teaching methods is reflected in the summer program.
Located in the heart of Germany, Erfurt is Thuringia's largest city (with 200,000 inhabitants) and one of the oldest cities in the area. Erfurt boasts one of the best-preserved medieval town centers in Germany and is considered a vibrant political and cultural center. The famous German poet Johann Wolfgang von Goethe once said with passion about his adopted Thuringian country: "Where else can you find so many beautiful things in one place?"
Eligibility
The program is open to all UT-Austin undergraduate students who are in good academic standing, have a minimum overall UT-Austin GPA of 2.25, and at least 60 credit hours by the summer of participation. Priority will be given to applicants from the College of Communication. There are no course prerequisites, but some communication course work is recommended.
Meeting minimum requirements does not guarantee acceptance to the Study Abroad program. An applicant's total educational and disciplinary record, educational objective, professional attitude, level of preparedness and interpersonal maturity, advisor recommendations, special talents, personal preparation and personal achievements may be considered in the selection process. The University reserves the right to interview the student during the application process and to deny acceptance to any applicant for any reason the University determines to be material to the applicant's qualifications.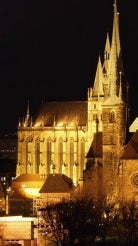 Courses and Credit
The SPICE Program is an Affiliated Studies Program; coursework is credited as transfer credit, but is considered in-residence for Moody College of Communication requirements. All participants are encouraged to obtain approval from their academic advisor prior to participation in order to determine how the course credits will apply toward their UT degree. Courses are subject to change.
Three courses will be offered and taught in English. Participants are required to enroll in two courses for six hours of credit.
Effects on Entertainment Media
Instructor: Dr. Nicholas David Bowman, West Virginia University
Media Ethics
Instructor: Dr. Scott Stroud, University of Texas
G
lobal and International Public Relations and Strategic Communication
Instructor: Dr. Katerina Tsetsura, Gaylord College
Previous Course Offerings
Media Psychology and Influence
Credit: Transfer credit -- COM329S
Instructor: Dr. Nicholas David Bowman, West Virginia University
Description: Week One – "A History of Media Psychology", which will feature discussion of the early "moral panic" days of research, including The Payne Fund Studies, The Seduction of the Innocent, and a discussion of the psychological underpinnings of the infamous War of the Worlds broadcast. Our discussion this week will also include an overview of the history of leisure and it's relation (positive and negative) to society. 
Week Two – "The Limited Effects Paradigm", which will focus our discussion on the social and psychological mediating variables that explain media influence as powerful under specific conditions. Here, we will discover the work of Schramm, Rogers, Lazardsfeld, Shaw and McCombs among others who were among the first identify the individual difference variables so important to the study of media psychology. 
Week Three – "Contemporary Media Research", which will bring our understanding of media psychology into the domain of Zillmann and Bryant – the pioneers of the modern study of media influence – and take us to the current state of the field. Here, we will discuss research on media violence, aggression, sexuality and racism in the media to understand how we currently see the relationship between media, the individual, and society. Notably, we will study the influence of this early scholarship on the specific study of entertainment and society. 
Week Four – "Application and Extension", which will challenge students to suggest areas of research ripe for replication and extension. Today's media environment is undergoing rapid and major changes, with the fragmentation of media audiences, increased mobile access to media, and increased interactivity with media messages among just a few of the changes uprooting the classic media production system. Using their understanding of media and entertainment to this point, students will be asked to propose areas of the extant literature in need of revision given today's modern, de-massified and masspersonal media environment.
Video Games as Communication
Credit: Transfer credit -- TBD
Instructor: Dr. Jaime Banks, West Virginia University
As interactive media become more prevalent, digital games in particular have come to the forefront of popular culture as spaces of and vehicles for human communication. This course will explore the emerging field of game studies through a communication lens, focusing on four primary areas of theory and research: expression and identity, social interaction and interactivity, culture and context, and practical application of games. Students will read and discuss theoretical and empirical literature as a vehicle for better understanding how games play a role in contemporary culture, and parlay those discussions into two primary assessments. Specifically, students will be responsible for daily critically analyses of classic and contemporary games in relation to each day's readings. Second, students will work in groups to develop a conceptual design and paper prototype of a 'serious' game (one that addresses some educational, social, health, or other non-leisure issue), and will draw on relevant research to argue for the game design's efficacy.
Accommodations
All participants will be housed on the campus of the University of Erfurt in student apartments located a short distance away from the lecture hall, grocery store and the city center. Apartments are fully equipped, and students will share a bedroom, a kitchen and bathroom with other students in the program. During the visit to Berlin students will be housed in shared hotel/B&B accommodations.
Scholarships and Financial Aid
Students may use any federal, state, or institutional aid they would normally be awarded by the Financial Aid Office, excluding work-study, to help pay for study abroad. Financial aid awards can also be recalculated to cover increased costs associated with study abroad. Additionally, most private scholarships are applicable to study abroad - however, students must confirm that with the donor. Learn more about funding for study abroad.
Please note that certain types of financial aid (i.e.: Texas grants) cannot be used for "Affiliated Studies" Program fees. Consult your designated counselor in the Financial Aid Office about how your participation in this program will impact your expected summer award, as other alternatives may be available to you.
The SPICE program meets the eligibility criteria for certain scholarships on Global Assist, as well as the following national scholarships: the Benjamin Gilman International Scholarship and the Phi Kappa Phi Scholarship. Additional student eligibility criteria may apply, so be sure to check requirements carefully.
This is offered as a partial list, but many other scholarships may be available to you, based on your own specific background, needs, major, etc. Browse the Global A$$ist page to identify other scholarships that you are eligible for. In addition, consider applying for other general scholarships that can be used to offset your college expenses, as any awards you receive will contribute to lowering the overall cost of your education. The Moody College of Communication scholarship application is a great resource for a wide range of scholarship funding for the regular academic year, and includes one scholarship dedicated for summer study abroad.
Student Expenses
An estimated budget for participation in the SPICE program is included below.
Application Fee: $75
Affiliated Studies Fee: $600
Program Fee: $4050
Food: $2000
Airfare: $1400
Local Transportation: $200
Personal Items: $400
Medical & Insurance: $527
Passport: $160
Total: $ 9,412
* The program fee covers tuition for 6 hours of credit, course materials, accommodations in individual dormitory rooms, transfers (by train) to and from Berlin, accommodations in Berlin, and selected entrance fees for site visits. Additional costs for recreational travel/sightseeing and personal expenses are not included in this budget.
SPICE has a cancellation fee that is a portion of the program fee. See the Texas Global program page for more details.
Apply
Email Daniel Ach, Education Abroad Sr. Program Coordinator, with your EID to gain access to the online application.
Begin preparing your application, request recommendation (this is done online);
Apply for scholarships;
Discuss plans with your academic advisor and financial aid counselor;
Complete the online application by the deadline.
Contacts
For advising/course/degree planning related to study abroad, see your academic advisor.
For administrative questions related to your application, see Daniel Ach.
For more information on this program, please attend an information session.