Overview
Program Type: Affiliated Studies
Dates: Summer Whole (June 23, 2023 to August 13, 2023)
Application Deadline: February 1, 2023
Language(s) of instruction: English
The SPICE program is an intensive summer study abroad program in Erfurt, Germany, offered through The University of Texas at Austin Moody College of Communication and the University of Erfurt Department for Media and Communication.
The program includes two courses, taught by U.S. faculty on the campus of the University of Erfurt, and a 3-4 day excursion to Berlin featuring company and site visits. Participants are generally students from the University of Southern California (Annenberg School), Washington State University, the University of Oklahoma, the University of Erfurt and The University of Texas at Austin. UT-Austin students will share classes and living arrangements with German students, making this a unique learning and cultural experience. One course is taught by UT instructor Dr. Scott Stroud, from the Department of Communication Studies.
The University of Erfurt was recently ranked among the top three media and communication studies departments within Germany. The department's emphasis on small group teaching, personal contact and innovative teaching methods is reflected in the summer program.
Located in the heart of Germany, Erfurt is Thuringia's largest city (with 200,000 inhabitants) and one of the oldest cities in the area. Erfurt boasts one of the best-preserved medieval town centers in Germany and is considered a vibrant political and cultural center. The famous German poet Johann Wolfgang von Goethe once said with passion about his adopted Thuringian country: "Where else can you find so many beautiful things in one place?"
Eligibility
The program is open to all UT-Austin students who are in good academic standing, have a minimum overall UT-Austin GPA of 2.25, and at least 60 credit hours by the summer of participation. Priority will be given to applicants from the College of Communication. There are no course prerequisites, but some communication course work is recommended.
Meeting minimum requirements does not guarantee acceptance to the program.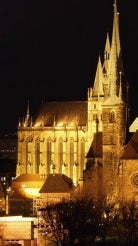 Courses and Credit
The SPICE Program is an Affiliated Studies Program; coursework is credited as transfer credit, but is considered in-residence for Moody College of Communication requirements. All participants are encouraged to obtain approval from their academic advisor prior to participation in order to determine how the course credits will apply toward their UT degree. Courses are subject to change.
Three courses will be offered and taught in English. Participants are required to enroll in two courses for six hours of credit.
Current Course Offerings
Previous Course Offerings
Media Psychology and Influence

Video Games as Communication
Accommodations
All participants will be housed on the campus of the University of Erfurt in student apartments located a short distance away from the lecture hall, grocery store and the city center. Apartments are fully equipped, and students will share a bedroom, a kitchen and bathroom with other students in the program. During the visit to Berlin students will be housed in shared hotel/B&B accommodations.
Scholarships and Financial Aid
Students may use any federal, state, or institutional aid they would normally be awarded by the Financial Aid Office, excluding work-study, to help pay for study abroad. Financial aid awards can also be recalculated to cover increased costs associated with study abroad. Additionally, most private scholarships are applicable to study abroad - however, students must confirm that with the donor. Learn more about funding for study abroad.
Please note that certain types of financial aid (i.e.: Texas grants) cannot be used for "Affiliated Studies" Program fees. Consult your designated counselor in the Financial Aid Office about how your participation in this program will impact your expected summer award, as other alternatives may be available to you.
The SPICE program meets the eligibility criteria for certain scholarships on Global Assist, as well as the following national scholarships: the Benjamin Gilman International Scholarship and the Phi Kappa Phi Scholarship. Additional student eligibility criteria may apply, so be sure to check requirements carefully.
This is offered as a partial list, but many other scholarships may be available to you, based on your own specific background, needs, major, etc. Browse the Global A$$ist page to identify other scholarships that you are eligible for. In addition, consider applying for other general scholarships that can be used to offset your college expenses, as any awards you receive will contribute to lowering the overall cost of your education.
The Moody College of Communication scholarship application is a great resource for a wide range of scholarship funding for the regular academic year, and includes the Laura L'Esperance Study Abroad Scholarship for students studying abroad on the SPICE Program.
Student Expenses
An estimated budget for participation in the SPICE program is included below.
Affiliated Studies Fee:
$600
Local Transportation:
$200
Medical & Insurance:
$227
* The program fee covers tuition for 6 hours of credit, course materials, accommodations in individual dormitory rooms, transfers (by train) to and from Berlin, accommodations in Berlin, and selected entrance fees for site visits. Additional costs for recreational travel/sightseeing and personal expenses are not included in this budget.
SPICE has a cancellation fee that is a portion of the program fee. See the Texas Global program page for more details.
Apply
Open your application using code 293066.
Submit your application, which includes two essays and a faculty recommendation (this is done online);
Apply for scholarships;
Discuss plans with your academic advisor and financial aid counselor;
Complete the online application by the deadline.
Contacts
For advising/course/degree planning related to study abroad, see your academic advisor.
For administrative questions related to your application, see Daniel Ach.
For more information on this program, please attend an information session.