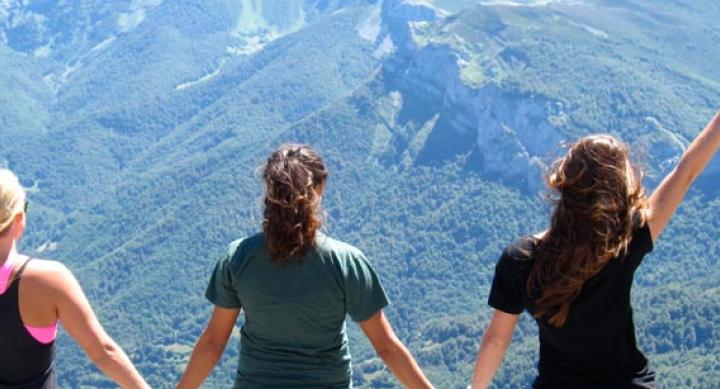 The College collaborates closely with Texas Global in order to provide you with a wide range of international opportunities.
Identify your priorities
How important is it that you take courses in your major?
Are you set on going to a particular country, or are you flexible?
Would you like to improve your foreign language skills?
When do you want to go (summer, over a long semester or over one year)?
How important is on-site support to you and your family?
Are scholarships a priority?
Will internship options factor into your decision-making process?
The answers to these questions can greatly influence the best program fit. Learn more information about program types and options with Education Abroad.
Get Advised and Apply
STEP 1. Attend an information session to explore your options. There are regional sessions, by-major sessions, and program-specific sessions. Any of these will be useful.
STEP 2. Schedule a visit with your Moody academic advisor to identify the best courses to take abroad. Ask how your participation may impact your graduation, and if there are any policies you need to know.
STEP 3. Review the Education Abroad program search database to narrow down your options. You can search for 'communication' to find potential programs for any Moody major. (Note: if a particular program or provider is NOT in this database, it will be considered a "non-UT program," and special provisions may apply. Non-UT programs may or may not qualify for transfer credit.)
You can also search the My Credit Abroad database to see what UT credit other students have earned. Review the course equivalency information to help identify programs that offer credits in your desired field of study.
STEP 4. Visit the designated program coordinator for your program of interest, or meet with the Moody Education Abroad Coordinator by contacting the Advising Office front desk. Use this opportunity to discuss course offerings, credit transfer, cost, funding for study abroad, housing and travel-related questions, etc.
STEP 5. Prepare a financial plan. If you plan ahead you can increase your options for scholarships and financial aid. Add relevant scholarship deadlines to your calendar, and allow enough time to prepare your applications and request letters of recommendation.
STEP 6.  Apply for the program of your choice. Review minimum requirements for each program, and be sure to check deadlines, as they can vary by program. (Note: some programs, providers and host schools have an additional application process.)
Plan & Prepare to Go
STEP 1. If you don't have one, apply for a passport as soon as possible, or, if yours will expire before the end of the time you're planning to be abroad, you should apply for one now. Texas Global offers convenient passport and ID services. You will need to have a passport before you can apply for either a residency permit or a visa (if required). Allow up to a few months for this process. You will be responsible for contacting the appropriate consulate or embassy for guidelines and to secure the necessary paperwork.
STEP 2. Begin completing and submitting acceptance materials on the "MY SAO" online portal. All this information is required by the University and can be vitally important to your well-being. Review, note and keep payment and registration deadlines and instructions for your particular study abroad program.
STEP 3. If you indicated that you will be applying for financial aid, Education Abroad will send the UT Office of Financial Aid an estimated budget for your program. Your OFA advisor will use the budget to review and revise your financial aid award for the term you are abroad, and will send you an electronic financial aid notification. If you receive aid or scholarships through the Office of Financial Aid, you must complete online training available through CASH, the application website. Visit Education Abroad's Financial Aid page for additional information about financing your abroad program.
STEP 4. Review important general travel and safety information, as well as information specific to your host country, and learn about your responsibilities while you are abroad. Depending on your destination you may need to complete online travel counseling, offered by UT Health Services, and may need immunizations (also offered by UHS).
STEP 5. Attend the required pre-departure orientation session(s) for your program. Learn all you can about your host country and follow the local news so you are aware of what the issues of the day are. Think about developing your intercultural competencies to better learn and adjust throughout your program and once you're back. Apply to be a UT Global Ambassador during your time abroad and a Peer Mentor after you return. Prepare, prepare, prepare!