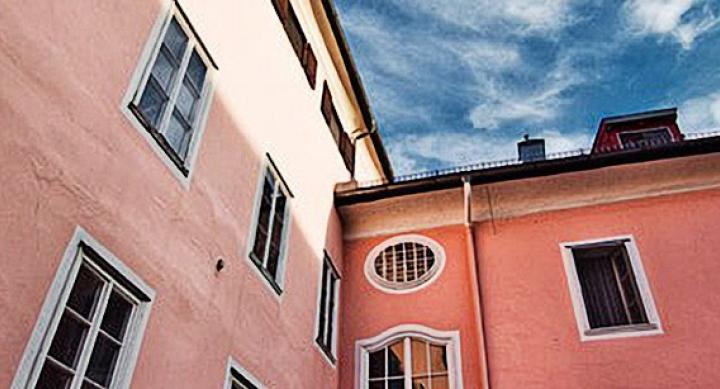 2023 Program Details
Program Type: Faculty-led Program
Dates: July 16 - August 1, 2023
Application Deadline: February 1, 2023. Applications will be reviewed on a rolling basis.
Language of Instruction: English
UT instructor: Dr. Stephen Reese 
Instructor Outreach Letter (2023)
Sample 2022 Syllabus (pdf)
Special message from the faculty instructor
Media Academy Impact Report
Overview
The Salzburg Academy on Media & Global Change is a unique study abroad program held each year in Salzburg, Austria. Sixty to seventy students and a dozen faculty attend from all five continents to study a dynamic, online Global Media Literacy curriculum.
The intent of The Salzburg Academy Program is:
to encourage cross-cultural thinking about the roles media play in global affairs and public policy;
to help students and faculty evaluate distinctive international media and policy models and consider their advantages and limitations;
to propose and initiate standards regarding media coverage of global issues such as populism, terrorism, and climate change;
Eligibility
The program is open to all UT students in good academic standing. Undergraduate students should have a minimum GPA of 2.25. There are no course prerequisites, but some prior communication course work is helpful.
Participation is generally capped at 6 students from UT-Austin.
Meeting minimum requirements does not guarantee acceptance to the program.
Courses & Credit
The Salzburg program consists of one three-credit second term summer course, COM 325s, designed to address the curricular needs of both upper-level undergraduates and graduate students. Students must register for this course BEFORE leaving for Salzburg. Participants are required to carry out some limited assigned work individually during the summer term but prior to their arrival in Salzburg. During the 3-week on-site portion of the program, breakout sections of 10-12 students each are generally supervised by two faculty members. UT Journalism professor Steve Reese is on the program faculty and oversees the participants from Texas.
Global Media Literacy (Credit: COM 325). Students will explore how digital media technologies are shaping civic engagement, activism, and innovation in a global media age. Students will work in a truly dynamic global cohort, of fellow university students from 15 partner institutions, to build digital stories, business plans, and content that helps provide innovative insights into the role of media, technology, and activism in changing societies across borders, across cultures, and across divides. Students will consider how distinctive global media shape views of politics, culture and society within nations, across regions and internationally, and develop an informed and critical understanding of how media shape and influence society and communication in the global public sphere. The course will develop a critical understanding of ideas around participatory technologies, collaborative media, social networks, mobile platforms and digital culture. Consult the posted sample syllabus for other details.
Notes:
Credit is granted by The University of Texas at Austin. Credit is considered in-residence for most requirements within the Moody College of Communication at The University of Texas at Austin. All UT participants are required to obtain approval from their academic advisor prior to participation in order to determine how the course credits will apply to their UT degree.
This course may carry the Global Culture Flag.
This course will count towards the International Relations and Global Studies Culture, Media, and the Arts track.
This course contributes to the Moody College "Global Communication Minor."
This course fulfills a requirement for the Identities, Communities & Place strand of the Media, Culture & Identities Bridging Disciplines Program.

Accommodations
The students and faculty study in the world-renowned Schloss Leopoldskron, an 18th century Rococo palace built by the Prince Archbishop of Salzburg, owned by the King Ludwig I of Bavaria, renovated by Max Reinhart, the co-founder of the Salzburg Music Festival, and used for the von Trapp family home in "The Sound of Music."
Financial Aid & Scholarships
Students may use most forms of institutional aid they would normally be awarded by the Office of Student Financial Services (OSFS), to help pay for study abroad through The University of Texas at Austin. Consult your designated counselor in the Office of Student Financial Services about how your participation in this program will impact your expected summer award, as financial aid awards can also be recalculated to cover increased costs associated with study abroad, and other alternatives may also be available to you. Additionally, most private scholarships are applicable to study abroad - however, students must confirm that with the donor.
The Salzburg program meets the eligibility criteria for certain scholarships on Global Assist, as well as the following national scholarships: the Benjamin Gilman International Scholarship and the Phi Kappa Phi Scholarship. Additional student eligibility criteria may apply, so be sure to check requirements carefully.

Student Expenses
These are estimated expenses to assist you with your financial planning:
UT non-refundable application fee: $75
UT Tuition and Fees for Summer II (approximate, in-state):$500
Salzburg Academy Program Fee: $5,585
Airfare $1,400
Local transportation $0 (city is accessible by bike/foot)
Personal expenses $150
Medical & insurance $132  
Passport $165
Visa (if a U.S. citizens) $0
Total estimated expenses: $7,667
* The program fee covers shared double occupancy accommodations in the newly renovated 17th century Meierhof building next door to the Schloss; full board, including buffet style breakfast, lunch and dinner, as well as coffee/tea breaks; all student academic fees including field trips and group activities; and general administrative costs of the Salzburg Seminar.
For more details, please refer to the Texas Global program page.
Links
Apply
Email Daniel Ach, Education Abroad Assistant Director, and submit a single Word document (titled with your name and UT EID) containing the following: (1) a resume and (2) a statement of purpose. The Statement of Purpose comprises responses (50-75 words each) to the following: (A) Why do you think you are a good fit for this program? (B) What is one aspect of the host culture you want to know more about and why? (C) Which of your attributes and experiences will help you effectively and appropriately interact with the host culture? (D) This program involves significant collaboration with a group of students, faculty, and staff. What is an example of a time when you worked effectively with a group? (E) What else should we know about your application?
Application Deadline: February 1, 2023. Applications will be reviewed on a rolling basis.
Contacts
For assistance with advising/course/degree planning, see your academic advisor.
For academic questions about this program, please contact Dr. Stephen Reese.