Noël Wells to deliver Moody College keynote
Spring graduation set for Friday, May 24 at 3 p.m.
Noël Wells is bringing her story of persistence back to the Moody College of Communication.
A 2010 Radio-Television-Film graduate, and actor, writer, director and musician, Wells is set to deliver Moody College's keynote address during Spring 2019 Commencement on Friday, May 24 at the Frank Erwin Center. Graduation exercises are scheduled to begin at 3 p.m.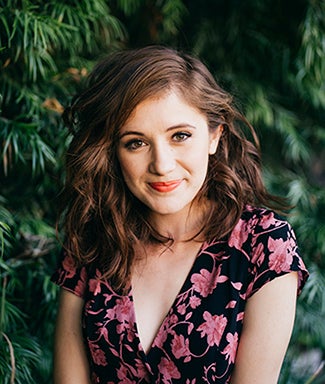 Wells' creative journey is both relevant and relatable. Born in San Antonio, she attended high school in Victoria, Texas, where she graduated as a salutatorian. She also majored in Plan II Honors as a University of Texas student.Out of high school, she planned on being a civil rights lawyer, but changed course and focused academically on film, studying editing, animation and directing. As a film student, she bought her own cameras, wrote her own projects and engaged in Austin's live comedy scene.
Upon graduation she moved to Los Angeles and started posting original content on YouTube. She also performed at Upright Citizens Brigade Theatre while working as an editor before being cast on Saturday Night Live.
"Because I had so many skill sets, I (thought), 'Hey, don't worry. No matter what I'm going to make something,'" Wells recently told The Ringer.  
Following a season on SNL in 2013-2014, she was cast opposite Aziz Ansari on the Netflix's Master of None. Shortly after, she wrote and directed an independent feature film, Mr. Roosevelt, which premiered and won the audience award at SXSW.
She just completed and self-produced her debut album set to come out this year.
"Noël's story should serve as inspiration to our graduates, their families and friends," said Jay Bernhardt, Dean of Moody College. "As a student here she utilized the resources that surrounded her to refine talents into skills, and then mixed in determination and drive. That's the path to achievement we hope all Moody students pursue."