Thunder Road Wins Top Prize at SXSW
Producer and Radio-Television-Film alumnus' film wins Grand Jury Award at SXSW Film Festival
Producer and Department of Radio-Television-Film alumnus Zack Parker (B.S. '13) won the coveted grand jury prize for narrative feature at this year's South by Southwest (SXSW) for his film, "Thunder Road."
The film is a comedic drama about a small-town police officer trying to raise his daughter and cope with his disintegrating marriage and imploding career, all amid the recent death of his mother.
The film originated as a 13-minute short shot in a single take and won the short film grand jury prize at the Sundance Film Festival, SXSW Film Festival and others before expanding to a full-length feature.
The original short tells the story of a police officer who eulogizes his mother at her funeral by singing and dancing to the Bruce Springsteen song, "Thunder Road." The first 13 minutes of the full-length feature film includes the original short.
Shot in Austin in Nov. 2017, the 36-year-old Parker said he felt committed enough to "Thunder Road" to leave his job in Los Angeles, move back to Texas, and invest all his savings and time into the project.
Not to be outdone, lead actor, writer and director Jim Cummings said the film was written in about two months from his commutes to work at CollegeHumor and that he sold his wedding rings from a previous marriage to help fund it.
We caught up with Parker to learn how he made such an impact in so short a time upon departing the Forty Acres five years ago.
How did you begin your film career out of UT Austin?
I feel like I started my film career at UT Austin. It was in school and working in and around the Austin area that really got the ball rolling so by the time I was able to take advantage of the UTLA program I already felt like I had a leg up on others who might have only been receiving a theoretical education rather than the hands-on education I got in Austin.
What do you do on a day-to-day basis as producer?
That's a question with about a million answers but the way I like to think of myself is as a steward of a project. I want to be with a project from the absolute beginning until it's fully realized and distributed into the world. So, the day-to-day varies but ultimately it's about dedicating yourself fully to only a few projects and giving them exactly what they need at any particular moment. That might mean working on an early draft of a script with a writer, trying to attach an actor, securing financing, or picking up lunch for a crew during production. I think that is a major draw for me towards producing in that it is ever-changing and always keeping you on your toes.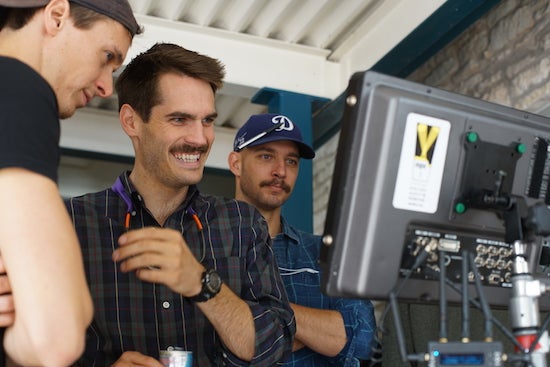 Jim Cummings (middle) and Zack Parker (right) look at dailies on set in Austin.
How did you connect with actor, writer and director Jim Cummings to be part of this film?
It all began with seeing the "Thunder Road" short in 2016 and having an emotional reaction to it that I had never had with any piece of art before. It truly blew me away. Then after meeting with Jim back in L.A., I just kept pressing him on what happens to this character. For whatever reason, I found myself thinking about this poor police officer every day and wondering if he had been okay after the funeral. I wanted to know what happened to him and so I just kept pressing Jim for the rest of this story. Ultimately, he sent me a script a few months later and again I was blown away. We developed it for a few more months until we thought it was ready to shoot and then we came to Austin and shot it.
How many takes did you have to do until y'all were satisfied with the single take seen in the "Thunder Road" short?
We recreated the short on our first day of shooting. It was something like 11 or 12 takes and we ended up using the very last one of the day. It was one of the more impressive things I have ever seen. Watching Jim go to that place emotionally over and over again for an entire day was incredible and motivating to everyone in that church. 
Please tell me about leaving your job, moving back to Austin and investing all your savings and time into this project.
Well, I had finally gotten to the point where all I could think about was the "Thunder Road" script and getting back to Texas and bringing it to life. I knew nobody was gonna come save the day so it was either get it done or regret it forever. And I think the film really explores regret and the consequences of our decisions so the script was a daily reminder that it was absolutely the thing that I should be doing.
"You have to prepare yourself. The school and the department aren't going to fully prepare you but rather, it's going to give you all the resources and tools needed to prepare yourself. Ultimately, the responsibility is on you to take advantage of everything that UT and the Austin film scene offers."
What other challenges did you overcome to get "Thunder Road" made into a feature?
To be honest, the biggest challenge was just rewiring our brains and convincing ourselves that we could just go do it. Once Jim and I got to the point where we both truly believed that we were both in this together—sink or swim—it was a no-brainer. Of course, you have all the challenges that any independent production deals with but truly after we decided to go all in, we knew we would be able to overcome anything if we just had each other's backs. 
What professors/classes had an impact on you in Moody College?
The one that really stands out the most is producing with Richard Lewis. I was drawn to producing from the get-go and being able to have him as a resource continues to be invaluable to this day. He was part of a very select number of people that got to see the first cut we screened in Austin the day after we wrapped production so it's been great having him in my corner since the beginning.
How did the RTF program and your time at UT Austin prepare you for your career?
I think you have to prepare yourself. The school and the department aren't going to fully prepare you but rather, it's going to give you all the resources and tools needed to prepare yourself. Ultimately, the responsibility is on you to take advantage of everything that UT and the Austin film scene offers.
Is part of your success based on surrounding yourself with likeminded people who are going to make you better at what you do? 
That is absolutely the case. I am always trying to surround myself with not only likeminded people but smarter and more creative people. Film is difficult, and it takes everyone pitching in to truly make something special. I love the old adage 'steel sharpens steel' and as pretentious as that sounds I believe it's true. Collaborate with people that inspire you and always challenge each other to be better.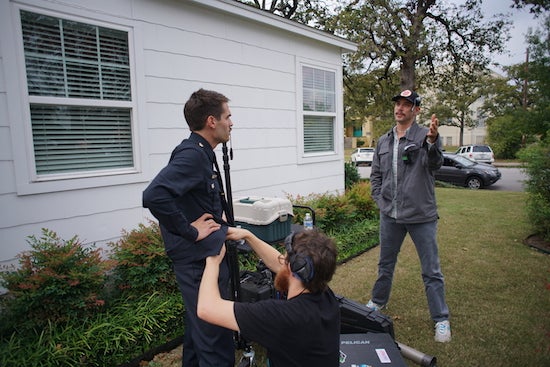 Jim Cummings (left) and Zack Parker (right) rehearse a scene outside.
What advice do you have for current students?
Take your education outside of the classroom as much as possible. Everything you're learning means nothing if you don't immediately go out and learn how to incorporate it in the real world. And just go make stuff. There really are no excuses anymore not to be creating. Go make 50 terrible short films on your phone so by the time someone actually pays attention, you have made all the beginner mistakes already.
What are your future plans?
The immediate future is to give "Thunder Road" everything it needs to succeed. We are really excited about embarking on an international festival run this year and then making sure we can get the film out to as many audiences as possible and we are excited to explore every potential opportunity for that. And beyond that, I have various projects that I am excited about bringing to life later in the year.
"Thunder Road" will make its international debut at the Cannes Film Festival as part of the Association for the Diffusion of Independent Cinema section. Other UT Austin alumni who won jury awards at SXSW include director Chelsea Sonnen-Hernandez (B.S. '10) and cinematographer Amy Bench (M.F.A. '10) for their short "An Uncertain Future" and the cinematography work of Drew Xanthopoulos (M.F.A. '11) for his contribution to the documentary, "Daughters of the Sexual Revolution: The Untold Story of the Dallas Cowboys Cheerleaders."