2016 journalism graduate combines writing, reporting interest on police beat
As a first-generation college student, Cassandra Jaramillo was unsure of her career path but knew she was passionate about talking to people, understanding their perspectives and writing.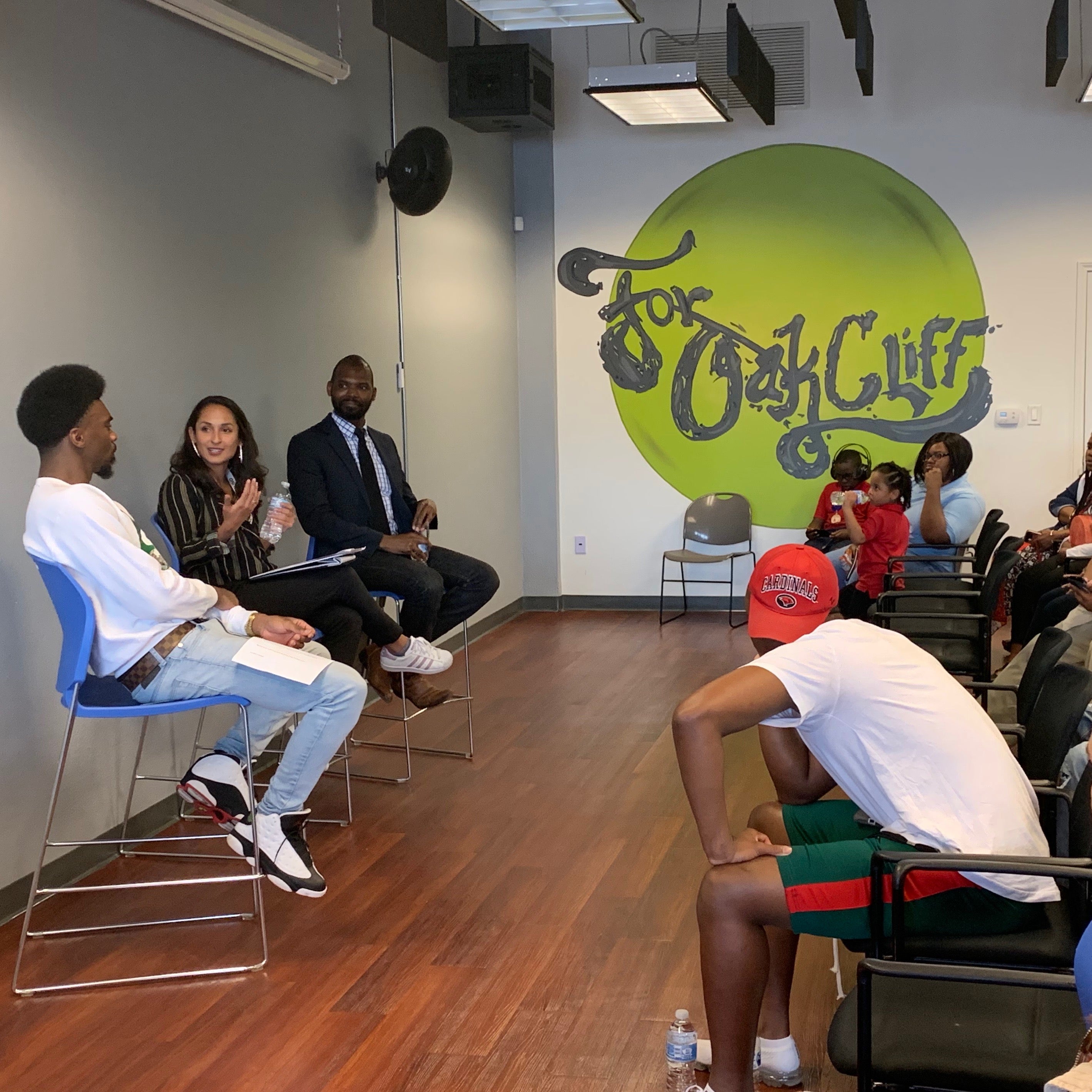 Cassandra Jaramillo moderates a mental health panel in her community. 
She harnessed the interest to share others' stories into a drive toward a journalism degree at the Moody College of Communication. Although Jaramillo dreamed of being a TV reporter in her hometown of Beaumont, Texas, she soon realized broadcast journalism lacked the writing spark of storytelling.
Despite the economic challenges faced by the newspaper industry she switched to print journalism and gained experience in multiple media outlets.
After graduating in 2016, she landed her first full-time job at The Dallas Morning News as a reporter. When their former police reporter left, she started evaluating her interests in feature writing and investigative reporting and concluded that police reporting satisfied both.
Last September, she became a police reporter for The Dallas Morning News and remains there today. Despite the industry challenges and financial instability of being a reporter, she learned the truths of the field while also finding true joy in reporting.
Valuing passion over affluence, Jaramillo relentlessly pursues her craft and encourages others to follow that same spark she had as a student.
---
Q&A
How did you transition from broadcast to print journalism? The skills are relatively the same. It's just a matter of the platform. It comes down to the fundamentals of journalism — having a story idea, asking people with various perspectives and bringing together a piece of journalism.
With print reporting, it's more focused on writing and structure. You have more creative license as a writer. Broadcast journalists have video footage, but I felt like when you're able to do that with written word, it's very powerful. 
How did you overcome the concern of the newspaper industry taking a hit your freshman year? To me, my passion for journalism was so strong that I felt it was worth getting myself into it. You just have to be adaptable. Unfortunately, layoffs are a real part of journalism, but at the end of the day, it is my passion.
Although it is a struggle of the industry, journalism is going to exist no matter the circumstance. It is a fundamental part of our democracy. What we're able to do through storytelling is the fabric of the communities we cover.
Were you worried about the financial instability accompanied with being a reporter? I did not get into journalism because I wanted to make a high salary. No one gets into journalism because they want to be rich. It's not a career path that is going to bring a lifestyle of affluence by any means. 
At the same time, while you may not be making a killing, you have every right to negotiate a livable salary. People think because I work in journalism, I'm going to make $35,000 a year forever. It may be that way in the beginning, but that's why journalists, especially those who know a second language or have extra skills, need to negotiate because they are an asset in this industry, and there are jobs that will pay you a living salary.
What is one of the most important things student-journalists should know? Students who have clips and show that they have the experience to handle daily news deadlines — that makes you so valuable in the application process. Internships are valuable, in journalism especially.
Cassandra Jaramillo: Practicing Journalism
The Dallas Morning News: Public safety reporter (Nov. 2018 - present); Reporter (Sept. 2016 - present)
The Wall Street Journal: Media and marketing reporting intern (July 2016 - Sept. 2016)
The Daily Texan: Senior reporter (Jan. 2016 - May 2016)
LCAE Journalism Writing Support Program: Academic coach (Jan. 2014 - May 2016)
Austin American-Statesman: Digital innovations intern (Sept. 2015 - Dec. 2015); Sunday web producer (Jan. 2015 - April 2015); Web intern (Aug. 2014 - Dec. 2014)
Dow Jones: News fund business reporting intern at The Wall Street Journal (May 2015 - Aug. 2015)
CNBC: National Association of Hispanic Journalists news fellow (May 2014 - Aug. 2014)
KXAN-TV: News intern (Jan. 2014 - May 2014)
Texas Student Television: News producer (Aug. 2013 - Jan. 2014); Host and reporter (Aug. 2012 - April 2014)
KVR News: Associate producer (Aug. 2013 - Jan. 2014)
KFDM: Summer shadow/intern (July 2013 - Aug. 2013)
What did you learn transitioning from college to the "real world?" If you're anxious about it, just know that the investment you make in yourself will be worth it. The most rewarding part of that transition is that you worked so hard in college, and it does pay off. I get to wake up every day and do journalism, and I get paid a salary to do it. 
The second thing is that it's always important to keep other parts of your life a priority and not letting work take over everything. It's so important to have that balance.
How has your degree helped with your career now? I don't think a journalism degree is required to be a journalist, but I found that it's helpful because I'm an immigrant and the first in my family to go to college. That exposure through classes to what journalism is actually about and what the industry requires helped train and inspire me in a way that I don't think I would have gotten in any other major or degree.
What classes or experiences have helped you the most? The intro class I took — Fundamentals of Journalism — was one that really inspired me as a student. It was a class that introduced you to the big journalist endeavors like Watergate. It also touched on the failures by the industry. The one that made me realize that I wanted to be a reporter, knowing how to write a cops story and a city hall story, was Reporting Words.
If you could go back in time and give yourself advice in college, what would you say? Intern at more local news organizations. I am so thankful for The Wall Street Journal internship I had but I've noticed at local internships, you get treated like an employee. So many student-journalists want to intern at The Washington Post, The New York Times, The Wall Street Journal, and I was one of those students. But looking back, I think local news organizations are valuable in getting that experience you need as a reporter.
Any last words of wisdom? I would encourage students that if they feel this fire inside and joy when they're able to report, we need them. We need young people to continue the generation of reporters and editors. I hope they follow that feeling and stay with journalism because we need those talented people to be a part of the industry.