Texas Speech breaks record for number of national titles won at the National Forensic Association
Texas Speech is on an oratory roll as of late and was the team to beat at the National Forensic Association (NFA) collegiate national contest in Muncie, Ind., from April 14 to 18.
Fresh off securing a fifth team national championship from the American Forensic Association (AFA) on April 4 and breaking a national record by securing six individual titles at AFA, Texas Speech won seven of the 10 event categories at NFA on April 18, also winning the top overall individual speaking title to win an unprecedented and record-breaking eight national titles at NFA.
The previous record for national titles in a single contest at NFA was five awards plus the top speaker, set by Miami University of Ohio in 2002 and matched by Bradley University in 2013.
Senior Lecturer Martin "Randy" Cox (B.A. '91, M.A. '94), director of the university's Individual Events Program  known as "Texas Speech," said he couldn't be more satisfied with his squad.
"This is the single greatest team of all-time for The University of Texas and among the greatest teams in the country ever," said Cox. "I'm incredibly proud of the work done and of the coaches who have helped our students achieve to this level."
Texas Speech also won the Founder's Award, a special cumulative team national title that recognizes excellence over multiple years rather than a single instance. For a full list of individual awards, visit the Texas Speech website.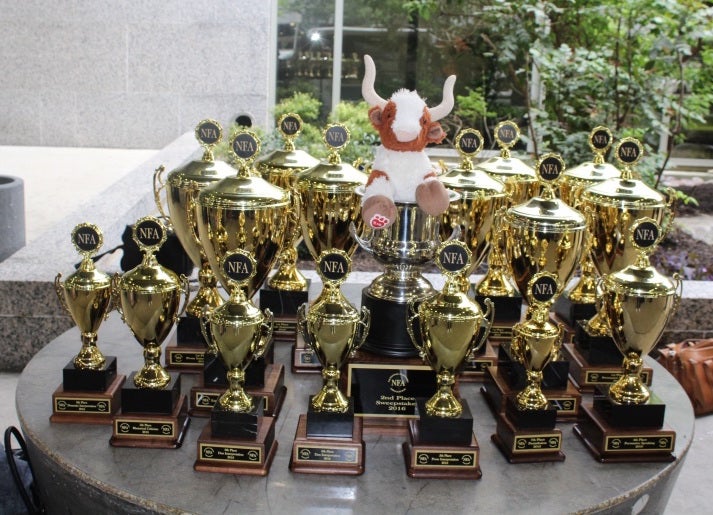 This year's team consists of 32 students from disciplines across UT Austin with a large representation of members from the Department of Communication Studies within the Moody College of Communication. Tournaments traditionally begin in mid-September and end in early March culminating in the national contests of the AFA and NFA in April.
For the third time, team captain Farrah Bara was recognized as the top overall speaker at a national contest, winning the Pentathlon national championship. Bara also was recognized with national championships in persuasive speaking and extemporaneous speaking, was the national runner-up in rhetorical criticism, and placed fifth in impromptu speaking.
Kevin King received his fourth consecutive national championship in informative speaking, finished fourth nationally in persuasive speaking, and fifth in rhetorical criticism. King also received seventh place in the overall standings.
Lizzette Marrero and public relations senior Alexa Thomas won the national championship in duo interpretation, with Thomas also placing fifth in prose interpretation. Abigail Onwunali was recognized with three national championships in prose interpretation, dramatic interpretation, and poetry interpretation. She became the first student ever to win national titles in three different performance categories in the same year. Onwunali also placed sixth in duo interpretation with her partner and communication studies senior Xavier Clark, with Clark also placing sixth nationally in dramatic interpretation. Arel Rende was also recognized as a national finalist, placing fifth in extemporaneous speaking.
Texas Speech finishes the year having won 15 combined national titles with seven from the AFA and eight from the NFA, setting a national record. The team won the AFA national team title, the NFA Founder's Award, and along with Texas Debate, the AFA Joint NDT-NIET Award.