Advertising Students Take First Place in Google Marketing Challenge for Social Impact
Students in the Stan Richards School for Advertising and Public Relations won first place in the annual Google Online Marketing Challenge for Social Impact for their campaign to promote the Austin children's museum Thinkery.
Led by Senior Lecturer Lisa Dobias, students in the Advanced Media Strategies class beat out a pool of hundreds of groups from 65 countries. The team included students Angela Fayad, Ben Torres, Kendall Troup, Zachary Kornblau, Kristin Kish and team leader Kaitlin Reid.
In the competition, advertising students from around the world partner with local businesses or nonprofits and are credited $250 to use on Google AdWords to drive traffic to the partner's website. The contest helps businesses and nonprofits gain website traffic through search engine marketing, which generates sales, donations and sign-ups.
The campaign—which included display and video marketing—helped increase ticket sales to the Thinkery by more than 2,500 tickets. Additionally, it resulted in 19,888 impressions, 834 interactions and an overall 4.19 percent interaction rate.
"I am so proud of the Google Online Marketing Challenge work produced by all of my students last semester, but this team's work on Thinkery was particularly outstanding," Dobias said. "Not only did they achieve incredible results on all metrics, including substantial lifts in interactions and spring ticket sales, they put their education in hybrid planning into action, illustrating they understand the power of search engine marketing within the greater context of a brand's overall media efforts."
Global Winners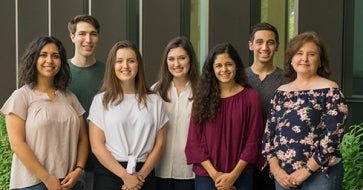 From left to right: Angela Fayad, Ben Torres, Kaitlin Reid, Kendall Troup, Kristin Kish, Zachary Kornblau and Lisa Dobias
As part of their win, the students earned a $15,000 donation from Google to Thinkery.
"Participating in the GOMC was a tremendous learning experience," Reid said. "Every day we learned something new––whether that was discovering a new performance insight or figuring out how exactly to serve a video advertisement. Understanding how search operates helped me inform decision making in regards to providing recommendations on things like digital targeting, audience development and segmentation and keywords for various projects I worked on in my internship this summer."
The Advanced Media Strategies class is part of the TexasMedia sequence, a cross-disciplinary program designed to provide emphasis in the key areas of media insights, interactivity and investments. It was created to provide students with the theoretical foundation and practical knowledge to take on such tasks.
This is the second time students from the TexasMedia program have competed in the Google Online Marketing Challenge and is the program's second global win. In 2012, a team from the same course took home the Global First Place Award in the Social Media Category for their incorporation of promotional Google Hangouts within their AdWords campaign for Austin women's clothing boutique The Impeccable Pig.
"I chose to revisit the Google Online Marketing Challenge again as one of two major classroom projects because the competition not only challenges students to interpret insights and create strategies, but also to implement their campaigns in real time," Dobias said. "In the process they gain the invaluable experience of managing their own individual client relationships for the first time. The fact that one of our teams won to the benefit of a nonprofit is such an added bonus."