PR graduate seeks scholarship for social change
On a path to "educate, enlighten and create impact"
Tammy Smithers earned a Bachelor of Journalism in Public Relations degree from Moody College of Communication, and though she says her university days were not filled with an affinity for scholarship or an aptitude for research, Smithers prevailed by practicing what she knew.
She worked, she observed, and she communicated.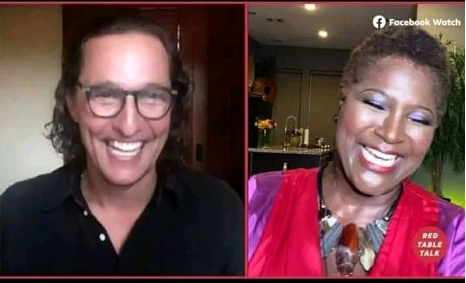 Now a lecturer on diversity, equity and leadership at the University of St. Thomas in Houston, Smithers has also come into the public awareness by favor of her former classmate Matthew McConaughey, who describes Smithers in his bestselling memoir, "Greenlights," as someone who opened his eyes to different cultures. The two reunited when she surprised him on the Red Table Talk show with Jada Pinkett Smith and family. RTT was one of many appearances the Academy award-winning actor made to promote his newly released book.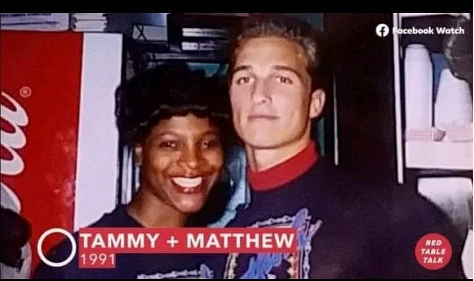 In college, the two worked together at a Black-owned restaurant and bar in downtown Austin. During their time working together, the two became friends and formed a mutual respect for the other.
"When you are talking about a problem or an issue, you have to also add a solution," Smithers said. "So those solutions, create conversations."
In the case of Smithers and McConaughey, the conversation was also the solution, because it revealed, "we're not really that different. We just grew up, maybe, in a different part of the country or state, but the same values are in place," Smithers said.
Upon graduating from UT Austin in the early 1990s, Smithers gained professional experience and personal grit through a series of internships that provided short-term focus and preparation. She eventually was hired as a public relations coordinator in a full-time role in 1995.
"It was clear to me that Tammy was not going to be satisfied with the status quo," said Kevin Foyle, now vice president for development and public affairs for The University of Texas Health Science Center at Houston's Medical Center. "She was willing to ask questions, own projects and develop them with her own style.
"She was a self-starter."
Smithers' personal agency and drive for excellence define her journey, whether as a student, professional or scholar.
Student
At UT Austin in the late 1980s and early 90s, Smithers found herself being titled with a lot of firsts. This included being her dorm's first Black resident assistant (RA), an experience she connects to her first interaction with overt racism.
"During freshman year, my roommate, and I were the lone two Black women in this particular dorm," Smithers said. "In our three-bedroom suite, two other incoming freshmen actually moved into the suite, and they moved out ... within an hour of us arriving. There was already an RA living in our suite. When the other two women moved out, a second RA moved into our suite – a move that confirmed my suspicion. So that was my first experience as a 17-year-old going away for college."
Shortly thereafter, Smithers learned there were two other Black women living in the dorm. Together, they navigated the college experience. Smithers remains friends with them this day and was a bridesmaid in each of their weddings.
Another connection came in the classroom, where Smithers met Alexus Rhone in an African American sociology class; both were majoring in journalism/public relations and remain faithful friends.
"She and I bonded," said Rhone, an author, storyteller, artistic theologian and founder of Where Truth Meets Story, LLC. "A lot of times, when you are trying to find your way – professionally, socially or personally – life happens on life's terms. With resilience, you figure out how to work within the confines of things we cannot control."
Smithers immersed herself in the campus community and found avenues for connection through advocacy and service. She participated in the Black Student Alliance, Public Relations Student Society of America (PRSSA), and Women in Communication, Inc. (WICI), now the Association for Women in Communication. She was also a co-founding member of Beta Chi (Blacks in Communications).
Smithers worked as a student admissions counselor, responsible for staffing the Office of Admissions' campus information desk, answering questions, and giving tours. Outside of the university, Smithers also had an internship in the public affairs office of an Austin-area hospital.
"As a first-gen student there was a lot about having to navigate and negotiate my studies that I had to figure out on my own. Even interviewing for jobs and learning how to dress and prep for interviews was a challenge," Smithers said. "In spite of that, my work ethic as a college student was unmatched. In my last two years at UT, I worked two jobs, three if you count the internship. I have always had to work twice as hard than others. Nothing was ever handed or given to me."
Professional
Upon graduating, Smithers bounced between communications-related internships and entry-level work selling ads for a newspaper, the Houston Defender. Though Smithers said she struggled to find her footing, she credits this transitional period with building her resilience, which paid dividends when she applied for a job on Foyle's team.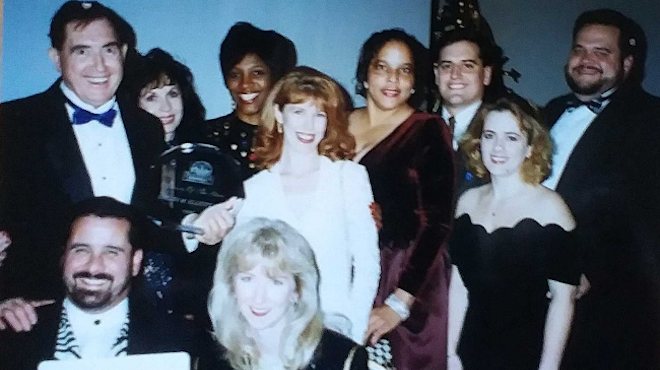 Smithers with the Texas Chiropractic College leadership team
Foyle was filling a role to lead public affairs and promotions at Texas Chiropractic College.
"It was a one-person office, and we needed someone who could come into the role, think outside of the box, take control of the arena and make it her own," Foyle said. "Tammy's positive approach and proactive attitude made it clear to me that she could really prove herself early in her career if someone was willing to let her try."
"Her magnetic spirit is one that you don't forget."
Several years later, Smithers left her job at the Houston Grand Opera, where she spent four years directing corporate philanthropy, in pursuit of a master's in business administration from Rice University. She was one of five Black students in the full-time MBA program at Rice to graduate in 2004.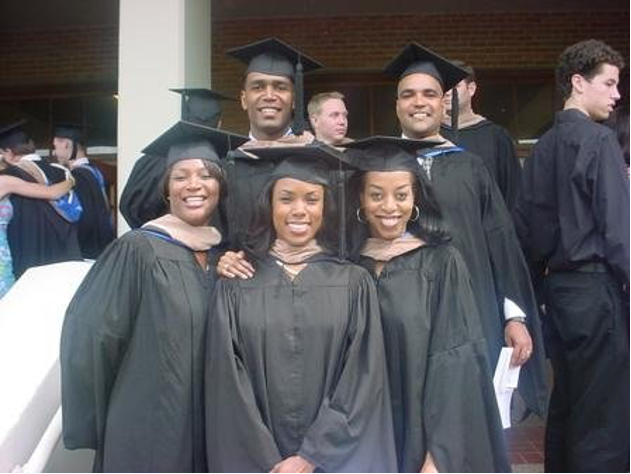 Smithers (far left) was one of five Black students in the full-time MBA program to graduate in 2004.
During this time, Smithers met Alicia Yancy at a National Black MBA Association convention in Houston, and she guided Yancy through the MBA application process. Yancy is now an assistant professor of accounting at the University of Houston-Downtown and became the first Black female to earn a Ph.D. in accounting from the University of Southern California.
"Tammy was an advocate for me," Yancy said. "I credit her with becoming Dr. Yancy, because without meeting her, I would not have applied to Rice."
In 2006, armed with her MBA and desire for a new experience, Smithers relocated from Houston to the east coast. A career in wealth management and the financial services industry took her to New Jersey, New York and Pennsylvania. After more than a decade working for three Fortune 500 companies, including a Wall Street firm, Smithers felt a call toward using her lived experiences in a way that would empower others and promote social change.
"That was the new beginning for me – that zest, that zeal, for wanting to make a difference," she said.
Scholar
Upon moving back to Houston in 2016 and transferring to another office, Smithers quickly moved to reconnect with friends and professionals and reestablish her financial services business by hosting a series of events. However, her heart was no longer in that work, and she later made a career pivot. Smithers joined the adjunct faculty at Texas Southern University, where she taught and mentored students pursuing paths of business and entrepreneurship, with the hopes of one day seeing a society without racial firsts.
By exposing others to higher education and careers in business and its associated benefits, Smithers was likewise motivated to learn more.
She pursued doctoral studies in education at the University of St. Thomas and last May graduated as a Doctor of Education (Ed.D.) in ethical leadership — another first-gen moment for her family.
"I view my pursuit of a doctorate degree and my decision to engage in meaningful research as an intellectual encounter to solve societal ills of systemic and structural oppression that marginalizes, demonizes and criminalizes certain groups," Smithers said.
Smithers is a thought leader and frequent speaker on diversity and inclusion topics. An executive consultant with Bridge Philanthropic Consulting, LLC, Smithers combines her experience in philanthropy, wealth management and social justice research to advise various mission-oriented organizations that serve underrepresented populations in 14 U.S. states and Canada.
Smithers is also a visiting scholar at Rutgers University's Samuel DeWitt Proctor Institute for Leadership, Equity, & Justice. Her area of scholarship focuses on social justice, gender equality, diversity, equity and inclusion, with particular interest in social movements for change, as well as whiteness and privilege and the roots of systemic racism.
"She cares deeply about important issues that have an impact on us all — including how to combat racism and how to get people across racial lines to talk to each other and listen to each other. To me, these qualities make for a researcher who does work that matters," said Marybeth Gasman, an endowed chair and distinguished professor in educational psychology at Rutgers University.
Gasman also directs the Samuel DeWitt Proctor Institute for Leadership, Equity, & Justice and mentors Smithers through the process of research and publication.
"Tammy has the beautiful ability to take what is happening right now and weave it into her academic research," Gasman said. "She is timely and current in her approach."
Although Smithers' journey into scholarship and research may have been unexpected, it is actually an obvious path forward for someone who listens, learns and labors for progress.
In Fall 2020, during the nation's electoral season, Smithers stayed true to her mission to promote racial justice and gender equity and she used her voice to patiently and prayerfully bring about change. She collaborated with 40 women through Facebook, who ignited three weeks of daily morning prayer followed by an election day prayer-a-thon. The nearly 1,000 community members are now engaging in 100 prayers for 100 days, which began on Jan. 20.
"It's all about focusing on a little bit of a goal, right?" Smithers said. "My personal mission is to disrupt the status quo and educate, enlighten and create impact."