Outstanding Spring 2016 Grads
Moody College celebrates the Spring Class of '16

Moody College spring commencement takes place Friday, May 20 at 3:30 p.m. in the Frank Erwin Center, 1701 Red River St. The ceremonies will also be webcast live. Here are a few of the outstanding students who have majored in the Moody College and who will be graduating in the Class of 2016.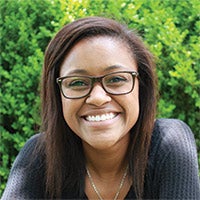 Maryssa Adams
B.S., Public Relations
Growing up in Austin, Maryssa Adams always wanted to be a Longhorn. An accomplished student, Maryssa has been recognized by Assistant Professor Kate Pounders as one of her brightest students. 
Outside of UT, Maryssa has been involved in YoungLife, a ministry group that works with adolescents to conduct volunteer work and camps. She also served as a social media intern at Wimberley Inc., managed a local band and worked as a stage manager and sound engineer for a local Austin venue.
Upon graduation, Maryssa hopes to stay in Austin and work for the nonprofit organization World Vision, a Christian humanitarian organization dedicated to working with children, families and their communities worldwide. This summer, Maryssa hopes to travel to Costa Rica to do mission work and photography.
---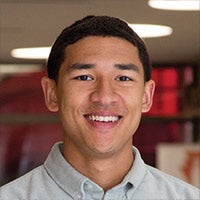 Quinton Boudwin
B.S., Radio-Television-Film   
From the moment he stepped foot on the Forty Acres, Quinton Boudwin was determined to get all the practical experience he could. He started early with student-run Texas Student Television as producer for the sports program "College PressBox" and executive producer for the music program "Longhorn Hip Hop."  Quinton was an online content intern at both KUTX and The Austin American-Statesman, where he managed social media and homepage content for both websites. He also interned at "The Nightly Show" on Comedy Central.
Quinton's mother is a refugee from Vietnam and he is the first in his family to graduate from college. He worked on the short film "Motherland" that was accepted to multiple film festivals including the Austin Film Festival and the Austin Asian American Film Festival.
Currently, he is in the process of promoting his own Web magazine "Mud" that focuses on arts and culture.
---
Robyn Croft
B.S., Communication Sciences & Disorders  
Robyn Croft found her calling in speech-language pathology because of her enthusiasm for the science and art of communication.
Robyn served as a research assistant and president of the student leadership group for the Michael and Tami Lang Stuttering Institute, which researches and treats stuttering. At the Lang Institute, she co-authored a study on the effects of different types of stuttering self-disclosure statements. She hopes to present the study at a convention next year.
Robyn completed a study abroad program at the Hebrew University of Jerusalem, worked as an admissions ambassador for the university, and was the first Communication Sciences and Disorders student to serve as a writing coach in the Moody College Writing Support Program.
---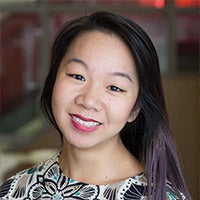 Nina Ho
B.S., Advertising 
Nina Ho is a marketer and designer with a drive to do social good. As a student, Nina used her talents in content marketing, brand storytelling, graphic and Web design, consulting and event planning to start a freelance brand agency that helps small businesses in Austin.
She also started Envision Austin, a program for Liberal Arts Honors freshmen to develop social innovation projects.
Nina has been featured in Business Insider's "17 Incredibly Impressive Students at The University of Texas" as well as Austin Monthly's "20 in their 20s" article about 20-somethings who are changing the city. She will be graduating with a B.S. in Advertising, a B.A. in French, a minor in Portuguese and a Bridging Disciplines certificate in Innovation, Creativity and Entrepreneurship.
---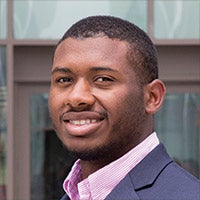 Jonathan Howe
B.S., Communication Studies 
To say Jonathan Howe is determined would be an understatement. During his time in the Moody College, he served as the service chair for Gates Millennium Scholars Association Texas Chapter, as a member of the inaugural class of the University Leadership Network, as an intern with the African American Male Research Initiative on campus and completed a study abroad program in Barcelona, Spain. For the past two and a half years, he has been a student manager for the football team.
He participates in another study abroad trip this May to Cape Town, South Africa, where he will take a course in urban economic development and will complete a service learning assignment assisting local community organizations.
After graduation, Jonathan hopes to earn a master's in sports management at the university and continue to work in the athletic department. Eventually, he hopes to attend law school or earn his doctorate with the goal of becoming a collegiate athletic director.
---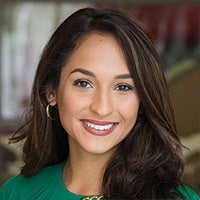 Cassandra Jaramillo
B.J., Journalism   
First-generation college student Cassandra Jaramillo learned the craft of journalism through a combination of classes and hands-on training.
She was the breaking news intern for The Wall Street Journal, a senior reporter for The Daily Texan and a news producer for Texas Student Television, the student-run news station in Moody College.
Cassandra worked as a digital innovation intern and Web producer and helped launch the Austin American-Statesman's Snapchat channel. She was awarded the National Association of Hispanic Journalists News Fellowship, worked at CNBC in 2014 and helped cover the Fort Hood shooting story as a news intern at KXAN.
Upon graduating, Cassandra is returning to The Wall Street Journal to work the media and marketing beat.