Outstanding Fall 2018 Grads
Moody College celebrates the Fall Class of 2018
On Saturday, Dec. 8, Moody College of Communication honors and recognizes the students who are completing their respective programs of study.
Please meet Moody College's selected outstanding graduates in the Fall Class of 2018.
---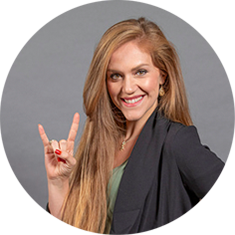 Vanezza Bazzini
B.S., Advertising
Hailing from Houston, Vanezza Bazzini chose to study at Moody because of its standout advertising program, which allowed her to pursue a creative career in branding and storytelling. As a married mother of two young girls and owner of a photography business, Bazzini still found the time to intern at Alpaca Market in east Austin where she collaborated with the social media manager and sales/marketing director on content generation, branding and photographing products and people for marketing and media.
While at Moody, she said faculty members Dennis Darling, Brad Love, Galit Marmore-Lavie and teaching assistant Emree Weaver positively affected her educational experience. The Maymester program allowed her to expand her artistry as a photographer and storyteller while taking the class "Documentary Photography Storytelling" in Prague, Czech Republic.
Bazzini plans to travel to Uruguay to see her father and spend time in Italy before returning to Austin to expand her business.
---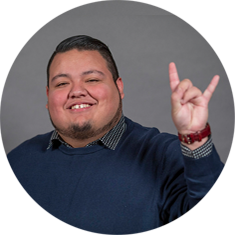 Angel Cantu
B.S., Communication Studies
Born in Mexico and raised in Laredo, Texas, Angel Cantu chose to study at Moody because he said the professors teach in a way that is relatable, practical, analytical and most importantly, fun. Since his sophomore year, Cantu has been a member of Texas Tower PR, a full service, student-run public relations firm on campus. He held various positions within the organization including account coordinator, account manager and executive director.
Cantu cited Dawna Ballard's course "Time Matters," as well as Dina Inman's classes on digital communications and social interaction in virtual environments, as classes that gave him a whole new look at life. During his time on the Forty Acres, Cantu interned at Fons PR, Chase Bank, RAD Austin Magazine and worked on Moody's marketing and communications team as a social and digital media specialist.
Upon graduation, Cantu plans to work as a brand manager for pupsicool, a local CPG startup.
---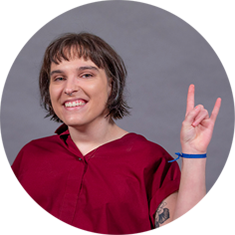 Zoe Colaluca
B.S., Communication Sciences and Disorders
A native of Austin, Zoe Colaluca chose to study at Moody because she wanted to stay in her hometown and knew UT Austin was a great school. Within the college, Colaluca served as a student clinician in the Michael and Tami Lang Stuttering Institute and camp counselor for Camp Dream. Speak. Live., the institute's weeklong children's camp.
She also participated in the National Speech Language and Hearing Association (NSSLHA) UT Austin chapter, worked in the Texas Institute for Excellence in Mental Health, assisted on research with Courtney Byrd, and volunteered as a peer mentor with Conversation Club, a therapy group for individuals with developmental disabilities. Colaluca cited Byrd and Elizabeth Hampton for their encouragement and said working as a student clinician in the Lang Stuttering Institute was an amazing experience because she handled clients directly and had a role in planning and administering sessions.
Upon graduation, she plans to attend graduate school while working in the field of speech language pathology.    
---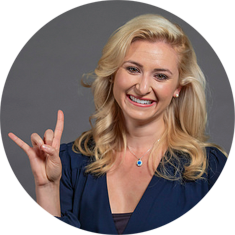 Lauren DeFilippo
B.J., Journalism
A Texan originating from San Antonio, Lauren DeFilippo said she chose to study at Moody because it's ranked among the top five communication schools in the world.
Already an accomplished singer and dancer, DeFilippo minored in theatre and dance and has performed Off-Broadway and in other national theaters. She also performed as a lead singer for Carnival Cruise Lines, choreographed youth productions, sang the national anthem at several sporting events and starred in the theatre and dance program's "The Drowsy Chaperone." She also was involved in the Miss America Pageant and is a two-time titleholder as Miss Austin.
In the journalism program, DeFilippo became a published writer for ReportingTexas and cited faculty members Kevin Robbins, Diana Dawson, Kathleen McElroy and Raoul Hernandez for their support and guidance.
DeFilippo has interned as a public information officer at Austin-Bergstrom International Airport and plans to work and perform in New York while keeping her options open to different opportunities.
---
Clemence Kelman
B.S., Public Relations
Born in Paris but raised in Irvine, Calif., Clemence Kelman chose to study at Moody because of its strong study abroad program and the robust offerings in the public relations program.
Already fluent in French, she studied abroad in Paris in spring 2018 to immerse herself in the culture while earning credit at UT Austin. Kelman said she chose the major because it provided a skillset necessary for success in several fields. On campus, she was involved with Alpha Delta Pi sorority as a recruitment information manager and a research assistant for Kate Pounders. Kelman said Pounders encouraged her work in compiling data, and Lisa Dobias helped sharpen her discipline and ability to work in groups.
She is currently an event planning intern with Pearl Events Austin and plans to develop a career in public and government affairs including crisis management.
---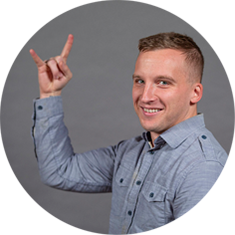 Sean McGuire
B.S., Radio-Television-Film
A native of Charlotte, N.C., Sean McGuire said he made his way to Austin to study in the radio-television-film program because he wanted to positively impact the world through storytelling. A non-traditional transfer student and U.S. Army veteran and reporter, McGuire participated in the Student Veteran Association and Students Over 25.
While on the Forty Acres, he said faculty members Don Howard, Tamar Laddy, H.W. Brands, Eric Tang and doctoral graduate Pete Kunze provided positive influences and encouragement; his favorite class was "Narrative Strategies and Media Design."
Upon graduation, he plans to work in Austin as a writer and editor to save up money for a tiny house and new vehicle. He said his ultimate goal is to write and shop screenplays on his own time and eventually move to Los Angeles to work in the entertainment industry.
---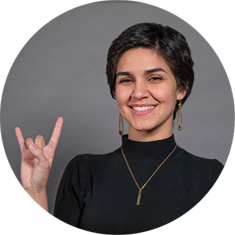 Raquel Sofia Pineda
B.S., Communication and Leadership
A native of Long Beach, Calif., and the daughter of two UT Austin graduates, Raquel Pineda chose to study at Moody because she was intrigued by the communication and leadership degree and the opportunities it could open and offer. During her time on the Forty Acres, Pineda taught music lessons at the Texas School for the Blind and Visually Impaired and participated in a fundraiser for the St. Baldricks Cancer Research Foundation.
She said she feels fortunate for the opportunity to learn from professors such as Joel Rollins and Jennifer Jones Barbour because of their passion for serious world issues.
While in Austin, Pineda served at Chez Zee, worked in sales at In Motion Design and interned at Mapache Design. Upon graduation, she plans to return to California and work at In Motion Design where she can incorporate her lessons from Moody to grow the family business.
---
Moody's fall commencement is Saturday, Dec. 8 at 7 p.m. in the Bass Concert Hall at 2350 Robert Dedman Drive on campus. The ceremonies will also be webcast live.