Moody Students Create the Ultimate Election Resource
Civics U website empowers students as they head to the polls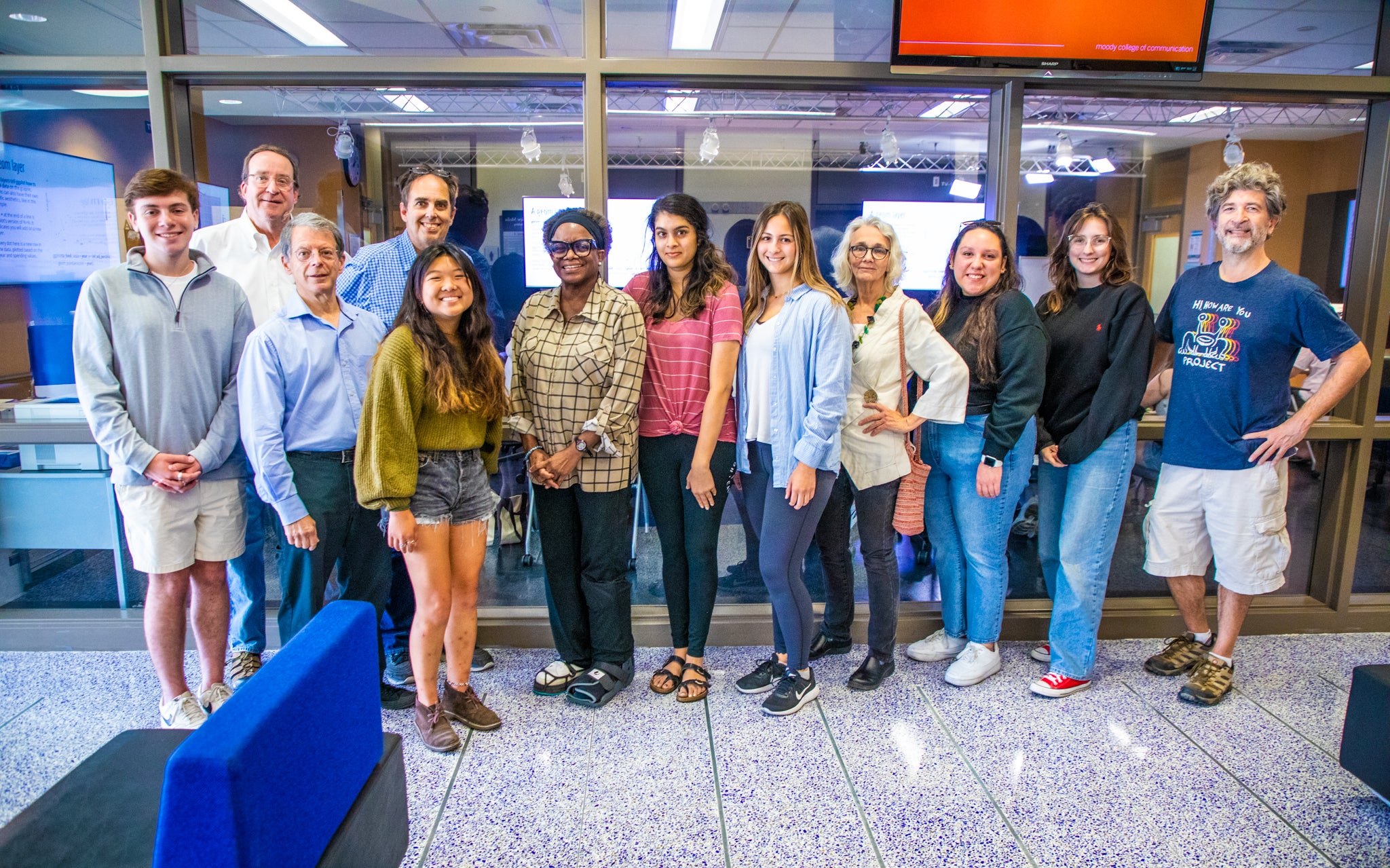 Election Day is a month away, but many people might not know it. Midterm elections — those that do not have a presidential candidate on the ticket — have a historically low turnout, particularly among young people.
A group of Moody College students and faculty is hoping to change that with a new website called Civics U that includes voter guides, articles, podcasts, a breakdown of election laws and more to help young people get engaged and encourage them to head to the polls.
"When you're a student, there is so much information coming at you, either being in an organization or class or Greek life, many people don't leave this bubble around UT Austin for months and might not have voting at the top of their minds," said Logan Dubel, a freshman Journalism and Media student working on the project. "We want to be a central resource where they can find all the information they need and don't have to go to 5,000 different sources."
The Civics U website debuted Tuesday on News Engagement Day, which is held annually on the second Tuesday in October to get young people excited to vote.
Dubel is one of the Moody College students who were hired for the project, which is a joint effort by the School of Journalism and Media and the School of Advertising & Public Relations and also includes faculty from across campus.
"This is an opportunity for our students to work on a project beyond the classroom, to create meaningful content that can be used in other newsrooms and outside of UT," said Journalism and Media Professor Kathleen McElroy, who is leading the project. "The whole idea is to enlighten and empower, both the students who are producing the content as part of this experiential learning opportunity and those who are using and consuming it."
Election Day is Nov. 8, and while it's not a presidential election, the ballot is a hefty one, most notably because of the closely watched gubernatorial race between Governor Greg Abbott and once-presidential hopeful Beto O'Rourke. But there are tons of other important, though perhaps less visible, races, including for lieutenant governor, several state congressional seats and Austin City Council members.
To help students keep track of all these races — and understand why they are important — Communication and Leadership senior Kerry O'Malley Gleim has created a voter guide for the Civics U website that includes all the races relevant to UT students who live in Travis County, links to candidates' campaign websites and descriptions of the job responsibilities for each elected official.
She's doing the heavy lifting, so students don't have to. "Half of the battle being involved in civics is time, and time is not a privilege a lot of students have," she said.
O'Malley Gleim has always been passionate about civic engagement — she's the kind of person who always has voter registration forms in her backpack to hand out just in case. 
"I am particularly interested in local government. Even though it's not as glamorous as national politics, those are the decisions that you get to directly see the impacts of," she said. That includes transportation, healthcare, housing and other issues that are pertinent to UT students. "If you don't participate, you are letting a small minority of people decide who is governing you and who is making choices on your behalf."
In addition to encouraging civic engagement among young people, Civics U also serves as a resource for student journalists at UT and other universities covering elections. It includes new photography by Moody students Kara Hawley and Leila Saidane that other students can use for storytelling, as well as contact information for political scientists, voting experts and county officials to use as sources for news stories.
And while it might seem counterintuitive for journalism and advertising to work together on a project, School of Advertising & Public Relations Director Natalie Tindall said the website's resources are also useful for advertising and PR students working on advocacy and communications campaigns, whether that's letter writing, lobbying, speech writing or educating people about specific ballot measures.
"It's not just about selling consumer package goods to people, it's about having thriving communities where we can communicate and advocate in a civil manner," Tindall said.
Dubel has been putting together many of the resources for student journalists. But his biggest part of the project was to create a guide for students to answer all their important voting questions before they head to the polls.
Dubel recently moved to Texas from Maryland to come to UT. It's a huge culture shock, he said. So many things are different, and that includes voting. Like many new transplants, Dubel had a lot of questions about how to register to vote, what the deadlines are, where to vote and more — which can actually vary county by county and district by district in Texas.
Dubel has answered those questions for the new-to-Texas or new-to-the-polls voters in his resource guide.
"I think I'm learning just as much as I will hopefully be teaching students," he said. "It's all brand new to me, and I think it will be brand new to most first-time voters in Texas."
Even the most civic-minded people can run into problems at the polls.
Journalism and Media sophomore Sofia Vargas Karam said she was turned away when she went to vote for the first time in the 2020 election. They told her she wasn't registered.
Vargas Karam was born in Mexico and obtained her U.S. citizenship in 2013. In high school, she taught women English and helped them study for their citizenship tests. She has always been deeply engaged in the political process and even registered to vote early. To this day, she still doesn't know why they turned her away at the polls.
"I was frustrated, angry, it was the pandemic," she said. "I felt like voting was going to be a grasp of control, and I didn't have that either."
Vargas Karam shared her personal story in an article for the Civics U website, something she said was a stretch as a journalism student, to get so intensely personal. But she thought it was an important call to action, to make sure students are prepared when they go to vote.
"I hope everyone gets a sense of the importance and how much is in our hands," she said. "People my age aren't really knowledgeable about what minor elections mean. At the end of the day, there is so much power in us, the people, the vote and our civic duty."
For young people wanting to learn more about the history of their voting rights, a podcast produced by Government junior Ashley Joo explores the 26th Amendment, when 18-year-olds first got the right to vote. UT Austin faculty also contributed content, including Journalism and Media Professor John Schwartz, who wrote a piece about Texas political history, and Journalism and Media Assistant Professor of Practice Raoul Hernandez, who wrote about the intersection of music and Texas politics.
Communication Studies Professor Talia Stroud, who is director of the Center for Media Engagement and the Annette Strauss Institute for Civic Life, and Journalism and Media Professor Paula Poindexter, who founded News Engagement Day, also advised on the project.
"The faculty consulting on this project are experts in their respective fields," O'Malley Gleim said. "I think the fact that they are taking time out of their extremely busy schedules to help create these resources and review them speaks to the quality of the program and the website."
While the Civics U website currently hosts information about the Midterm elections, McElroy said the work doesn't end there.
"Instead of shutting down after Election Day, we will pivot to serving as a post-mortem on the election and a primer for the upcoming 2023 Legislative Session," she said. "Our hope is for this to live on and continue to serve as a resource and an opportunity for our students."