Moody mergers: Ruth and Paul SoRelle
Celebrating love for a lifetime
Ruth and Paul SoRelle met as journalism students working at The Daily Texan.
"I was on the copydesk, and he came in (to the newsroom) to schmooze with the copy chief," Ruth recalled. "Paul was (still in school) and also with the Long News Service covering the Legislature. I remember he had on a suit – an usual form of dress in the late 1960s."
Initially friends, they started dating and eventually announced their marriage engagement to their families, which prompted a "heated discussion on the wedding and arrangements," Paul said.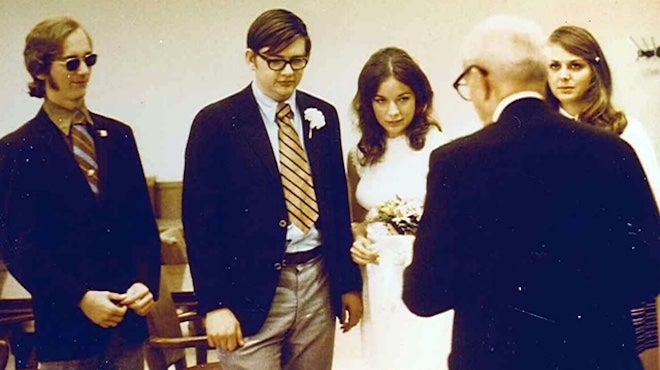 "We decided that we just wanted to get married, so we got a license and arranged for a Travis County judge to marry us," Paul said. "I let my roommates know that we were going to wed. They put the announcement on the blackboard in The Daily Texan office. On April 10, 1970, we ended up having one of the largest elopements that spring at the Travis County Courthouse."
Both pursued careers in journalism and later healthcare communications, including work with the Texas Medical Center and The University of Texas MD Anderson Cancer Center.
How do you keep your relationship fruitful?
Paul: Ruth is my best friend, and our relationship grew stronger as we matured. We had two wonderful children who have successful careers, one in education research and one in health care delivery research. We have enjoyed travel and have been able to share our travels with our children. We both became interested in bicycling and rode in nine MS 150 events. Most of the time when we were working at the Texas Medical Center, we commuted to work via bike.
Ruth: I would think birth of two children – a boy and a girl – would demonstrate our fruitfulness. We have been married more than 50 years and celebrated that landmark anniversary by Zoom. We have been all over Europe, Africa, New Zealand and Australia. One of the most important events was my battle with a rare form of lymphoma. Paul was there every step of the way, and I realized that at the age of 21, I had made the best decision to marry my best friend.
Why were you individually drawn to major in and study journalism?
Paul: I was drawn to journalism at an early age, first as a photographer and later as a writer and editor. I was a photographer in junior high and later continue photography in high school. In high school, I also wrote and helped layout the newspaper and yearbook. When it was time for college, I knew journalism was my field and wanted to attend The University of Texas because it had one of the best journalism schools in the U.S.
Ruth: When I was 12, I remember I wrote an essay that stated my plan to go into journalism, and I hoped to be the reporter on the Moon.
How did your passion for news and journalism contribute to your courtship and growing in love?
Paul: Working on The Daily Texan was a major part of our college life. Many of our lasting college friendships came through work on the newspaper and journalism classes. Being part of the team that produced The Daily Texan was very meaningful and helped you develop friendships.
Ruth and I were friends before we came a couple. During our junior year, one of my roommates made a comment how beautiful Ruth looked. That comment spurred me to action because I also admired her beauty but also admired her intellect and great journalism ability. I immediately asked Ruth out. One of the early dates was to a football game, so I asked for her blanket tax to draw the tickets and then forgot to give it back to her.
Ruth: He never gave the blanket tax back. I thought he was calling me to work the desk, and I was a bit miffed until he said it was a date.
Editor's note: The term "blanket tax" refers to student university fees that went toward passes to athletics events and other campus performances.