How can your voice help others?
Be resilient and relentless in creating conversations that better our communities
For the past many months, though the world seemingly came to a halt, the Moody College community persisted.
Moody students produced films via Zoom, collaborated on marketing strategies and created professional quality pitches and projects under tough circumstances.
We proved that there is no obstacle that the power of communication cannot overcome. Rain or snow. Online or in-person. Our love for both learning and using communication skills usurps all.
Civil rights leader Dr. Martin Luther King, Jr., once said, "Life's most persistent and urgent question is, 'What are you doing for others?'"
Now, as the nation and the world go through unprecedented shifts in all areas of society, we must not only be resilient but relentless in cultivating conversations that better our communities.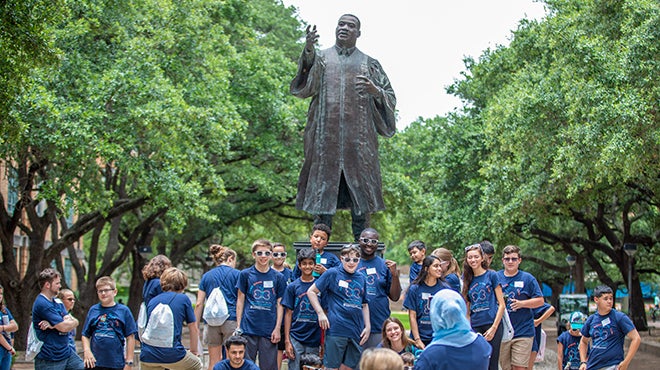 People across the globe have voices that go unheard, but we have a special privilege here at Moody. In our own journey to find purpose and motivation, we learn how to use our abilities to amplify the voices of those around us.
As future leaders and changemakers, we know that ignoring issues that appear too difficult to combat does not mean they stop causing harm to those around us. We delve into ugly truths, exposing ourselves to anger, sadness and defeat while knowing we can create the messages needed to change society.
We understand that the healing process does not begin without the presence of pain.
Inside our classrooms, we are encouraged to exercise those burning feelings and lead the difficult discussions.
In the class "Rhetoric of Public Memory," led by Dr. Jennifer Jones Barbour, statues were a common point of discussion and heated debate. We often asked ourselves why we insist on immortalizing figures in stone and bronze.
Here on the Forty Acres, the unsavory past of figures like Robert E. Lee and John Reagan resulted in the removal of their statues. But is this the best solution?
Based on the class consensus, our solution point (which seemed the most simple and effective) was that removing the statues effectively removed the pain that memories of past actions bring to the community.
However, we were reminded it was not that easy. Removing a statue is an arduous process that requires months in committee meetings and faces opposition from outspoken members in the community.
If we cannot take the statue down today to make our peers feel comfortable in our shared space, we create petitions, write speeches and use the skills we learn in this university until our voices are heard, and we enact change.
Student- and alumni-led initiatives like #RewriteNotReclaim and #BlackInTheIvory place a spotlight on issues that are uncomfortable and controversial. Moody students set those discussions in motion and allowed their communicative abilities to be the catalyst of change.
Moody students have the tools needed to help those around them in the process of healing our society.
Moody students have what it takes to make their dreams of changing the world possible.
We open ourselves up to feelings of rejection and pain, remind ourselves of what we are fighting for, and then ask with the newly found motivation, "What are you doing for others?"
---
The Martin Luther King, Jr., holiday on Jan. 18 celebrates the Civil Rights leader's life and legacy.