The Moody Experience
Moody College students get once-in-a-lifetime opportunities at SXSW, the Capitol and more!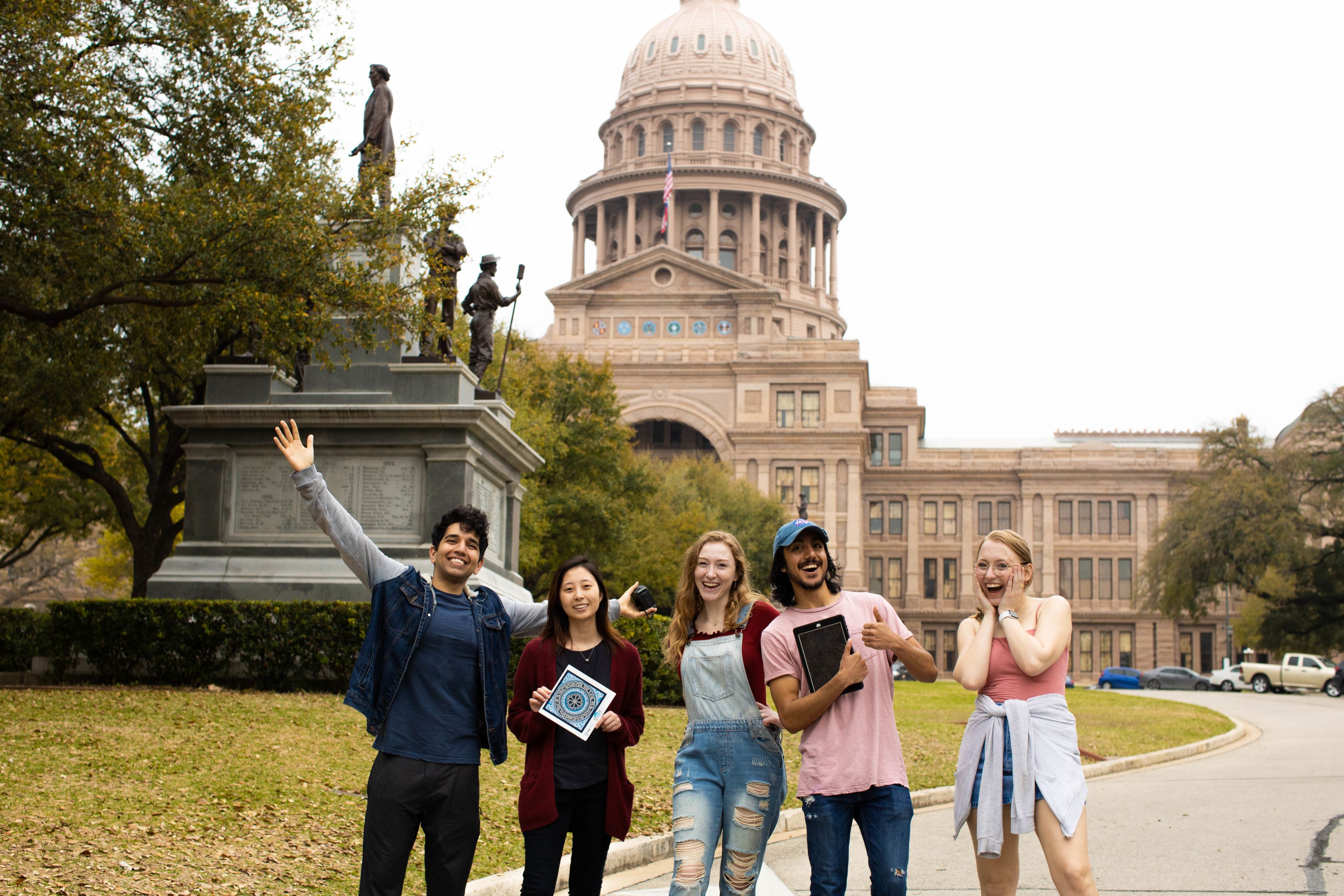 At Moody College, we connect students with some of the coolest internships in Austin and beyond, as well as offer unforgettable experiential learning opportunities in the classroom.
We talked to some of our students who have gotten to do some pretty amazing things this year, and we'd love to share what they told us. Check out these stories from our students who worked at the Country Music Television Awards, SXSW, the Final Four and the Texas Legislature.
It'll make you want to be Moody.
The Country Music Television Awards
This year saw the arrival of the Country Music Television Awards to Austin after the show's 23-year-run in Nashville. Twenty Moody College students were given the opportunity to work behind the scenes at the five-day mega-event, which included concerts and block parties that culminated with the awards show on April 2. Students worked as PR reps, production assistants and escorted stars down the red — erg teal — carpet.
Hear about one student's experience.
Laine Farber, Advertising
Most people have seen a red-carpet event on TV — the biggest stars walking into the Oscars, the Emmys, the Golden Globes dressed to the nines. But behind the scenes, there is a lot more happening than just flashing cameras.
Advertising junior Laine Farber got an inside look at what goes into a red-carpet event while handling public relations for rising country star Reyna Roberts at this year's County Music Television Awards, held in Austin. It's a chaotic scene, with a mass of reporters from national outlets like Inside Edition and local media like the Austin American-Statesman and The Austin Chronicle. Farber's job was to pitch Roberts to these outlets to interview. Since Roberts is new to the country music scene, she doesn't have a publicist like Blake Shelton or Carrie Underwood, so Farber filled that role.
"There's strategy behind all media," Farber said. "But on the red carpet, it is important to know which outlets would best represent the talent you are working with and what the goals are for publicity for the talent such as what the talking points are, what they are promoting, and if they are an up-and-coming star, how to make sure they get the most exposure to help build their image."
Farber, who came to UT from Chicago, said she's had a number of incredible opportunities since starting at Moody, including taking Script to Screen with Matthew McConaughey and participating in UTNY, spending a semester in New York City. She said the skills she's acquired over the past three years were critical in helping her on the red carpet. She feels comfortable thinking on her feet and pitching on the fly.
"After I graduate, my dream job is to be an entertainment publicist, so the most rewarding part of this experience was getting hands on experience on the red carpet, and pitching, as well as helping to problem solve on the fly to make sure everything runs smoothly," Farber said. "It was also super rewarding getting to meet publicists and hear about their experiences and ask them questions about the industry."
In addition to her role on the red carpet, Farber also volunteered to help after the show, which meant she got to sit in the press room where the winners were being interviewed. She said she is grateful to Moody College for giving her these kinds of once-in-a-lifetime opportunities.
"Moody truly has shaped me into who I am today, and I don't know where I would be without it. Seeing the Longhorn Band and cheerleaders on the carpet with Country Music icons such as Shania Twain and Carrie Underwood on my college campus was surreal and reminded me of how amazing it is to be a Longhorn."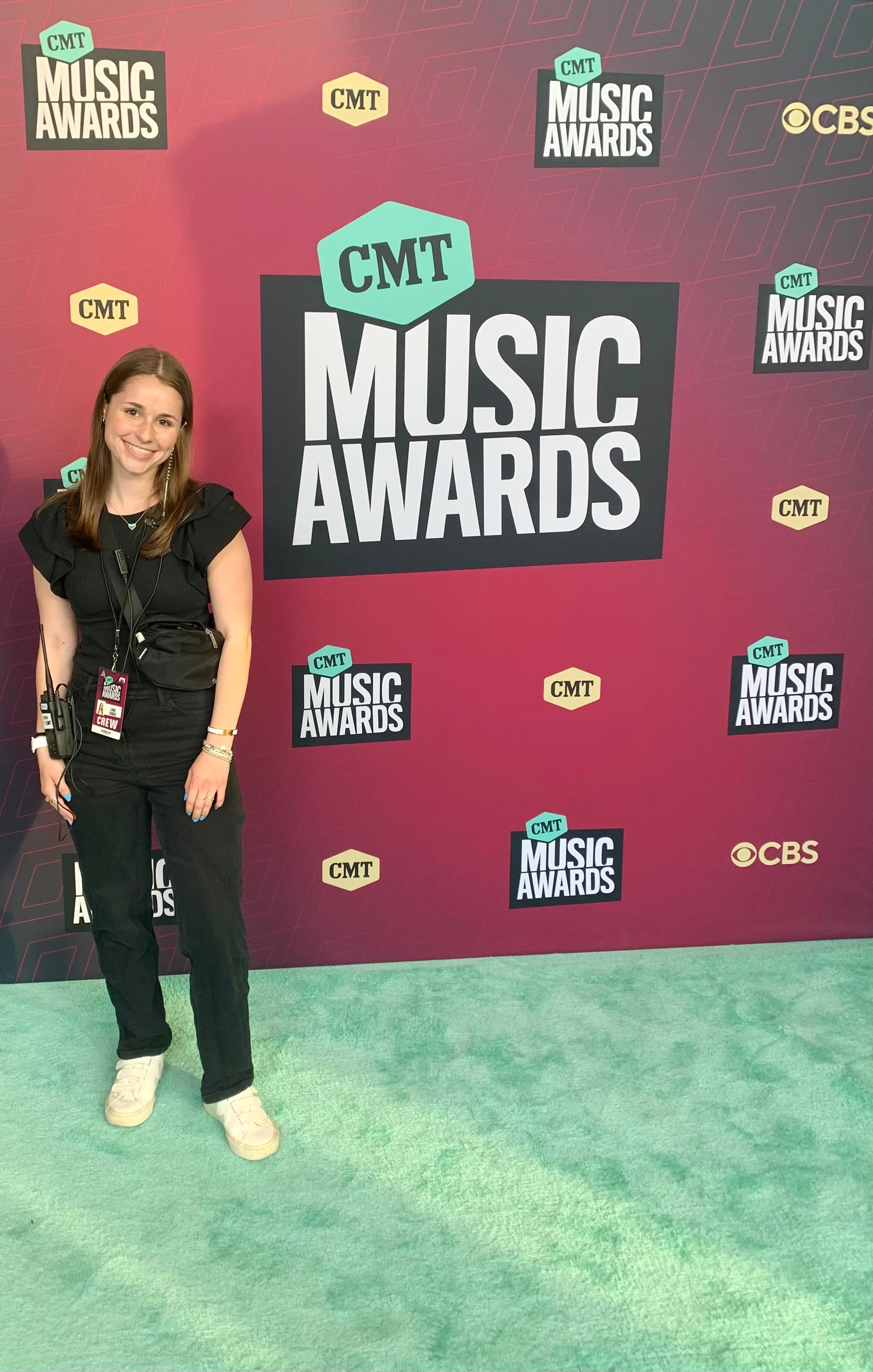 South By Southwest is the penultimate Austin experience, with two weeks of interactive exhibits, panels, film screenings and live music. And we would be remiss if we didn't give our students the opportunity to participate and lend their Moody skills to the festival. This year, dozens of students took on jobs at SXSW.
Hear from three of them about their experience.
Samia Tasnim, Public Relations
Public Relations sophomore Samia Tasnim this year had the opportunity to work on the red-carpet and as part of the photography crew at South by Southwest, something exclusive to Public Relations Student Society of America, or PRSSA, students.
At South by Southwest, Tasnim assisted the red-carpet crew, setting up the green rooms and making sure everyone was in place. She also worked with photographers to make sure the right people had their photos taken.
"There was a lot of wrangling to do and a lot to figure out," Tasnim said. "Some shoots were more chaotic than others so there was a lot of running around, but it was really fun."
Tasnim originally came to UT as an undeclared Moody major, but then decided to double major in Public Relations and Arabic.
"I really liked the idea of how versatile the Public Relations major could be. It emphasizes more on teaching a skill set rather than training students only to be a PR specialist," Tasnim said. "Also, UT has a really good Arabic program, and I felt it was the best language for me to learn."
The skills Tasnim learned in the public relations program, including asking the right questions and being ready to take action at a moment's notice, helped her feel prepared to solve problems she encountered throughout SXSW. When it came to networking, she took charge by meeting and talking to different publicists in her down time.
"So much of the major is crisis management and problem-solving," Tasnim said. "We didn't have much supervision, so I had to take initiative and be independent while figuring things out."
Tasnim is in the Arabic Flagship Program, which will allow her to participate in their Capstone Year in Morocco after graduating. Currently, she is a communications assistant for the Department of Civil, Architectural and Environmental Engineering at UT.
"It's been interesting to see the intersection between communication and engineering and how they come into play together," Tasnim said. "Communication is very underserved in this field, so I've enjoyed being involved in that niche group."
Something Tasnim has taken away from her experience working South by Southwest is seeing more of Austin and familiarizing herself with the city.
"It was cool to see Austin come alive. So many students spend four years here and only see West Campus and UT, so they don't get to explore this amazing city we have," Tasnim said. "People come from all over the world for South by Southwest, and I'm lucky this experience allowed me to see so much of Austin and what it has to offer."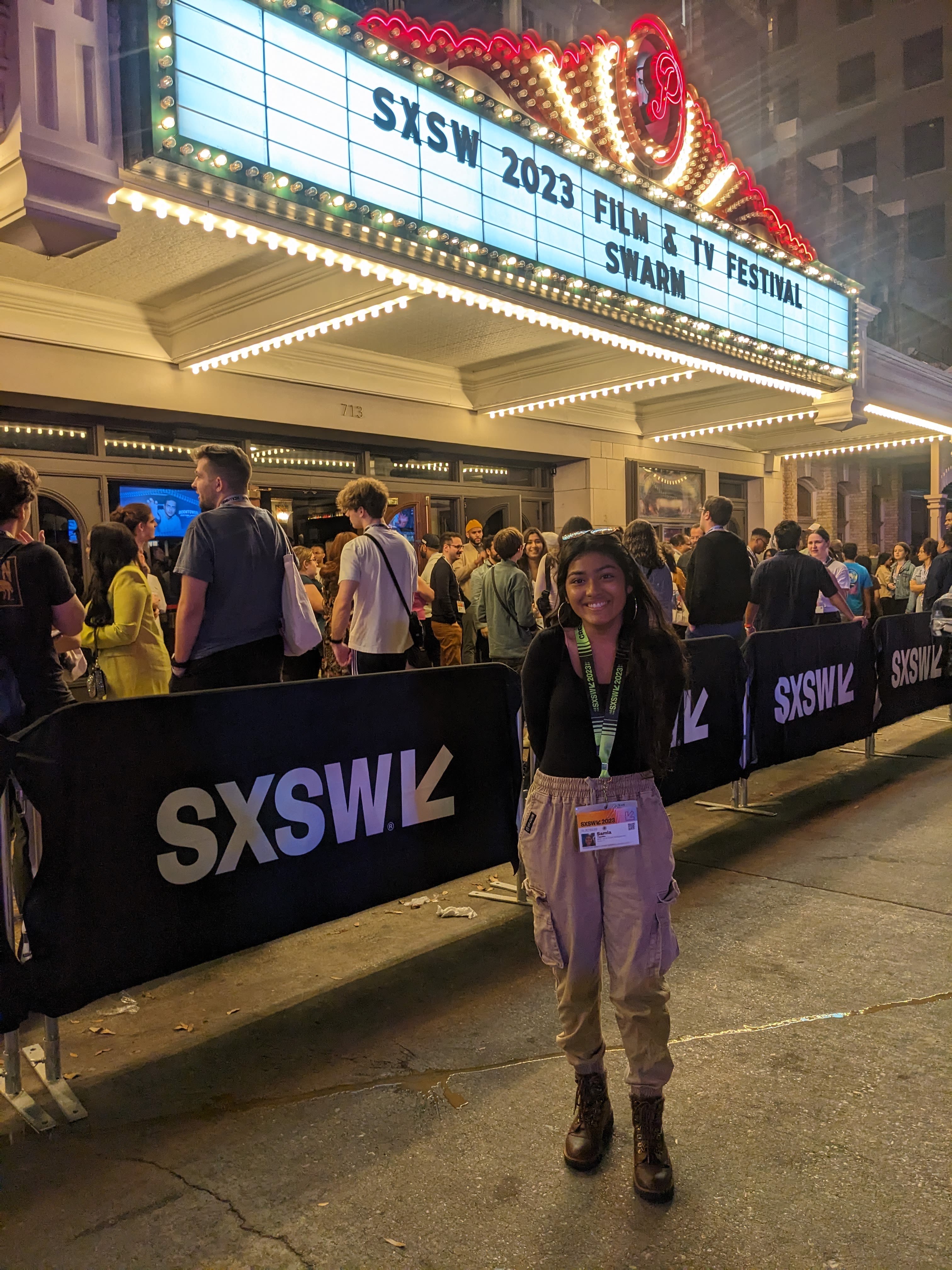 Angel Fletcher, Radio-Television-Film
This was Radio-Television-Film senior Angel Fletcher's second year working SXSW. In 2022, she worked as a planning intern and was invited back again to take on the role again.
During the festival, Fletcher spent her time stationed at the Fairmont Hotel, helping manage different departments that ensure events run smoothly. As someone who thrives in a busy work environment, she enjoyed the problem-solving that went into her role.
"It was a fun learning experience working with everyone knowing that we were going to get issues solved together, and we were going to make it work," she said.
Fletcher entered the Radio-Television-Film program wanting to pursue editing. The more courses she took, the more she realized her passion was with casting and producing. "I would love to eventually produce television, though that would likely be something way later on," Fletcher said. "I plan to stay in the Austin area and break into the field here."
Fletcher emphasizes the importance of networking as a student.
"It's always important to do the best job you can because you never know who could help you at some point," Fletcher said. "These are not just people you're working for, but people you'll come into contact with later in life."
She notes how the skills she learned in the classroom translated to her role at South by Southwest, specifically the collaboration and communication required at both at UT and as an intern. In Fletcher's time at Moody, she has seen the value of these abilities and how communication competency is vital in any job.
"You realize the importance of it in the workplace when you're working with so many different people," Fletcher said. "The responsibilities I had as a planning liaison all go back to learning how to communicate with others to ensure nothing goes wrong."
Along with creating a network of people throughout the events, another big takeaway for Fletcher was the work that goes on behind the scenes to hold a festival like South by Southwest.
"It was really important for me to learn how many people work to bring joy to others with an event like this," Fletcher said. "It's the same thing for the film industry with the roles of the cast and crew who come together to make one big, awesome thing."
Brooke Wallin, Public Relations
Public relations senior Brooke Wallin has always been interested in the music industry, and this year she got to explore more about the field as a music partner programming intern with South by Southwest.
At the festival, Wallin worked with people in the sales department to connect clients to artists and DJs, specifically for the live music events during the week.
"Before South by Southwest, we facilitated communication, and all the back-end that goes into making live music happen," Wallin said. "During the week we checked in on venues and events, making sure all of the paperwork was completed and that the clients had everything they needed."
Walling decided to study public relations after taking a class early in her time at Moody. "I just really fell in love with it," she said. "I've always enjoyed writing, and I really like how public relations works with brands and talent."
Ideally, Wallin she wants to work in the business side of the music industry, potentially for a record label or as a talent manager.
The skills Wallin learned at Moody helped her during the internship, particularly understanding different software and learning how to make presentations. The connections she has made throughout her education helped her to meet more people during the events.
"My presentation skills were a big help during the internship, whether I was pitching artists or talking to clients," Wallin said.
This experience helped Wallin to put herself out there more, especially when it came to networking and talking to different people. She encourages other students to have confidence in their abilities, because interns can be a great asset to a company. "You never really know who you could be talking to," she said. "People are in the same boat as you, and professionals with these statuses have been in your shoes before, so they could be an important connection to help in the future."
After interning for South by Southwest, Wallin is even more grateful for her education at UT and the opportunities she has gained in her time with Moody.
"I know now I made the right decision to come to UT and study public relations because it has opened a lot of doors for me," Wallin said. "It has introduced me to event life, which is something I'm really interested in. UT wants its students to be successful, and I feel like they do a good job of actually making that happen for them."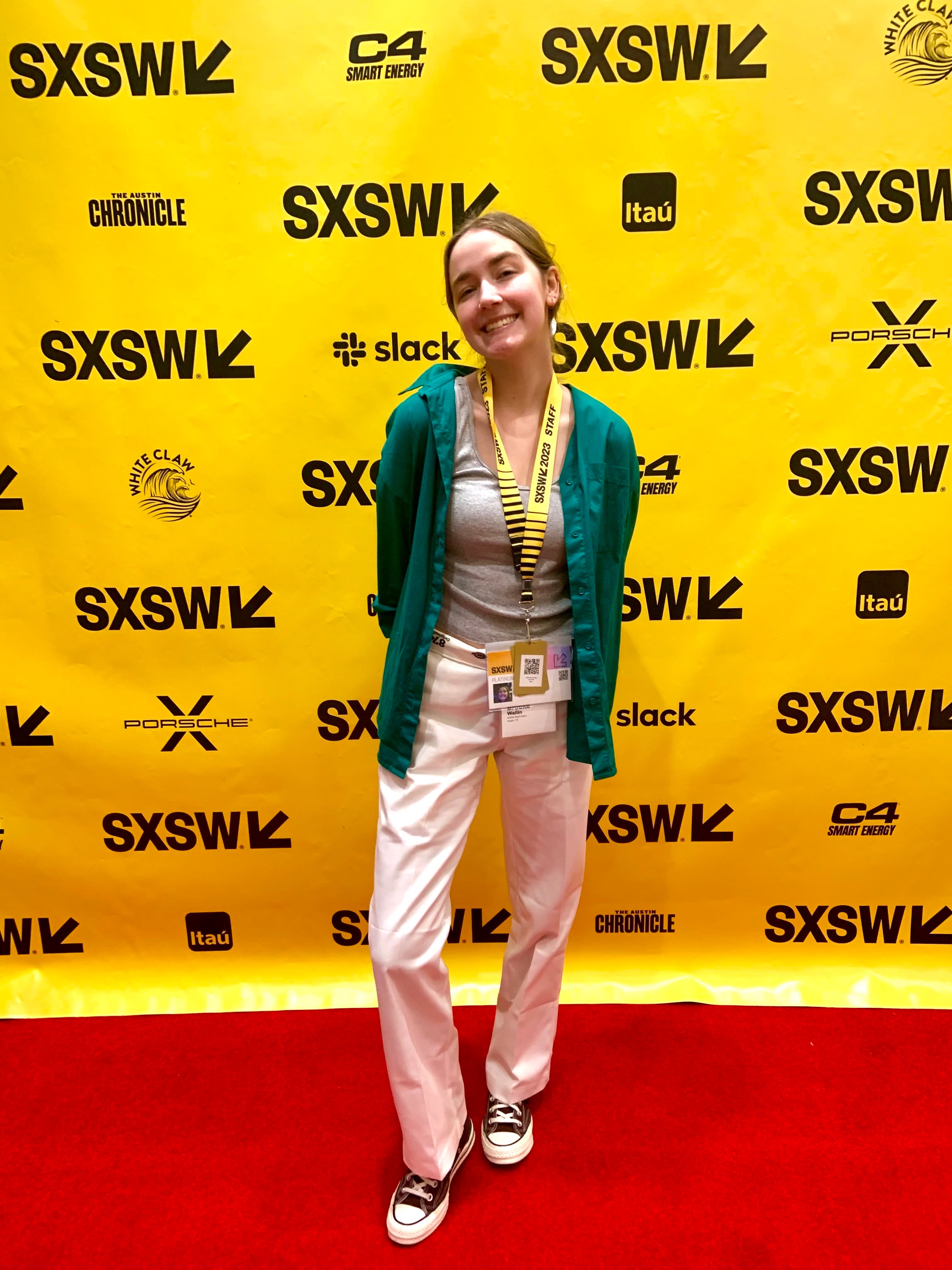 Moody College is a destination for students interested in sports reporting, and this year a handful of Moody students got the opportunity to work at both the Women's Final Four and Men's Final Four basketball games in Dallas and Houston, respectively.
Hear what they learned court side.
Madison Morris, Public Relations and Journalism
Public Relations and Journalism junior Madison Morris has always loved basketball, so when he secured a spot to work as a production runner for the Men's Final Four in Houston, she was over the moon.
During the three-day run of games, she and her team helped on set with lighting and sound and also restocked food and other things for the production team and players. She had the opportunity to network, learn more about broadcasting and take some courtside pictures of the players.
"I didn't really have prior experience with it, only small or personal video projects," Morris said. "After seeing how they put everything together, broadcasting is definitely something I'm more interested in now."
Morris said the position was a great introduction to her future career.
"I really want to work as a digital media strategist and would love to do photography and social media," she said. "When I applied to UT I put public relations as my first choice and journalism second but felt I was missing something, so I internally transferred to major in both."
The most exciting part of her time as a production runner was the chance to see some of the games and players while she was by the court.
"When we were going down the tunnel to the court we walked past all of the people who were announced for the new hall of fame, I was trying not to freak out. It was so cool seeing all of these people I look up to," Morris said. "The championship game was the third and my twenty-first birthday was on the fourth, so they surprised me with a cake."
She even got a basketball signed by some of the speakers and hosts for the shows as a gift.
As a UT student, Morris feels lucky to have the support she does from the university and professors who have made a difference in her college career so far.
"I knew when I committed to UT, I wanted to take advantage of everything that the school has to offer, especially the sports media side of things," Morris said. "There are professors that look out for you and help with opportunities, who really have your best interests at heart."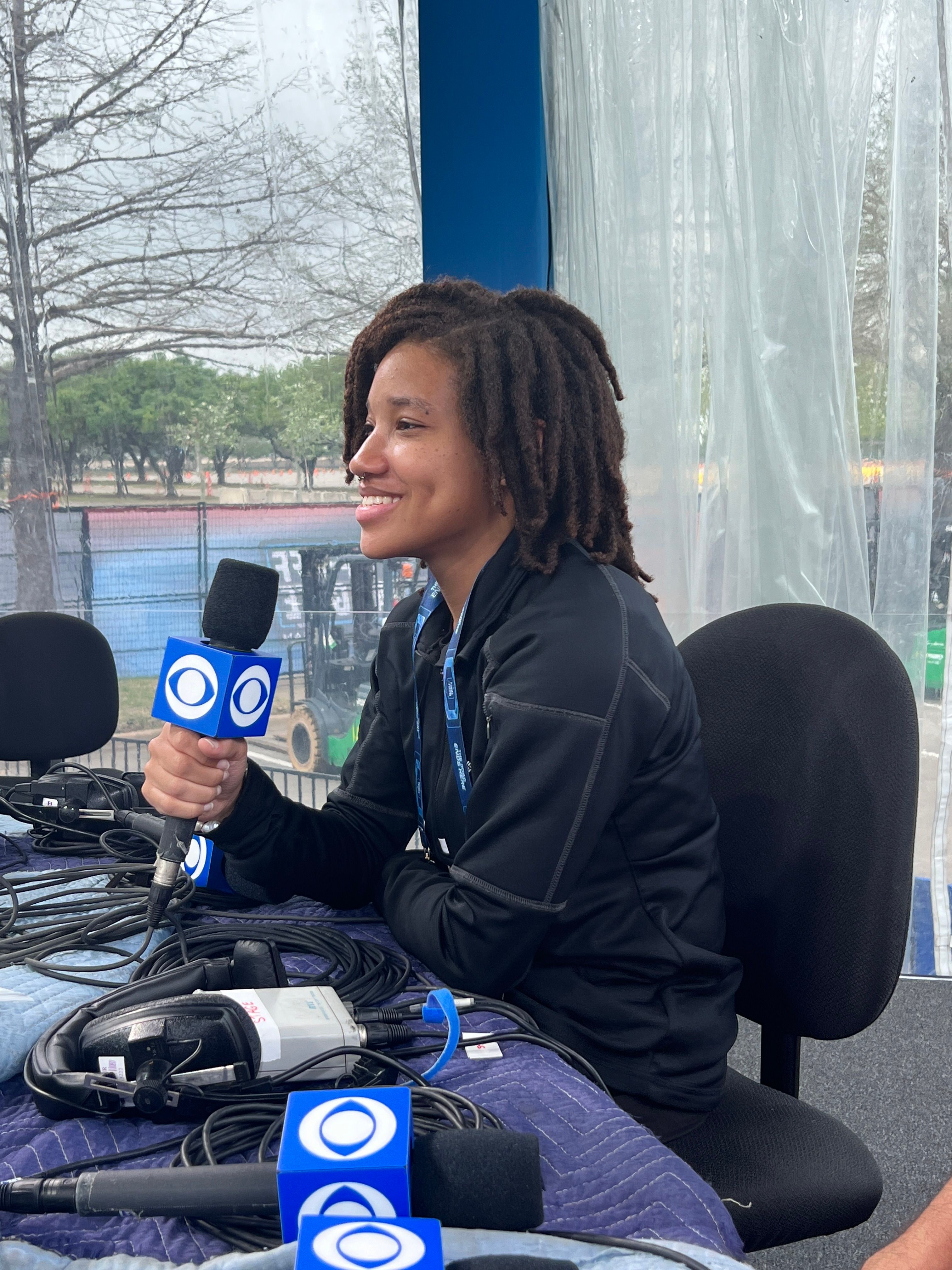 Ardynne Fleitz, Journalism
Since she was young, journalism sophomore Ardynne Fleitz has loved sports. She started watching football with her dad, which made her interested in pursuing sideline reporting.
This semester, Fleitz had the chance to work for ESPN as an operations runner for the Women's Final Four. As a journalism major, she was excited to see the process that goes into what she hopes to do in the future.
"You really don't think about what goes on behind the scenes, but there's so much to set up," Fleitz said.
Fleitz help set up production rooms and give credentials to the athletes and other officials when they arrived at the games.
"It was just the most surreal experience because it's all the people I've always looked up to," she said. "They've been on my TV screen, and now I'm helping work with them. Being in that environment was so rewarding."
Fleitz said her experience at Moody College helped her on the job, including the tremendous work ethic she's learned in the classroom. This helped her to do everything necessary to keep the show running smoothly.
"You're the first one in and last one out, and you're doing everything for everybody at all times as an assistant," Fleitz said. "I feel like my work ethic wasn't going unnoticed. It was really beneficial to have that skill and be ready to do things all the time with a happy attitude."
Fleitz got connected to the opportunity through her Moody classes.
"I never would have guessed that I would be getting to produce a show with ESPN that has over 12 million viewers," she said. "My professors here at UT and Moody College really do their best to teach you all that you need to know while also providing experiences that you could never have dreamed of."
Her biggest advice to Moody students: seek out opportunities.
"It's easy to get caught up in a busy school schedule, but it's really important to attend those info sessions, talk to your professors about opportunities they might have, and see what Moody has to offer," Fleitz said. "That is ultimately what is going to solidify your passions."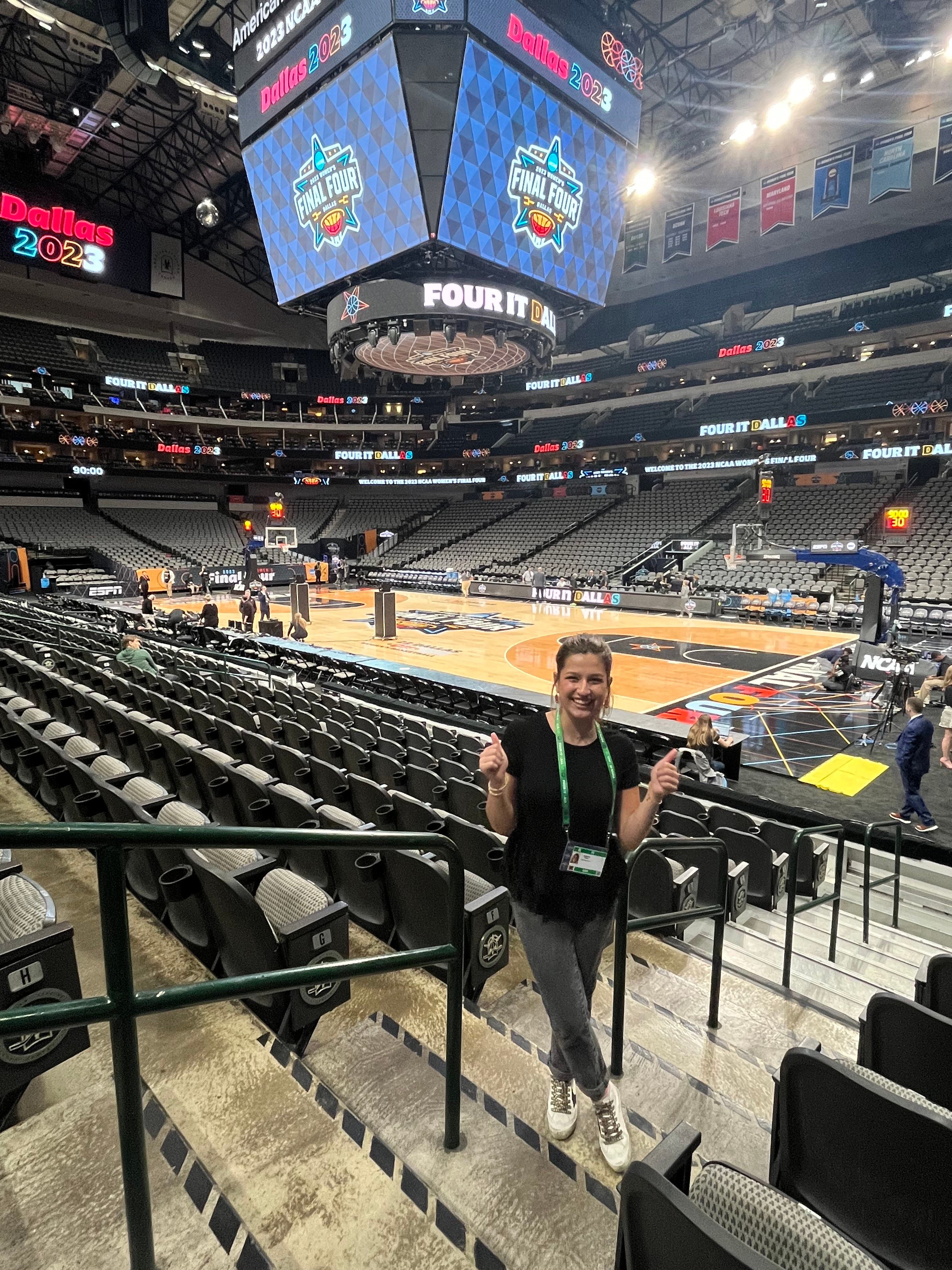 Every year, students from across UT Austin get the opportunity to intern at the Capitol, including our talented Moody students, many of whom are connected to the Annette Strauss Institute for Civic Life, which promotes civic engagement among young people. Since this year is the 88th Legislative Session, there was a lot of work to do!
Hear from one Moody student studying political communication on what it's like to work with lawmakers at this critical time.
Sara Batson,

Communication Studies
Communication Studies senior Sarah Batson this year got her dream internship: as a legislative aide at the Capitol for the 88th Legislative Session.
And it's been a busy one, jam packed with bills looking at property tax cuts, school safety, border security, women's health and how to spend a $32 billion budget surplus.
As a Legislative Aide, Sarah's day-to-day is never the same. She attends briefings and events and takes notes and conducts research assignments for staff members. She also fields questions from other legislative offices and lobbyists and prepares materials for bills that she covers.
"Session only happens every two years, so you really only get two shots at this experience as an undergrad," Batson said. "Now that I am a Legislative Aide, I get to learn so much about the process and the important players in Texas politics."
Batson said her passion for politics and the communication skills she's gained at Moody College studying political communication have been a tremendous asset on the job. It's helped her to comprehend the complexities of politics and gain a nuanced perspective.
"My Moody classes have helped me understand politics and people in a way that is very dynamic," she said. "Practicing this skill as a writer in my Moody classes has made me confident in such a fast-paced environment like the Texas Lege."
She said her internship at the Legislature has been an incredible learning experience, one that she hopes will pave the way for a bright future in politics. Looking towards her future, Sarah hopes to continue working and making an impact in Texas politics. She wants to explore different aspects of political nonprofits, campaigns and legislative work.
Batson recommends Moody students consider internships at the Capitol.
"Communication and analysis are such important skills that I use every day at the Lege," she said. "Your fellow Moody peers are also your best resource in looking for positions and finding a good office to work in."