Moody College Unveils Major Transformation of Walter Cronkite Plaza
New space has been dedicated as Aaron Lincoln Davis Square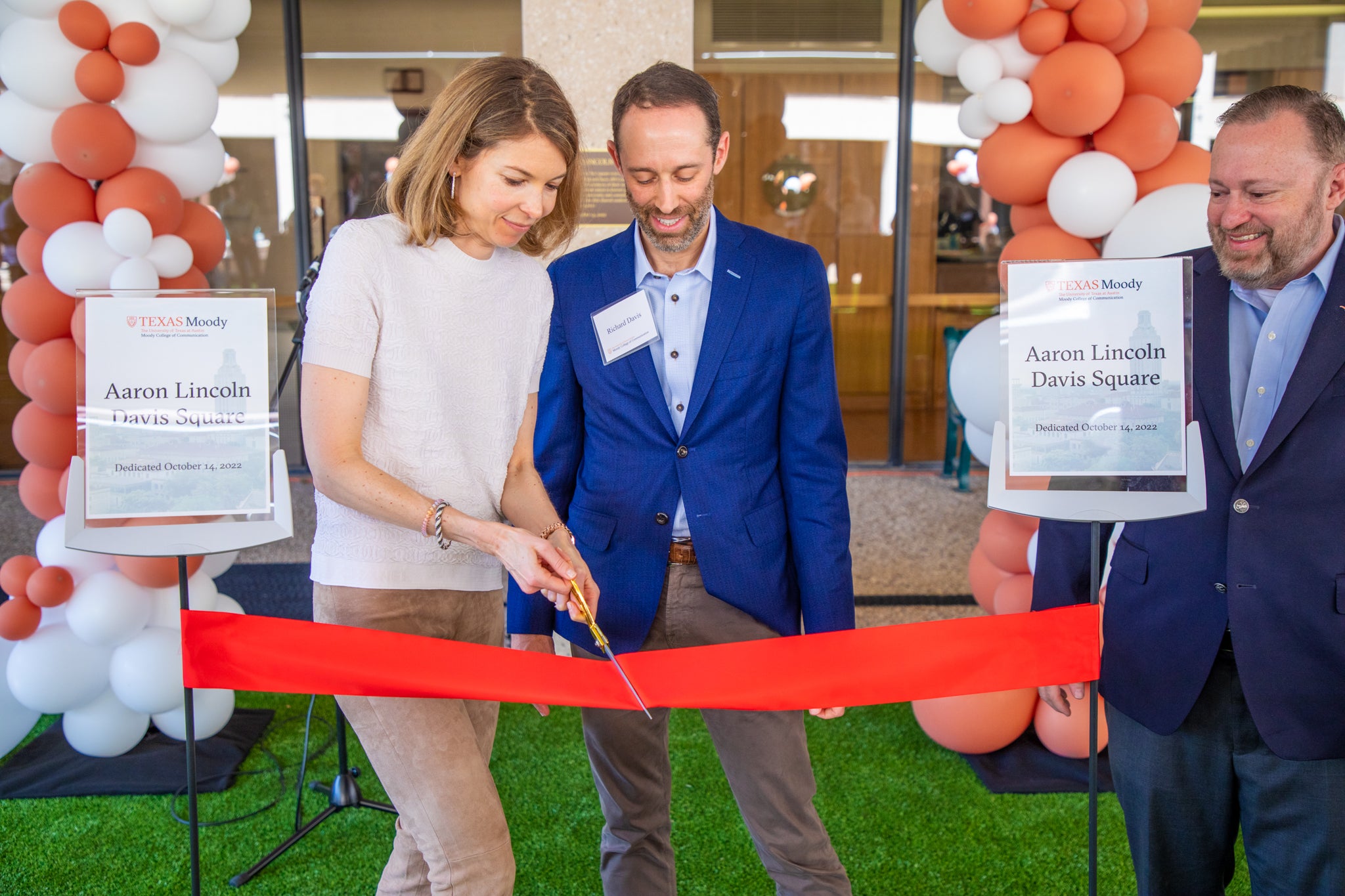 Moody College of Communication on Friday unveiled a major renovation to Walter Cronkite Plaza that will give faculty, students and staff a place to relax, work and study while on campus.
The plaza, which serves as the original center of the Jesse H. Jones Communication Complex, bridging the CMA, CMB and William Randolph Hearst Student Media buildings, now has grass turf and a pergola with a retractable shade to deflect the hot Texas sun.
The transformation is the result of a generous gift from Moody College alumnus Richard Davis and his wife Leah. The college has dedicated the space as Aaron Lincoln Davis Square, in memory of the Davis' son.
"The Moody College communication complex holds a special place in my heart from my time at UT," said Davis, who graduated with a degree in Communication Studies in 2000. "My wife and I wanted to give back by helping to create an inviting space for students to relax and study, something my friends and I would have enjoyed when we were in school. I am thrilled to see the transformation and hope everyone at Moody College will enjoy it for years to come."
Previously, the plaza was concrete only and uncovered, which Moody College Dean Jay Bernhardt said was not in line with the original intent for the space when the communication complex was first constructed in 1974. Renderings from that time showed that area would be shaded.  
In 2012, the plaza was dedicated in honor of beloved broadcast journalist Walter Cronkite, who attended The University of Texas at Austin in the 1930s and studied political science, economics and journalism. He was the anchorman for the CBS Evening News for 19 years.
"Cronkite Plaza is a focal point and gathering spot for our college, however for a long time, it's been an underutilized space," Dean Bernhardt said. "These new additions bring beauty and vitality to our campus and invite even greater opportunities for connection for our students, faculty and staff. We are excited that the plaza now lives up to its original design and its highly revered namesake."
A centerpiece of Walter Cronkite Plaza is New York artist Ben Rubin's digital art installation titled "And That's The Way It Is," which was commissioned by Landmarks, UT's public art program.
Named for Cronkite's CBS Evening News signoff, Rubin's large-scale video projection illuminates the façade of CMA each evening, displaying scrolling text drawn from archival transcripts of Cronkite's broadcasts and from recently published news. As daily news is generated, the language adapts to reflect current events, connecting the past and present.
As part of the transformation to the plaza, Moody College commissioned an update to the art installation. Rubin has upgraded the programming and design to draw from a much deeper archive of original Cronkite transcripts. Now, the art programming pulls the day's exact transcript from the archives to reflect in the video projection, which was Rubin's initial vision for the piece.
Landmarks recently commissioned a video about the work, which includes commentary from Rubin on the role of media in contemporary society and the future of journalism. The Cronkite archives are housed at the Briscoe Center for American History.