Moody College Celebrates Outstanding Alumni and Supporters
College handed out six awards at 2022 Friends of the College dinner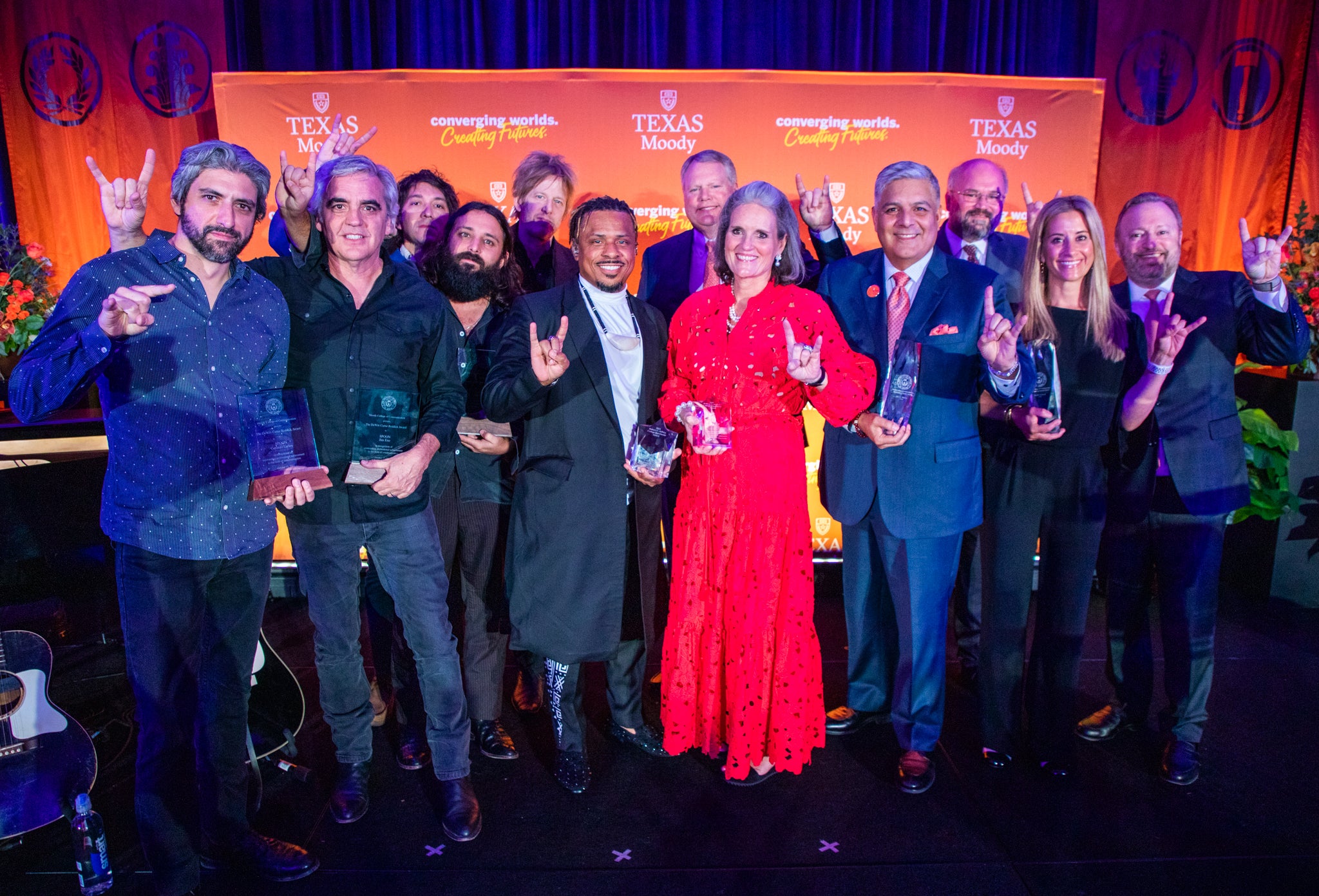 Moody College of Communication on Thursday hosted its annual Friends of the College dinner, where it handed out awards to recognize some of its most venerated supporters and alumni. 
The event, held each fall, brings together faculty, staff, students, alumni and supporters to celebrate accomplishments from the past year and to salute and acknowledge the people who make Moody College special.
This year's event included a special performance by iconic Austin band Spoon, who played a two-song acoustic set after being granted this year's DeWitt Carter Reddick Award, which is named for the first dean of the college and recognizes overall excellence and impact in communication and media.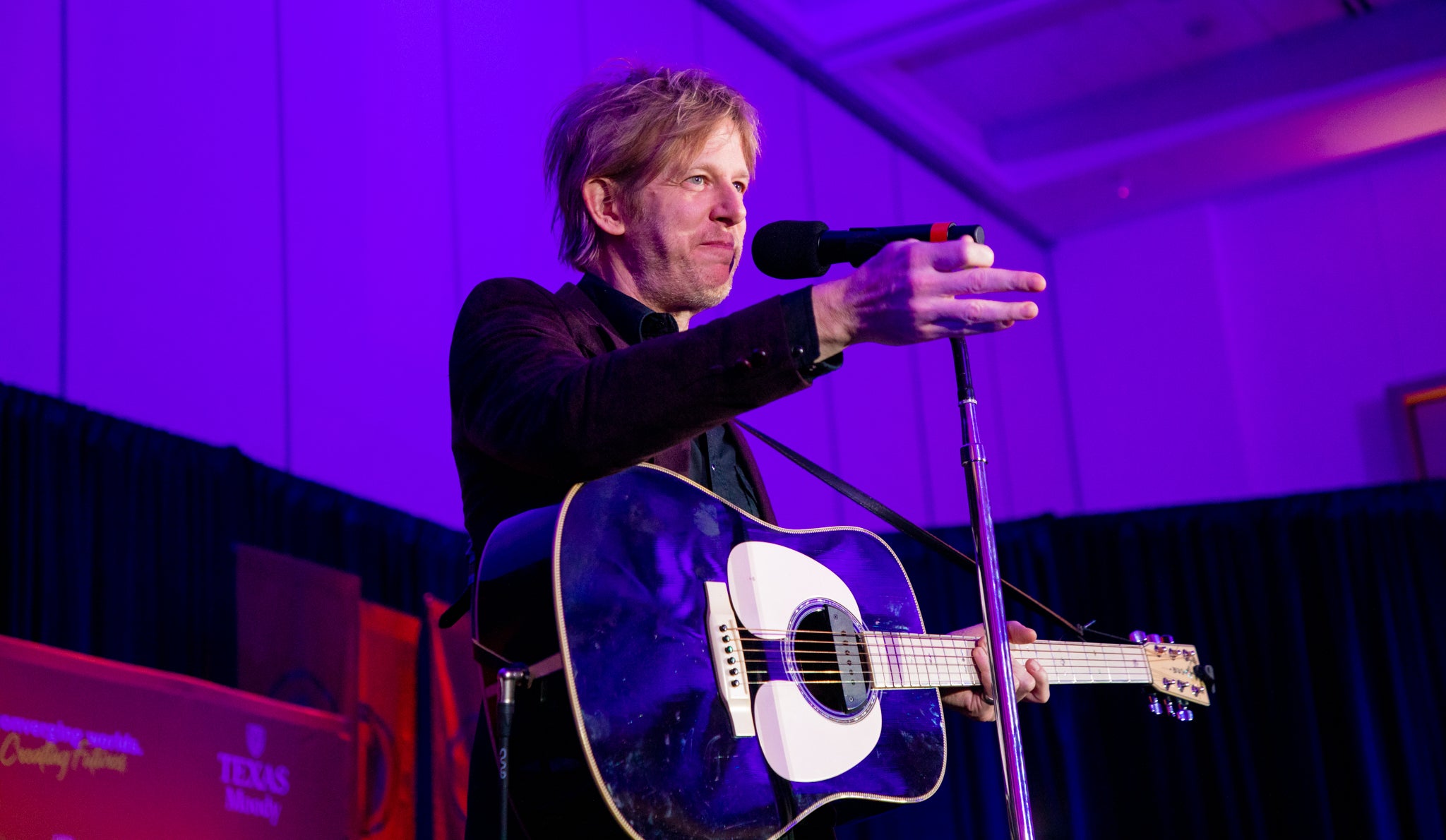 Robert C. Jeffrey College Benefactor Awards, named for the college's third dean, recognize people who have given generously to the college through their time or resources. They were awarded to UT Vice Provost of Admissions Miguel Wasielewski, Radio-Television-Film Associate Professor Ya'Ke Smith and Moody supporters Mary Pat and Jim Nelson of Warren CAT. 
Outstanding Alumni Awards were given to author, entrepreneur and investor Leslie Schrock and to Jon Muñoz, chief diversity, equity and inclusion officer for Booz Allen.
Learn more about the award winners below.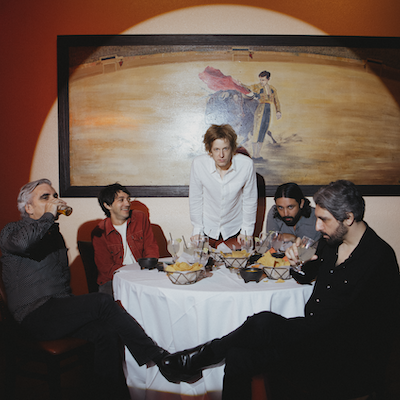 SPOON
DeWitt Carter Reddick Award
From its humble roots on the UT campus, to the Austin City Limits Live stage and shows around the world, indie rock band Spoon is an Austin institution. Front man Britt Daniel graduated from UT Austin with a degree in radio-television-film in 1993. In the early 90s, he met Jim Eno, and they formed the band The Alien Beats. They later changed their name to Spoon and were discovered at an unofficial SXSW show in 1994. They have since produced 30 singles and 10 studio albums, including "Lucifer on the Sofa," which was released this year. Through their 30-year career, Spoon has proven themselves luminaries in writing, performing and advertising, sometimes producing their own work without a record label, starting from the ground up in Austin to touring all over the world. They have maintained commercial success despite major shifts in the music industry and can still be found playing shows all over Austin.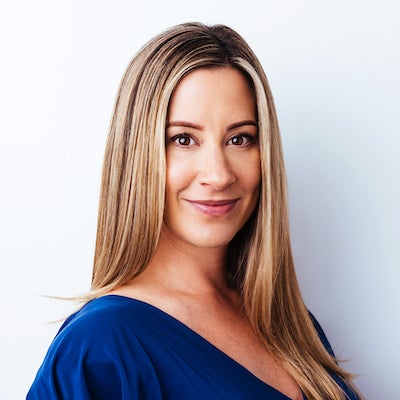 LESLIE SHROCK
2022 Outstanding Alumni Award
Leslie Schrock is an author, entrepreneur and investor who graduated from UT Austin in 2003 with a degree in advertising. In 2011, she helped found Rock Health, which is considered the first digital health startup incubator. Schrock helped grow the organization from an idea to a globally recognized firm with more than 100 portfolio companies that have collectively raised more than $1 billion in venture funding. She managed the brand and communications, served on the investment committee, worked on business development and provided early-stage support for its portfolio companies. In 2013, Schrock founded her own business, Bitty Foods, which introduced protein-rich edible insects to the American diet through products like cricket flour, chips and cookies. Most recently, she has authored two books, "Bumpin': The Modern Guide to Pregnancy" and "Fertility Rules," which will be released next year.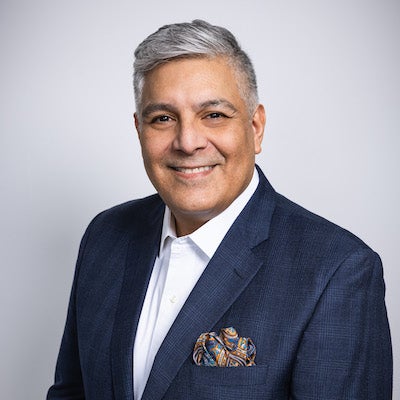 JON MUÑOZ
2022 Outstanding Alumni Award
Jon Muñoz graduated from UT Austin in 1992 with a degree in advertising. For the past 25 years, Jon Muñoz has been a tireless advocate for people from all backgrounds, leading DEI practices for some of the nation's top companies, including Sprint, Nextel Communications, Bank One and NationsBank. He has established himself as an expert in community engagement, multicultural marketing and human resources, proving himself an asset across a range of industries. From 2011 to 2020, Muñoz served as vice president of global diversity and inclusion at Hilton. Under his leadership, Hilton's DEI commitment received numerous industry awards and recognitions, including from DiversityInc, Great Place to Work, Fortune, Forbes and the Human Rights Campaign. Currently, Jon is the chief diversity, equity and inclusion officer for the international consulting firm Booz Allen, where he has created a robust action plan for reducing bias, improving equity, sponsoring and developing underrepresented talent, increasing transparency and leadership accountability and enhancing employee engagement.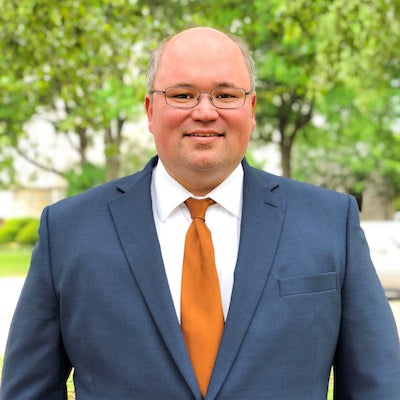 MIGUEL WASIELEWSKI
2022 Robert C. Jeffrey Benefactor Award
A first-generation college student, Miguel Wasielewski graduated from UT Austin with a bachelor's degree in psychology in 1997 and went on to earn both his master's and doctoral degrees in educational administration. He began working for the university when he was still a freshman, in 1993, as a financial aid assistant. It didn't take long for him to be promoted to financial aid officer and then to move into management positions in enrollment, admissions and financial aid. Today, Miguel is the Vice Provost of Admissions for the university and has helped to implement a multi-year strategy to increase enrollment based on forming authentic, meaningful relationships with prospective students and their families through personal communication. These efforts have resulted in record applications, enrollment, and yield rates from historically underrepresented populations, including Black, Latinx, and first-generation students. These increases resulted in the university being designated, for the first time in 2020, as a Hispanic Serving Institution.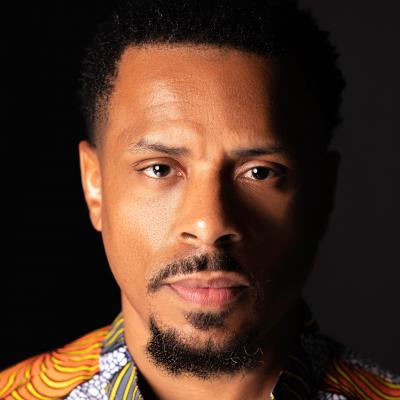 YA'KE SMITH
2022 Robert C. Jeffrey Benefactor Award
Ya'Ke Smith is an associate professor of film production in UT Austin's Department of Radio-Television-Film and was the inaugural Associate Dean for Diversity, Equity, and Inclusion for Moody College. A renowned independent filmmaker, his works been screened and won awards at more than 100 film festivals. His first feature film, "Wolf" was hailed by NPR as an "impressive piece by a young director." Subsequent works have garnered increasingly greater praise, from the Director's Guild of America, the Student Academy Awards, HBO and Showtime, as he has shed light on difficult topics related to race and social injustice, even before these had been thrust into the public spotlight. Currently, Ya'Ke has three projects on the film festival circuit, "Brother," "Edwin," and "The Pandemic Chronicles." He recently directed the extremely poignant "Fight the Power" episode of the acclaimed BET series Tales. Smith earned his Master of Fine Arts in Film from UT Austin in 2006.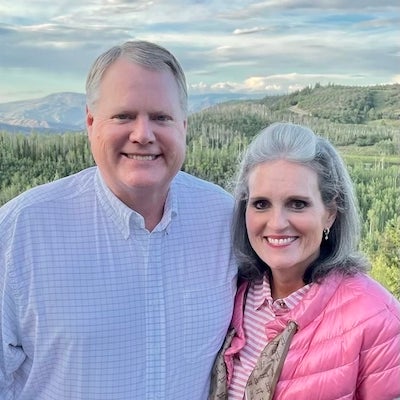 JIM AND MARY PAT NELSON
2022 Robert C. Jeffrey Benefactor Award
Jim Nelson is Dealer Principal and President of Warren CAT, the largest and fastest growing Caterpillar dealership in North America. His wife, Mary Pat, graduated from UT Austin in 1986 with a degree in home economics, and the couple has raised four Moody daughters, Carole Anne, who graduated in 2015 with a degree in public relations; Catherine in 2016 with a degree in advertising; Paige in 2019 with a degree in journalism; and most recently, Sarah, who donned her cap and gown in May, earning her degree in advertising. The Nelsons are generous supporters of Moody College. Most recently, they gave $5 million to establish the Nelson Center for Brand and Demand Analytics at UT Austin, which will give advertising and public relations students the data skills they need to compete in today's job market. In addition to their philanthropic contributions, Jim also serves as Chair of the Moody College Dean's Advisory Council and leads several public education improvement initiatives in his hometown of Midland, Texas, the home base of Warren CAT and where he and Mary Pat met.