Moody College at Super Bowl 50
Students spend a week behind the scenes at the NFL Network

While most of us watched Super Bowl 50 on television, two Moody College students got to see it in person while working behind the scenes at the big game.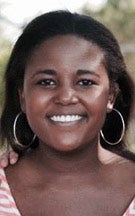 Jada Brown and William Landry served as interns for the NFL Network through the Moody College's Texas Program in Sports and Media, which gives students access to internships in sports communication through a network of alumni, professionals and industry partners.
"I have to thank the NFL Network and the Texas Program in Sports and Media, who coordinated this internship for me," Brown said. "It's insane how many opportunities are at your fingertips from just being a student at UT."
Brown, a corporate communications junior, was assigned to the week-long internship on the talent team of the NFL Network. She escorted talent—including analysts and former athletes and hosts—from their hotels and cars to the sets.
Brown said Super Bowl Sunday started with a call time of 7 a.m., when she began escorting talent to sets within Levi Stadium. She was able to visit the field before and after the game and watch the game from the green room.
Among her favorite moments was the celebration at the end of the game, where fans and players reveled in the confetti.   
"This was the first internship that really shed light on what I want my future to look like once I graduate," Brown said. "I hope to move to L.A. and be in the entertainment business—who knows, maybe even work for the NFL Network!"
Currently, Brown is participating in the semester in Los Angeles program and interning at Fox Sports Radio.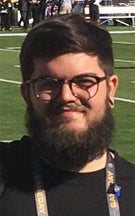 William Landry, a radio-television-film senior, worked as a producer's assistant and runner for the features department. He observed and gave opinions and suggestions for interviews taking place during the days leading up to the game.
Most of his work took place in San Francisco, but interviews with the features department took place at Levi Stadium later in the week and during the game itself. Landry witnessed helmet signings, interviews with players and halftime show musical acts.
At the game, Landry was able to attend pre- and post-game activities and be on the sidelines during kick-off.
"The experience from this week's internship of hands-on work is something you can't always find in the classroom," Landry said. "Being able to observe live interviews and seeing all of the work that goes into the production is priceless."
When Landry graduates he plans to move to Culver City, where he hopes to continue working in sports media.
"If there is one thing that I can tell my fellow students it is to capitalize on every opportunity," Landry said. "Internships are so important and allow you to see the real world, test your limits, create contacts and see the caliber of work happening out there. It's a great way to get your feet wet and gain real-world experience."